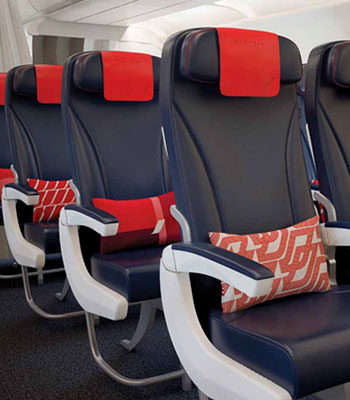 Air France had debuted its new medium-haul cabins, with the airline's Chairman and CEO, Frédéric Gagey, declaring: "It's now time to make sure we win the battle on medium-haul."
The new-look Business and Economy cabins were showcased on an A319-operated service between Toulouse and Paris-Charles de Gaulle, and a further 23 retrofitted A319s will be in service before the end of Q2. In the first half of 2016, 25 A320s will be retrofitted with the new cabins.
The new cabins include B/E Aerospace-supplied seats – including an adjustable headrest, 20-degree recline, fully retractable armrests and a leather finish – to bring them into line with Air France's long-haul offer. In Business Class, passengers also get a soft cushion, while the middle seat will always be left free.
Across both classes, the F&B offer has also been refreshed, and all passengers will be offered a hot meal on flights over two hours long. In Business Class, the dining service will be brought more closely into line with the gourmet offering onboard long-haul services. The upgrades are being carried out following extensive liaison with travellers and travel influencers. In total, more than 10,000 travellers were surveyed.
"With these new cabins, we aim to once again be among the best in the world," Gagey stated. "Winning the preference of each customer on departure from Europe is now a strategic priority of the 2020 Perform plan."
Alexandre de Juniac, Chairman and CEO of the Air France-KLM group, said: "To continue to be one of the global giants of the air transport industry, it is essential for us to have a strong base in Europe. After investing €1 billion in the upgrading of our long-haul products and services at both Air France and KLM, we are continuing our offensive with a completely redesigned medium-haul offer. Our aim is clear: to convince our customers. Show them that today we can make a difference and be their preferred partner in Europe, our natural market."