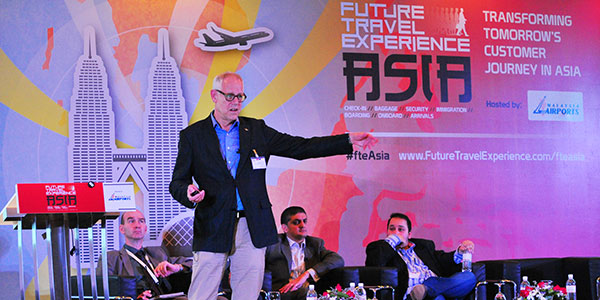 Today, we at Future Travel Experience send our best wishes to Cees de Vos, Director Innovation Outstations & Partnerships at Air France-KLM, who retires after more than 45 years of service to our industry. Cees joined KLM back in 1969, where he has since held various positions in the Netherlands and abroad.
Cees has a special place in my heart because whilst many pay lip service to the importance of "innovation" and "collaboration", he is a man who has truly "walked the walk" in these areas. I have known him for over 10 years and he has always been forthright with his views, and ambitious visions, on where the sector should go next and how it could get there, but he always had time for everyone, and would work collaboratively to bring stakeholders with him when he was championing causes he believed in, such as e-services and common use check-in technology.
Cees has had the perfect spiritual home at KLM – an airline that is so often an industry first mover when it comes to implementing the latest technologies and initiatives, and one that is always happy to share the lessons learned the hard way by trying things first, so the industry as a whole can move forward faster and deliver more to passengers.
Cees was always encouraging and supportive of our efforts here at FTE, and as well as presenting in our conferences regularly, he was a key member of the FTE Airports 2025 Think Tank, which we are complementing this year with an FTE Onboard 2025 Think Tank to complete our end-to-end vision. I'm sure he will be missed by all of the airports, airlines, handlers and industry suppliers he has worked with so closely during his career.
This industry is at a point where if it is to further its customer experience proposition, it needs to really accelerate its innovation and collaboration efforts, and it needs characters like Cees who will think beyond their own organisation's interests, and consider the greater industry good.
So, I wish Cees a happy and much deserved retirement, and I hope there are plenty more like him coming through the ranks at airlines across the world, because we, as an industry, need them.
Daniel Coleman, Founder, Future Travel Experience