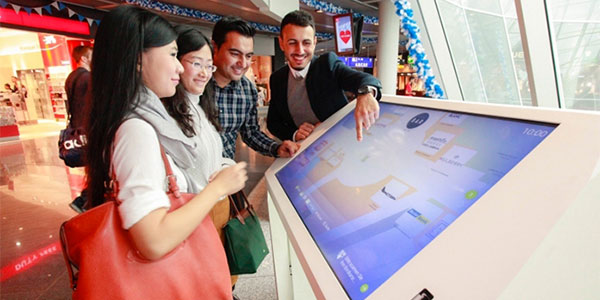 A new large touchscreen display called the Interactive Airport Desk (I-AID) has been installed in Terminal 1 at Frankfurt Airport to provide departing passengers with bespoke information and directions.
The I-AID makes use of real-time information on travel and waiting times, and passengers can use it to confirm the status of their flight and get directions to their gate. Later this year, the system will be upgraded to allow passengers to transfer the information and directions directly to their mobile devices via a QR code.
One I-AID is currently in place in Area Z of Terminal 1, but Fraport plans to install more throughout the terminals once it has gauged passenger reaction. The system operated in German, English and Chinese, and four more languages will be added shortly.
Fraport AG Executive Board Chairman Dr Stefan Schulte explained: "The Interactive Airport Desk is a continuation of our service strategy to adjust FRA's offerings to our passengers and their individual information needs.
"Our passengers want customised information and expect innovative and intuitive easy-to-use media. In the near future, we plan further digitisation along the passenger travel process to provide individualised services and information."