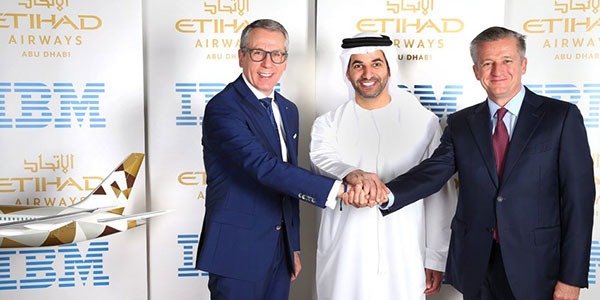 Etihad Airways has signed a 10-year technology services agreement with IBM, which the carrier says will allow it to "enhance guest experience, develop world-class infrastructure and security, and improve efficiency".
The US$700 million agreement will provide access to the latest cloud-based technologies and services for the airline, its group companies and equity partners. IBM will deliver a range of technology services, which, according to a joint release, will allow the airline and its partners to "transform their IT infrastructure into global, flexible and agile cloud-based platforms to better serve their guests and employees". As the deal covers Etihad Airways' equity partners, Air Serbia, Air Seychelles, airberlin, Alitalia, Etihad Regional, Jet Airways and Virgin Australia also stand to benefit.
The partnership will allow Etihad Airways to provide enhanced mobile capabilities to its employees and customers. The solutions will help to drive efficiency, while the airline and its equity partners will have access to advanced cognitive computing system IBM Watson, which was discussed in detail in a keynote address at the recent FTE Global 2015. IBM and Etihad Airways will also create a joint technology and innovation council in Abu Dhabi with the aim of developing more personalised travel solutions.
James Hogan, Etihad Airways' President and CEO, said: "This is a long-term, strategic partnership which will allow Etihad Airways and its partners to harness the latest technologies as we deliver our award-winning services. This is a game-changing agreement for Etihad Airways, for our partners and employees, and for Abu Dhabi."
Robert Webb, Etihad Airways' Chief Information and Technology Officer, added: "This landmark agreement, a fundamental part of our technology and innovation strategy, will bring us a global IT delivery platform that is secure, resilient and future-ready for Etihad Airways' companies and equity partner airlines.
"We have chosen IBM as a global technology partner due to its commitment to its people, its experience in delivering such transformations, and its history of leadership and innovation in the airline industry. We are confident that this collaboration will ultimately enhance our guest experience and reinforce our competitive position further within the industry."