Almost 600 travel industry experts from 33 countries gathered in Las Vegas last week at Future Travel Experience Global 2015, where the most forward-thinking airlines, airports, technology giants, government agencies, hospitality companies and travel industry vendors shared their passenger experience plans and visions, and launched their latest products and services.
Addressing the theme of "Transforming the passenger experience through customer-focused innovation and collaboration", the event included "On the Ground" and "Up in the Air" conference streams, the biggest FTE exhibition to date, a plethora of inspirational keynotes, the first ever FTE Collaboration Forums, a Las Vegas-inspired social and networking agenda, and the 5th Future Travel Experience Awards ceremony. Here we round up some of the key event highlights, announcements, launches and discussion points from the 10th anniversary FTE Global hosted by McCarran International Airport.
Leveraging Google's 'database of intentions' to improve and simplify the travel experience
Delegates were given a true Las Vegas welcome by Oscar Goodman, America's greatest Mob lawyer, Former Mayor of Las Vegas, and Las Vegas Convention and Visitors Authority Host Committee Chairman, before Google took to the stage to deliver the opening keynote. Megan Danielson, Google's Head of Travel Industry, and Max Coppin, Partner Development Manager, highlighted the potential created by travellers' reliance on their mobile devices. "We don't just go online, we live online," Danielson explained. "We check our phones 1,500 times a week, or more than 200 times a day. It's the first thing you see in the morning and the last thing you see at night." Danielson explained that as Google is a "database of intentions", it has the ability to add huge value to the flight search and booking processes.
Coppin built on these points, highlighting how Google can work with airlines to extend the engagement window and shorten the re-booking cycle pre-flight, provide a more personalised experience in-flight, and enable new ancillary revenue growth post-flight. Referring to a case study of working with Virgin America, Danielson also outlined how removing "clutter" from the booking process helped the airline increase the speed of its booking process by two-fold. Google Maps-equipped inflight entertainment, Street View-based tours of aircraft pre-flight, and beacon-enabled pro-active interactions with passengers at various touch-points were also among the ideas put forward that can help the industry enhance the passenger experience.
Inspirational keynotes from Facebook, Virgin Galactic and IBM Watson
FTE Global 2015 boasted the strongest line-up of keynotes in the show's decade-long history and among them was Lee McCabe, Facebook's Head of Travel, who led delegates through a 10-point plan of how they can successfully navigate travel in an increasingly connected world. Ranging from prioritising the development of high-end apps to leveraging virtual reality technology, McCabe continually referred back to the importance of personalisation and called on airports and airlines to aspire to create more meaningful interactions with travellers.
Virgin Galactic's Jonathan Firth, Senior Vice President of Spaceport and Program Development, also inspired the hundreds of delegates in attendance with a detailed insight into Virgin Galactic's approach to creating a unique customer experience. With a confirmed customer base spanning 57 nationalities, and a potential age range from "18-88" years, the company certainly has its work cut out to create an experience that appeals to all. Every element of the four-day experience – the welcome day, cabin day, rehearsal day and flight day – as well as the pre- and post-flight training and interactions, is being planned in intricate detail to ensure the experience lives up to the immense expectations.
Firth revealed that inspiration has been taken from other companies in the Virgin Group, including Virgin America, Virgin Limited Edition and Virgin Hotels. For instance, the designers working on SpaceShipTwo's cabin interiors are drawing on existing aircraft cabin designs. Firth also stated the importance of creating a "world-class" experience at Spaceport America, and stated his intention to tour the FTE Global exhibition in search of inspiration.
Delegates in attendance were also offered expert insight on how to best leverage Big Data to improve operations and the customer experience by IBM Watson Global Retail Leader Keith Mercier, while Joe Leader, the new CEO of the Airline Passenger Experience Association (APEX) delivered his first industry address.
RIMOWA Electronic Tag launched, plus beacons, self-boarding, bag drop, Happy Flow and more on show in biggest FTE exhibition to date
A total of 40 industry-leading vendors showcased their latest products and services in the biggest exhibition yet in FTE Global's 10-year history. Among the highlights was the launch by RIMOWA and Lufthansa of the RIMOWA Electronic Tag – the world's first suitcase with an embedded, permanent electronic bag tag. The vast array of other solutions being displayed ranged from self-service bag drop and baggage tracking devices, to self-boarding gates and the Aruba Happy Flow single biometric token system, which is currently being trialled by KLM at Schiphol Group-owned Aruba Airport.
The FTE Onboard 2025 Think Tank – exclusive unveiling of the in-flight experience of 2025 vision
The "Up in the Air" conference room played host to the exclusive launch of the FTE Onboard 2025 Think Tank vision and recommendations. This unique Think Tank brought together senior figures from Airbus, Avianca, Panasonic Avionics, Norwegian Air Shuttle and Honour Branding to define the onboard narrow-body experience of 2025. Reconfigurable cabins, flexible seating zones, multi-platform, wearable and holographic IFE, new onboard retail opportunities, crew and passenger empowerment, and inventive differentiation strategies were all key elements of the vision, while those in attendance were offered recommendations on how to make the vision a reality. The Think Tank vision and recommendations will now be shared with various industry bodies and associations to ensure the work can help to inspire industry change far beyond Las Vegas.
Air France-KLM and DFW share seamless travel visions – robotics, biometrics, e-tags and more
The "On the Ground" keynotes – delivered by Air France-KLM Vice President International Stations Tina Bergsma and Dallas/Fort Worth (DFW) International Airport Senior Vice President Customer Experience Mazhar Butt – provided motivational insight into how airlines and airports can leverage new technology to redefine the end-to-end customer experience.
Highlighting Air France-KLM's dedication to leading the charge of improving the passenger experience and optimising operations, Bergsma detailed how biometric technology, beacons, wearable technology, permanent electronic bag tags and even robotics technology is being trialled and deployed to support the carrier's vision. The latter, robotics, will soon be piloted in the transfer area at Amsterdam Airport Schiphol, to explore the viability of using the pioneering technology to simplify the airport experience for transit passengers.
DFW's Butt helped to motivate delegates to keep pursuing innovation in an address entitled "Envisioning tomorrow's airport experience in the US and beyond". Personalisation, he explained, is vital, especially as younger travellers become used to personalisation as standard in their everyday lives. Pointing out the successful manner in which companies in other sectors are leveraging new technology and personalisation – such as Uber in the taxi/cab sector – to appeal to the younger generation of consumers, he stated that airports and airlines should be paying close attention and searching for ways to emulate this success, as these consumers will soon make up the bulk of business for the aviation sector, too.
Magic, music and the 5th FTE Awards
To celebrate the 10th anniversary of FTE Global, the event included the most spectacular social and networking programme yet, the highlight of which was the FTE Global 2015 Gala Party sponsored by Rockwell Collins, which was hosted at the Daylight Beach Club at the Mandalay Bay Resort. After the presentation of the 5th FTE Awards, which recognise the organisations that have embraced innovation to improve the passenger experience, delegates enjoyed Las Vegas' finest food, drink and a live performance by the Peter Monroy Band.
Earlier in the week, delegates also had the chance to network at the FTE Global 2015 Welcome Reception in the exhibition hall, where they were treated to a breathtaking live magic show.
'On the Ground' Conference – airport futures, beacons, wearable technology and connected bags
In the "On the Ground" conference stream, myriad new technologies were the subject of in-depth discussion, including in the Airport Futures session in which Swedavia's Lena Rökaas, Head of Operations, Stockholm Arlanda Airport, launched Swedavia's Future Airport vision, which has been inspired by the theme of the FTE Airports 2025 Think Tank from 2013. In the same session, the likes of Alison FitzGerald, Chief Information Officer at London City Airport, Daniel Tanciar, Director – Travel and Tourism Initiatives, Office of Field Operations, U.S. CBP, and Thom Lang, General Manager, Corporate Real Estate, Delta Air Lines also offered their thoughts on the technologies that are shaping the airport experience of tomorrow.
In the Beacons & Wearable Technology Symposium, senior figures from United Airlines, Massport, Virgin Atlantic and SITA Lab offered delegates insight into how they plan to leverage beacons and wearables to enhance the passenger experience on the ground. Meanwhile, day three of the event saw Pedro Casimiro, Manager Ground Product at Brussels Airlines, Samuel Ingalls, Assistant Director of Aviation, Information Systems at McCarran International Airport, and Dr. Bjoern Becker, Director Product Management – Airport & Passenger Services at Lufthansa, discuss the future of permanent electronic and home-printed bag tags, RFID-based baggage tracking and baggage reconciliation in the "E-tags and Connected Bags" session, which was chaired by Airlines for America's Manager, Passenger Services, Stephanie Taylor.
'Up in the Air' Conference – crew empowerment, personalisation and Cabin Connectivity Unleashed
In the "Up in the Air" conference stream, the focus remained on all things in-flight. Day two included a focus on empowering the cabin crew of tomorrow, in which Aubrey Tiedt, Alitalia's Chief Customer Officer and Dr. Joachim Schneider, Vice President – Product Management at Lufthansa German Airlines, were joined by SITA Lab Director Renaud Irminger to explore how a combination of new technology and enhanced customer service and hospitality levels can improve and personalise the onboard experience.
Also among the highlights was the much anticipated "Cabin Connectivity Unleashed" session, in which Mary Kirby, Founder & Editor of Runway Girl Network, grilled senior figures from Panasonic Avionics, Thales, Gogo, ViaSat, Global Eagle Entertainment, Inmarsat and Rockwell Collins on the future of in-flight connectivity.
FTE Collaboration Forums
For the first time, FTE Global hosted dedicated Collaboration Forums, which were inspired by the success of the Airport Terminal of the Future Workshop at last year's event. Divided into groups of 10-12, delegates chose the sub-topic they wished to tackle from three overarching themes – "On the Ground", "Up in the Air" and "Data Sharing" – and worked closely to identify improvements and challenges, and collectively identify ways for each stakeholder to overcome these hurdles. The conclusions were shared at the end of the session, so participants can take the learnings back to their own organisations to apply to any relevant projects they are currently working on.
Technology & Impact Design Thinking Workshop
Delegates also had the opportunity to participate in an interactive Technology & Impact Design Thinking Workshop, in which design research and strategy experts from Artefact Group helped them evaluate the potential impact of new and emerging technologies in-flight, and identify which new technologies could be worth investing in. Among the many areas of interest in the session were technologies such as virtual reality, wearable technology and the Internet of Things.
FTE Global 2016 to take place in Las Vegas, 7-9 September 2016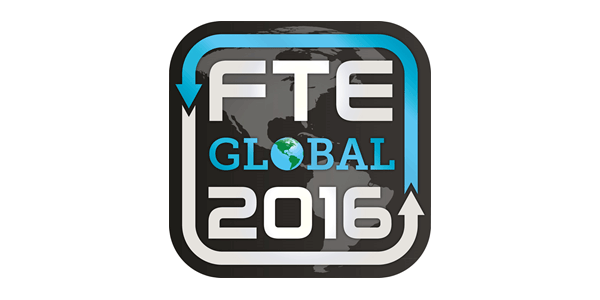 We are delighted to confirm that Future Travel Experience Global 2016 will once again be hosted by McCarran International Airport and will take place at the Mandalay Bay Resort & Casino, Las Vegas from 7-9 September 2016.
Stay tuned for more details on the show, which will be announced in the coming months.