The launch last week of Aruba Happy Flow, which uses facial recognition technology as the basis of a single passenger token and removes the need for passengers to present their passport and boarding pass at multiple stages of the airport journey, certainly stands out as an industry first, but what is now becoming increasingly clear is the true significance of this project and the impact it could have on the airport experience on a global scale.
Happy Flow is already transforming the way passengers are processed at each touch-point at Aruba Airport, but it could well be the catalyst for a revolution in the way passengers are identified and processed well beyond the boundaries of this single-terminal facility on the aptly nicknamed "Happy Island".
FTE initially reported on Happy Flow last year, but for those of you unfamiliar with how it works, at its heart is the use of facial recognition technology as the key passenger identifier. When a passenger checks in at a self-service kiosk, a photo is taken of their face, which is then verified against, and linked with, their electronic passport, while at the same time all of the usual border control background checks are performed. Then, at each of the subsequent checkpoints – namely bag drop, immigration and boarding – instead of having to present their documents, the passenger simply has to stand in front of a camera, which automatically recognises their face, which is matched against their passport and boarding pass, and grants approval to continue the journey. Each process is completed in a matter of seconds.
'Close partnership was the critical success factor'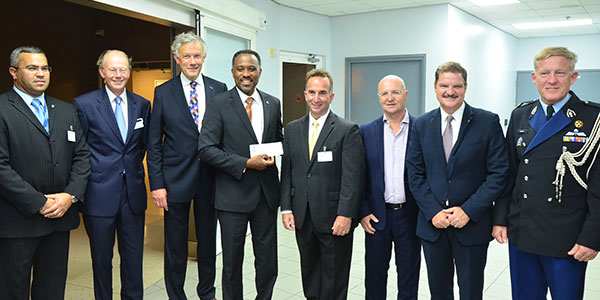 Delivering the project has been a complex challenge, due largely to the fact that so many stakeholders have been involved: the governments of Aruba and the Netherlands, Schiphol Group, KLM, Aruba Airport Authority and lead contractor Vision-Box, as well as its sub-contractors, including Oelan and Considerati, plus SAS.
Speaking to FTE this week, Annet Steenbergen, Chair of the Aruba Happy Flow Board and Coordinator of Preclearance for the Government of Aruba, said "close partnership was the critical success factor" in the concept becoming reality. "This has been about two years in the works and it's being driven by the fact that the government of Aruba wishes to offer preclearance for Europe. It already offers this service for the US, but it wants to offer the same thing for people travelling to Europe. Happy Flow is the first step in the roadmap to have European preclearance," she explained.
'Innovation sprints'
Aruba Happy Flow has initially been implemented as a two-year pilot, and the programme will be continually tweaked and updated during this timeframe, with any changes made at the end of so-called "innovation sprints", which will last three months each. The first innovation sprint is all about consolidating the infrastructure, then the focus will shift to implementation of the "workflow orchestration", which will benefit all of the public and private partners. This seamless workflow is a vital element of the project; once a passenger checks in and performs the immigration checks at a self-service kiosk, all of the airport stakeholders automatically receive this information. For instance, the immigration agency receives the information when the passenger checks in, so they know that they will soon be entering the immigration checkpoint. In essence, Happy Flow makes use of the data that has always existed, but makes it far more easily accessible and actionable for each of the stakeholders.
Of course, there are significant benefits for the airline, too, as Steenbergen highlighted. "For the airline, at the boarding area, they can see who is and isn't there yet. They might see that a passenger has enrolled, and has dropped off their bag, and that this passenger hasn't gone through immigration yet. If the gate closes in 10 minutes and it will take the passenger 20 minutes to get through immigration and to the gate, the airline can be proactive and make the decision that the passenger isn't going to make it, and start the process of removing their bags from the aircraft."
Steenbergen also stressed that Aruba Happy Flow places equal emphasis on security and efficiency. "It's all about making the airport process faster and safer," she said. "People often think if something is faster it might not be safer, or if it's safer it's probably slower. We took a 50/50 approach. We've designed and developed Happy Flow to be as safe as it can possibly be and as fast as it can possibly be."
Expanding Aruba Happy Flow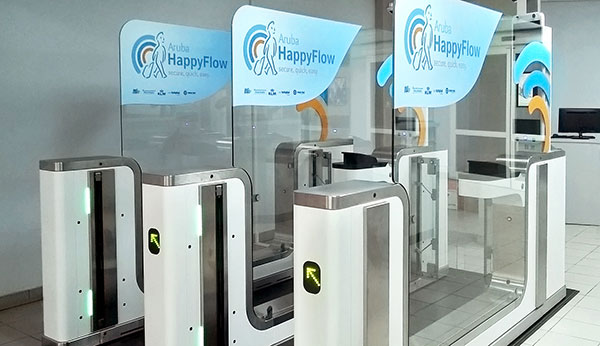 Initially, a number of KLM passengers with European passports travelling on the five-times-weekly flight to Amsterdam from Aruba, a constituent country of the Kingdom of the Netherlands, will be invited to take part in Happy Flow, with the number gradually increased as the pilot evolves. Once the ultimate goal of pre-clearance is achieved in cooperation with the Dutch and EU authorities, passengers will essentially be treated as domestic passengers upon arrival in Amsterdam, as they will have already completed the immigration process in Aruba.
As explained by Manuel van Lijf, Director Product Innovation at Air France-KLM, who has been leading the project on KLM's behalf, the number of touch-points included in Happy Flow could soon be extended. "Other elements will be added," he said, "but that will probably be in six to nine months. For example, we are planning to add the security touch-point, and we are looking at adding home enrolment, which would allow passengers to go straight to the bag drop at the airport. We like people to do as much as possible at home, but it will probably take some time."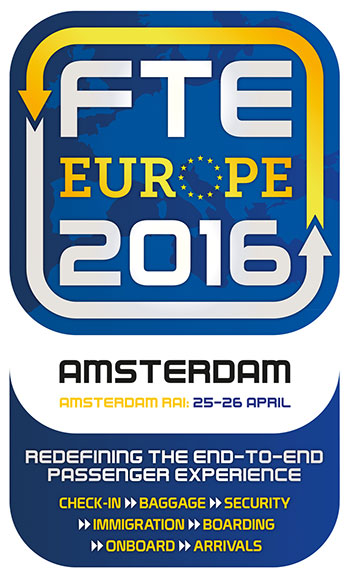 Being a first of its kind project, as one would expect, the journey of bringing Happy Flow from concept to reality has thrown up numerous challenges, but a spirit of innovation among all of those involved has been a consistent driving force behind overcoming these hurdles. "Ask any airport and they'll say they support getting public and private partners working together – the cooperation between public and private partners is key," Steenbergen said. "To actually get them to work together, though, is a challenge. For Aruba as a country, the airport, KLM and Schiphol Group, they are all very innovative players and it is this innovative spirit that brought us together. Also, the Prime Minister of Aruba and the CEOs of all of the partners have really supported this."
Van Lijf also applauded this desire among all stakeholders to make the project work. "We first came up with the idea of Happy Flow and we then had to convince all of our organisations that it was the right thing to do," he explained. "We had to bring all of the organisations up to the same level", he said, adding that securing the budget was "quite a challenge".
"Getting the right knowledge in house, bringing the concept into a tender document, working out how to evaluate the different offers from different companies – these were all challenges. Also, we had to come up with the business requirements ourselves, as no one else has ever done this – it's the first project of its kind in the world. In the end, cooperation was a critical success factor."
A common use, passenger-centric solution
Another key component in this process came in the shape of Vision-Box, which won the global tender to be the lead contractor and provide the Happy Flow infrastructure. As the company's Senior Vice President and Founder, Miguel Leitmann, explained, ensuring the utmost safety and security, protecting passenger privacy and guaranteeing transparency were all of vital importance, but also among the priorities was to ensure the end result was a "passenger-centric platform" that delivers shared services.
"It is very important that our solution is passenger-centric," he said, "so it does not belong to one or the other stakeholder. The passenger owns his own information, he manages his own experience, and only in the moment he interacts with one of the touch-points by identifying himself does he allow his information concerning his flight and his identity to be used by that specific stakeholder for that specific transaction."
In effect, every passenger has a "virtual passenger data envelope" above their head which is created during the initial check-in phase, Leitmann said, and which includes all of the relevant information needed to pass through each touch-point, and this envelope is only accessed when the passenger interacts with one of the touch-points, thus authorising the transaction to happen. "An instrumental pillar of the solution was to create trust between the passengers and the stakeholders," he added.
Leitmann and his colleague, Jean-François Lennon, Vice President for Global Business Development & Sales, also explained that facial recognition was the ideal biometric modality to form the basis of the single passenger token, due to the fact that it is the "most accurate and convenient" option, the e-passport is becoming the most common form of travel document, and because it doesn't require passengers to pre-enrol for the programme, due to the freely accessible photo of the passenger stored in their secure document chip. "Also, in any exception case, the officer can look at picture of the traveller instead of an image of an iris or fingerprint, which by his own means he cannot identify," Lennon said.
Next up: Happy Flow at Amsterdam Airport Schiphol?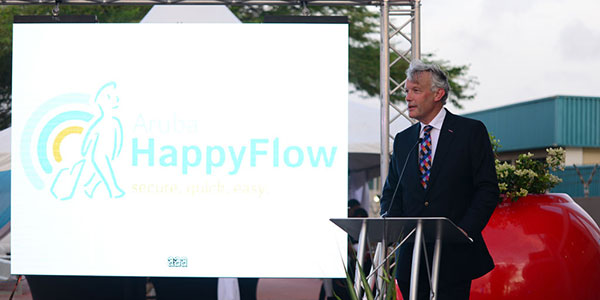 The fact that Happy Flow has been developed to be a passenger-centric and common use solution is what lies at the heart of its potential on a much wider scale. According to Leitmann: "There's no technical reason why it should not be used by other passengers, other airlines and other airports. It's a question of orchestration."
This was a point echoed by both van Lijf and Steenbergen, with the former revealing that KLM and Schiphol Group are already undertaking a feasibility study on how Happy Flow could be implemented at Amsterdam Airport Schiphol. "We're already talking to a few other airports at the moment that want to better understand how it works. The benefits are so enormous on so many levels," van Lijf said. He did, however, warn that "every airport is different and the model can't be copied directly, one on one, from one airport to another".
Marten Dijkstra, Manager of Border Control, Customs and Immigration at Amsterdam Airport Schiphol, supported this view that a Happy Flow implementation in Amsterdam is feasible. "With Aruba Happy Flow, we have made an innovative step to further improve the comfort of the passengers. If the experience and test results are positive at Aruba we will further develop this project. But during the first pilot, step by step, we expect the innovation sprints will be successful, and if they are, then implementation at Schiphol Airport is suitable."
Steenbergen also said that exporting Happy Flow beyond Aruba, once its capabilities have been fully proven, would make perfect sense. "Schiphol Group and KLM didn't only join this for the beaches! I'm sure Schiphol is looking forward to rolling this out, KLM would love to have this at all of their international stations, and the Dutch government can be prepared for this when it comes to Schiphol thanks to the Happy Flow project here at Aruba."
Creating a wider European preclearance programme could well be more a long-term goal, though. "There is lots of interest and willingness, but we need to see how we can navigate the politics. It is the ultimate goal, but it will take a few years. After all, there are 26 Schengen member countries to convince!" van Lijf said.
Aruba Happy Flow does, however, provide an ideal starting point. What has started on a tiny island inhabited by just over 100,000 people in the southern Caribbean Sea could lead to the creation of a European preclearance programme and transform the way passengers are processed in airports around the world.