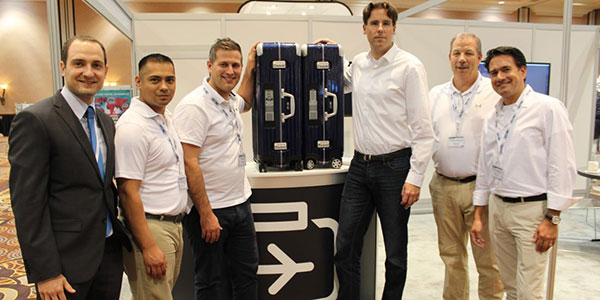 RIMOWA and Lufthansa have jointly launched the RIMOWA Electronic Tag at Future Travel Experience Global 2015, which is taking place this week in Las Vegas. RIMOWA Electronic Tag is the first fully integrated mobility solution for luggage and features an embedded digital bag tag, which can be updated by passengers using their smartphone.
The pioneering solution has been attracting significant interest on the RIMOWA Electronic Tag stand in the FTE Global exhibition, which has attracted around 600 travel industry leaders representing airlines, airports, government agencies and various other travel industry stakeholders, who have come together to view the very latest solutions in the market and to share their passenger-focused plans and visions.
The RIMOWA Electronic Tag will be trialled by a number of Lufthansa's passengers over the coming weeks, before the product is made available to buy in early 2016.
Speaking to FTE following the launch, Jan Reh, CEO of RIMOWA Electronic Tag, explained: "The most important thing for us was to work with Lufthansa to create a standard for electronic tagging. We wanted to make it as easy as possible to go from analogue to digital. What we have created is a one-to-one electronic tag – it's the same size as the paper tag, it contains the same information as the paper tag, and it can also include the green stripe for flights within the EU. The e-ink digital display contains all the information that is contained on the paper tag."
Dr. Bjoern Becker, Director Product Management & Airport Passenger Services, Lufthansa German Airlines, added: "For Lufthansa it was very important that the solution is fully integrated. The Lufthansa app generates the bag tag, which is sent to the digital tag during the check-in process – it is very easy and convenient to use for the passenger. It was important for us to design this product with RIMOWA as a high quality partner to ensure reliability and user friendliness."
While Lufthansa is the launch partner for the RIMOWA Electronic Tag, Reh highlighted the fact that the product can benefit the wider industry. He said: "Lufthansa is a leading innovator and we are delighted to be working with them to create a standard for the industry. From the beginning this was not just a one-airline solution; it is designed for all airlines for the benefit of all travellers."