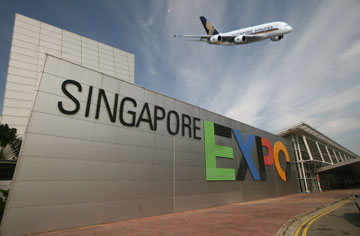 Singapore is a highly appealing and accessible destination, and the perfect location for FTE Asia EXPO 2015. Singapore Changi Airport is a template for passenger experience best practice and was again named World's Best Airport in 2014 by Skytrax, while Singapore Airlines, SilkAir, Scoot, Tigerair and Jetstar Asia, all of whom also are renowned for their customer experience enhancement efforts, are all based in Singapore.
Singapore EXPO is a state-of-the-art convention facility just five minutes away from Changi Airport, and it is particularly well placed for busy air transport executives who might only be able to attend for one day.
Recommended hotels for FTE Asia EXPO

Future Travel Experience have secured preferential rates at a number of Recommended Hotels for FTE Asia EXPO within close proximity to the Singapore EXPO.
Click here to make a reservation via our
appointed hotel agent Tour East Singapore
We strongly recommend that you make your hotel reservation well in advance as the availability of preferential rates for accommodation is limited.
Hotel bookings – Please only use authorised partners
We have been made aware that a number of unauthorised service providers, including "Housing Services," "Exhibition Housing Management" and "Trade Show Housing" have contacted attendees to offer hotel reservation services. These companies charge significant booking and credit card fees and can enact stringent cancellation policies.
Please note that none of these companies represent Future Travel Experience or PPS Publications.
Visa Information
Attendees of Future Travel Experience Asia Expo 2015 should be mindful of visa entry requirements prior to travel into Singapore. Travel and visa arrangements are the responsibility of the individual. For further information on the requirements from your country, please visit the following website:
http://www.ica.gov.sg/page.aspx?pageid=168
Attendees requiring additional assistance or advice on visas may contact Andrea Ahearn, Senior Conference Executive:
andrea@pps-publications.com