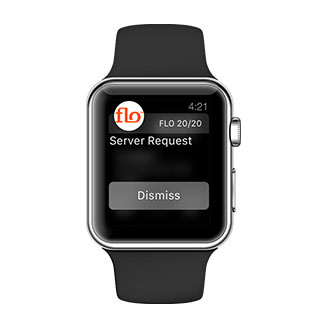 In recent weeks, numerous airlines have launched apps for the new Apple Watch, but the air transport industry now has its first commercial Apple Watch deployment at Newark Liberty International Airport.
Hospitality group OTG, which is known for leveraging iPhones and iPads in its airport outlets, has equipped restaurant managers with Apple Watches in United Airlines' Terminal C, enabling them to use the "flo" application to receive real time updates on customer feedback, sales performance, kitchen operations and inventory levels.
Rick Blatstein, CEO of OTG, commented: "Our business is centred around our customers and the understanding that their time is extremely valuable. We have invested significantly in technology to ensure the efficiency of our operations, and the Apple Watch is an ideal platform to enable us to response even faster."
While OTG's Apple Watch deployment focuses on restaurants in the terminal, it highlights an opportunity for airports and airlines to leverage the device to improve the customer experience.
Roving agents – check-in agents equipped with tablets to free them from the traditional check-in desk – have become an increasingly popular tool to improve interactions with passengers and help reduce queues during peak times, but the Apple Watch, and other smartwatches, provide further opportunities.
The likes of Virgin Atlantic and Japan Airlines have already trialled smartwatches to explore their benefits in an operational sense, and we expect to see further similar trials across the industry as airlines in particular explore the most viable use cases.