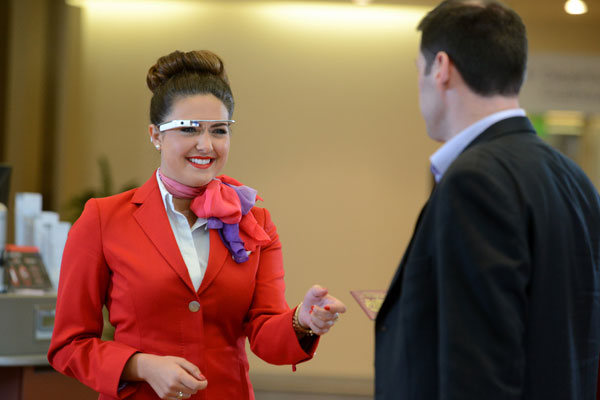 Virgin Atlantic has today launched a groundbreaking trial of wearable technology in the Upper Class Wing at London Heathrow Airport, and we are delighted to announce that the airline will be sharing further details and the latest findings from the project at FTE Europe 2014, which will take place in London from 3-5 March.
In the first passenger-facing wearable technology trial of its kind in the industry, Virgin Atlantic concierge staff will make use of Google Glass and Sony Smartwatches to deliver a high-tech, personalised passenger experience.
During the six-week trial, Upper Class passengers will be greeted by name upon arrival at the Upper Class Wing and the airline agent will be able to start the check-in process immediately using the innovative technology. Staff will also be able to provide up-to-the-minute information such as flight updates and destination information using the smart glasses and watches.
Creating a concierge service using wearable technology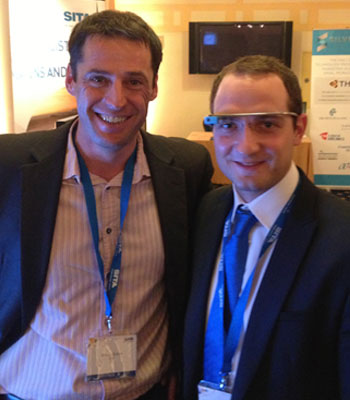 Airline staff in the Upper Class Wing at Heathrow's Terminal 3 will be equipped with either Google Glass or a Sony Smartwatch 2, which is integrated with both a purpose-built dispatch app built by SITA and the Virgin Atlantic passenger service system. The dispatch app manages all task allocation and concierge availability, and it pushes passenger information directly to the assigned concierge's Google Glass or smartwatch as the passenger is arriving, so they will be fully prepared to personally welcome each passenger.
In the future, Virgin Atlantic could even use the wearable technology to communicate passengers' dietary and refreshment preferences to staff, to provide an even more personal experience. Furthermore, the airline is also partnering with SITA to test iBeacons – low-powered Bluetooth transmitters that can notify nearby iOS devices of services and discounts in their vicinity, as well as boarding updates.
Dave Bulman, Director of IT at Virgin Atlantic, said: "Our wearable technology pilot with SITA makes us the first in the industry to test how Google Glass and other wearable technology can improve the customer experience. We are upholding Virgin Atlantic's long tradition of shaking things up and putting innovation at the heart of the flying experience."
Jim Peters, Chief Technology Officer, SITA, added: "2014 is shaping up to be the breakout year for wearable technology, and Virgin Atlantic is the first to bring its vision to reality. At SITA Lab, we've taken the lead in testing and trialling this new technology for the air transport industry, and it's been fantastic to work with Virgin Atlantic to launch the industry's first wearable technology application."
Virgin Atlantic to share latest findings and learnings from wearable technology trial at FTE Europe 2014
The Future Travel Experience events are renowned for being the place where airlines and airports launch forward-thinking, passenger-focused solutions, and at FTE Europe 2014, Ian Baigent-Scales, Virgin Atlantic's Global Customer Systems Manager, Airport Strategic Development, will provide delegates with insight into the thinking behind the trial and how it is performing at the half-way point in a presentation entitled: 'Wearable technology – how Virgin Atlantic is using smartwatches and Google Glass in its Upper Class Wing at Heathrow to provide next-generation customer service to passengers'.
Renaud Irminger, Director of SITA Lab, which is partnering with Virgin Atlantic on the wearable technology trial, will also be taking part in this conference session, which will explore how airlines and airports are taking advantage of new technologies and mobile channels to personalise and differentiate the passenger experience.
Among the other leading industry organisations confirmed to speak at FTE Europe 2014 are Samsung, London Heathrow, Star Alliance, Ryanair, Swedavia, TUI, Fraport, Aer Lingus, Gatwick Airport, Air France-KLM, London Stansted, AirAsia, London City Airport, Lufthansa, Fast Future, Oslo Airport, IATA, YVR, SEA, Athens International Airport, Aéroports de Lyon and Capgemini.
» More information on FTE Europe 2014