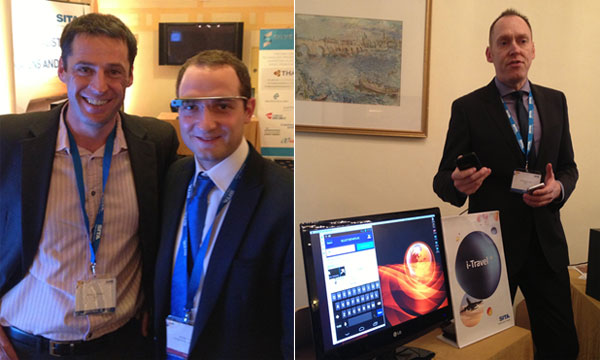 Last week, FTE flew to Vienna for the SITA Europe Aviation ICT Forum 2013, where we had the chance to talk to SITA's experts about the emerging passenger trends and have a closer look at some of the company's next-generation products.
'Collaboration' was a word that ran throughout every aspect of the event. "We believe collaboration is the only way forward," stated Dave Bakker, SITA's President, Europe. "We need to make sure we collaborate with the passenger in mind. It's critical for airlines and airports to work together and to put the passenger in the middle and we believe IT is at the heart of that collaboration."
Wearable technology for the airport environment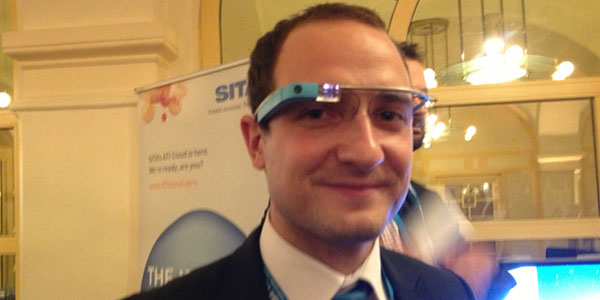 If collaboration is key to improving the passenger experience, so is investing in the latest technologies and Jim Peters, SITA's Chief Technology Officer, provided an update on the latest wearable technology advancements. As recently reported by FTE, SITA Lab is currently working on a 'SWIFT Boarding By Google Glass' concept, which makes use of Google Glass to scan travel documents such as passports and boarding passes.
Peters explained: "We've had to use a specialised set of products and we had to write our own analytics. It's still relatively early and we've learnt a lot of things. For example, it gets hot very quickly and the battery doesn't last at the moment, but it does scan the documents. Now, we're waiting for the next version of the technology before doing further tests."
Peters also explained that Google Glass, Vuzix smart glasses and other similar products could be used more widely in the airport environment – to read and verify bag tags or for maintenance purposes, for example – and these are areas that SITA Lab may explore in the future.
While there is clearly potential for Google Glass in the airport environment – and SITA Lab should be applauded for being among the first to embrace the technology – it does, as you would expect at this stage, need some refining and from a user perspective, it feels like it would take some time to adapt to wearing them. Paying attention to the display screen while maintaining an awareness of your surroundings could also take some getting used to, but assuming it does evolve into a more natural feeling piece of technology, there could certainly be potential in passengers using Google Glass or similar devices for wayfinding purposes.
i-Travel app
Among the other innovations FTE had the chance to preview was the i-Travel smartphone app, which is nearing the final stages of development. The app is currently undergoing beta testing alongside Malaysia Airlines and it has been designed to simplify the process of booking flights, checking in and paying for extras via a mobile device. Users will also be able to store their credit card details and personal preferences, which will help to speed-up future searches and bookings made via the app.
Passengers continue to embrace smartphones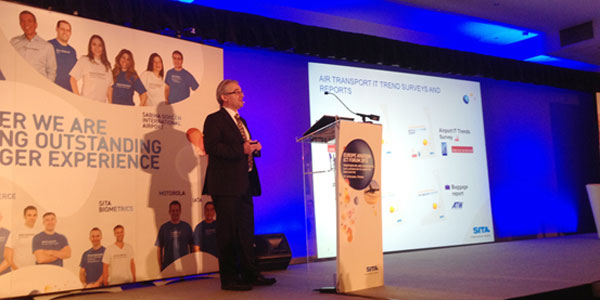 In the conference, SITA's Director, Marketing Operations and Market Insight, Nigel Pickford, officially launched the findings of the 2013 SITA/ATW Passenger IT Trends Survey.
"Globally, around 40% of people who have a mobile phone have a smartphone, but we've found that 76% of travellers are carrying a smartphone," he said. "This presents significant opportunities to airlines and airports to deliver services to passengers via their smartphone, ranging from customised offers to granting access to lounges."
However, the survey also shows that the rate of usage for services such as check-in and booking on mobile devices remains below 5%, with 78% of passengers citing usability concerns and limitations of the device as reasons for not using their smartphone.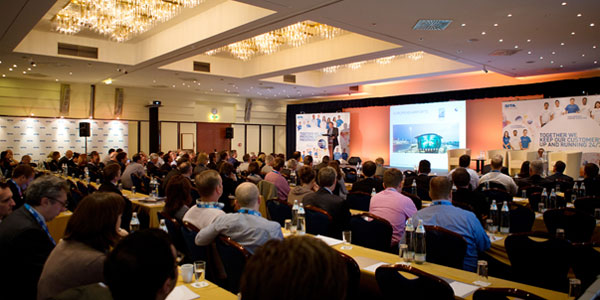 Pickford added: "The benefits of mobile are three-fold – you can provide information to the passenger, provide access services and provide mobile commerce service. What is clear is that the most attractive component to the passenger is information services, but m-commerce is the least attractive.
"People are positive about adopting technology, they're positive about embracing mobile, but they're not positive about using it in every instance."
Relevant and empowering
Other speakers in the conference included Maite Oonk, Manager KLM Mobile – e-Commerce at Air France-KLM, who built upon Pickford's insights into the relationship between mobile technology and the passenger experience.
Among the ways in which KLM has embraced mobility is by equipping its cabin crew with iPads to improve the level of service offered onboard and to instigate a more personal approach to customer service, she explained.
"As well as having a smartphone app, we are now testing a tablet version of our app with our frequent flyers," she added. "Our aim is to be relevant and empowering to our customers and to make sure we offer the right service at the right time."
With such a large majority of today's passengers carrying a smartphone, and a high number of them also packing a personal tablet device, this need to provide a mobile offering that is both relevant and empowering is one that no airline, airport or supplier can afford to overlook.