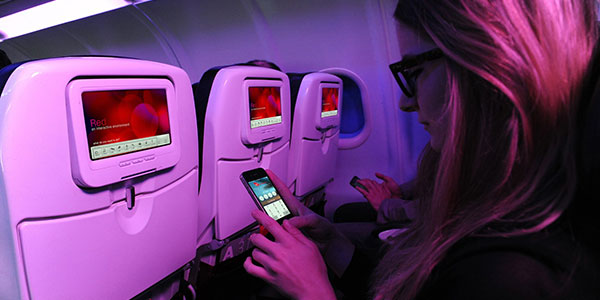 Virgin America has teamed up with Spotify to offer free streaming of the entire Spotify catalogue of over 30 million songs, while a new tie-up with The New York Times will give passengers access to a curated collection of daily NYTimes.com content. The services will be available on the carrier's ViaSat Wi-Fi equipped A320s until 2 March 2016.
Spotify has also curated 60 city-inspired music playlists for Virgin America, including "Empire State of Mind" for New York and "Welcome to the Windy City" for Chicago. The two new partnerships come just weeks after Virgin America announced a tie-up with Netflix to allow its passengers to stream content from their Netflix account in-flight.
Virgin America Vice President of Brand Marketing and Communications Abby Lunardini said: "Virgin America has always been about providing guests with the largest breadth of entertainment and more control over their in-flight experience, whether through the fleet-wide Wi-Fi we've offered since 2009 or the library of latest release films, live TV, video games and MP3s available at every seat via our Red entertainment touch-screens.
"With our new ViaSat Wi-Fi, we're excited to take this offering to the next level by offering guests the ability to stay informed with access to daily New York Times content and their favourite music with the entire Spotify catalogue at 35,000 feet."
Erin Clift, VP Global Marketing and Partnerships at Spotify, added: "At Spotify, we're dedicated to finding ways to bring music into every part of consumers lives, wherever they are, whatever they're doing, whatever their mood. Partnering with Virgin America to provide guests with Spotify "Mood Lists" is an excellent way to enhance their experience and bring Spotify to flyers both in-flight and beyond."