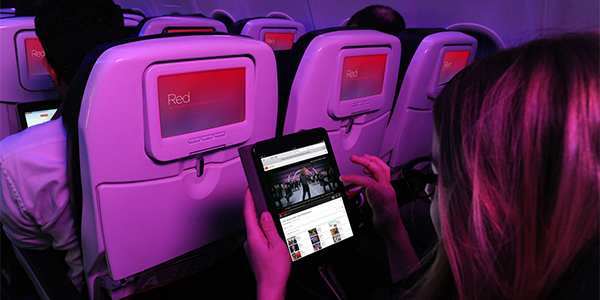 Virgin America has partnered with ViaSat for in-flight connectivity on its 10 new A320 aircraft, and will offer the Ka-band "Exede in the Air" service from September 2015.
The carrier has been a Gogo customer since 2009 and announced in December 2014 that the ATG-4 connectivity service had been installed on every aircraft in its fleet. For its next 10 aircraft, however, it has opted to partner with ViaSat, which will provide the same connectivity product that powers JetBlue's highly regarded "Fly-Fi" service. United Airlines has also installed the Exede service on selected aircraft, while EL AL will soon become the first carrier in Europe to adopt the service.
ViaSat says the Wi-Fi service on Virgin America's 10 new A320s will be "typically eight to ten times faster than any other in-flight Wi-Fi system" available today, and, importantly, will allow passengers to stream content from the likes of Netflix.
Ken Bieler, Director of Product Design and Innovation at Virgin America, said: "The idea behind our in-flight entertainment and connectivity offerings has always been to offer travellers more content, more interactivity and more of the choices they have access to on the ground. Since 2009, our guests have come to rely on and expect wi-fi access on every flight, and we've continued to improve our wi-fi product offering over the years.
"Bringing ViaSat's satellite-based wi-fi product to our new delivery aircraft will again allow us to make an industry-leading investment in our product. We are excited about this new technology and the possibility it opens up for wi-fi coverage on our new Hawaii flights and for travellers who wish to stream video in-flight."
The Hawaii flights mentioned by Bieler are significant. ViaSat says the aircraft scheduled to serve the Hawaii routes will be outfitted with a hybrid Ku/Ka-band antenna in early 2016, making Virgin America the first commercial airline to install a hybrid Ku/Ka antenna. The antenna will enable the aircraft to connect to the best available service depending on its location, allowing Virgin America to offer onboard wi-fi on these services to Hawaii, where Ka-band capacity is not currently available.