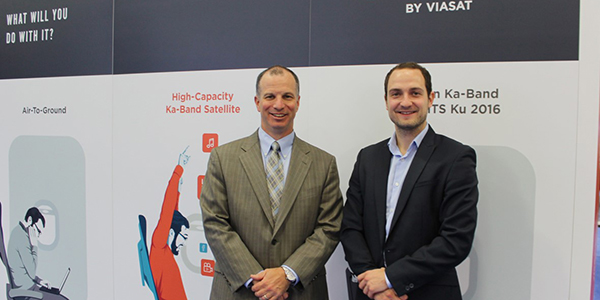 There can be no doubting the fact that the in-flight entertainment (IFE) industry is undergoing a seismic shift. Ranging from JetBlue's tie-up with Amazon Prime to BAE Systems' announcement that it has secured approval from a major Hollywood studio for the streaming of Early Window Content to passenger-owned devices, new approaches to IFE – in terms of both content and delivery – are emerging at a rapid pace.
Virgin America has now got in on the act with the announcement of a deal with Netflix, which allows passengers to stream content from their Netflix account while flying, just as they would at home. The deal has been enabled by Virgin America's partnership with ViaSat, which is supplying its Ka-band Exede in the Air connectivity service to 10 of the carrier's new A320s. This is the same connectivity service that has enabled JetBlue's partnership with Amazon Prime.
"We've really changed the scene of IFEC," Don Buchman, ViaSat's Vice President Commercial Mobility, told FTE at APEX Expo. Buchman said the aircraft is no longer seen as a "special place", in the sense that people no longer think that once they are onboard an aircraft, they will be disconnected from their everyday lives. "If people can use the internet in-flight, they will use it just as they use it at home." This includes using it to stream movies and television programmes through the likes of Netflix, he said.
By enabling passengers to stream content from Netflix and Amazon Prime, it seems fair to say that ViaSat is not just putting pressure on its rivals in the connectivity space, but also the Content Service Providers that supply traditional IFE content to airlines. When pressed on this, Buchman explained: "There was evolution happening and now it's revolution. It's similar to how the iPhone changed the mobile market. Amazon and Netflix are not traditional IFE players, but things are changing."
With Israeli carrier EL AL preparing to launch ViaSat's Exede in the Air connectivity service onboard its own aircraft, all eyes will now be on the carrier to find out if it becomes the first non-US airline to embrace this non-traditional approach to in-flight entertainment.