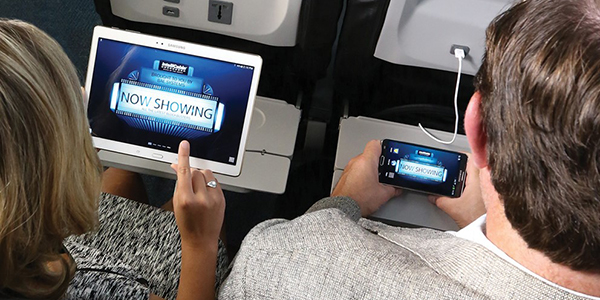 Providers of embedded in-flight entertainment (IFE) and airline-owned tablets that can be used to stream movies have put huge emphasis on the fact that they can offer Early Window Content in-flight; a big differentiator from those who provide platforms to enable the streaming of content to passengers' personal devices. Due largely to piracy fears, the Hollywood studios have refused to grant permission for Early Window Content to be streamed to personal laptops, tablets and smartphones.
BAE System has, however, shaken up the market with the announcement that it is the first vendor in the IFE space to secure approval from an as-yet-unnamed major Hollywood studio for the streaming of Early Window Content on passenger-owned devices through its IntelliCabin In-Flight Entertainment system. Jared Shoemaker, Director of Cabin Systems at BAE Systems, has rightly described this news as a "game changer for our industry".
While the studio in question has not been revealed, Shoemaker explained that the Early Window Content will be streamed from a server locally installed on the aircraft.
Speaking to FTE at APEX Expo, Bob Hess, Cabin Systems Engineering, Electronic Systems, BAE Systems, revealed that intensive work has been going on in the background for a long period of time to secure this approval from the Hollywood studio. "I think we've taken a lot of people by surprise," he said.
The significance of the announcement should not be underestimated. Vendors supplying embedded IFE and IFE content via airline-owned devices had placed a big focus on the fact that Early Window Content could not be streamed to PEDs – as is highlighted in this recent article.
BAE Systems' deal with a Hollywood studio now closes that gap and takes away a key USP from many of its competitors who will surely be planning their next moves to protect their own positions in this ultra-competitive marketplace.