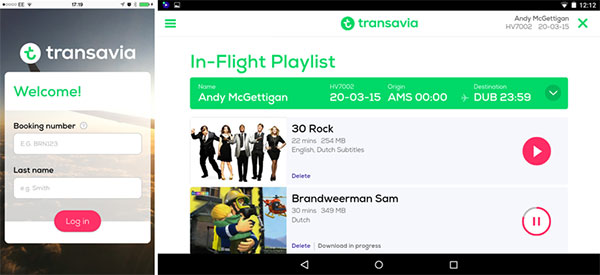 The discussion as to whether wireless in-flight entertainment (IFE) poses a threat to the traditional embedded screens is one that rears its head on a regular basis, but the wireless IFE providers themselves face stiff competition from a new breed of companies who see opportunities to further reshape the market, particularly on narrow-body aircraft serving short-haul routes, which have previously lacked an IFE offering.
Transavia, for example, has partnered with a company called Piksel to allow passengers to browse movies and TV programmes, and download the content to their own electronic devices weeks, days or hours before their flight. As soon as the passenger boards the aircraft, the pre-downloaded content is activated and it is then automatically deleted at the end of the journey to satisfy the licensing laws. "Bring your own content" is not new – there is nothing to stop a passenger renting or buying digital content and saving it on their device before travelling ­– but the fact that it has now been embedded into a carrier's own IFE portfolio is certainly significant.
Roy Scheerder, Chief Commercial Officer at Transavia, explained that the Dutch low-cost carrier's decision to adopt the IFE solution was inspired by changing consumer habits. "The way people consume media has changed rapidly in recent years and the airline industry needs to reflect this in its in-flight entertainment systems," he said. "Our aim was to both boost the flying experience for our customers and cut the high costs of installing onboard infrastructure for video delivery."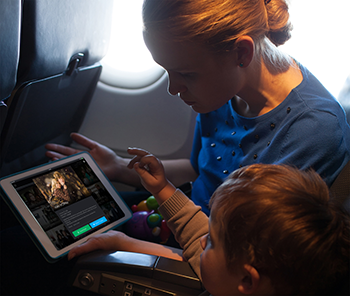 Piksel's Senior Vice President Business Development, Greig Hilton, told FTE that the "flexible, efficient and future-proofed" BYOD IFE solution can meet the needs of a variety of carriers, not just LCCs. "The business advantages of Voyage are applicable to all carriers, and the flexibility of the solution means that airlines are able to design a service that fits their individual needs.
"The advantage for the passenger is having the comfort and knowledge that they're going to be entertained for the flight on their own device. How many times have you boarded a plane expecting to have a seatback screen, but there wasn't one, or it wasn't working? Our research shows that over half of passengers travel without any in-flight entertainment, so there's high demand to select onboard entertainment in advance from an airline branded experience."
Hilton also pointed out the advantages for the carriers themselves. "Airlines can benefit from extending the period of consumer satisfaction and positive brand engagement far beyond the length of travelling time," he explained. "This allows data to be gathered around their customers and affords airlines the ability to provide a more tailored, personalised solution."
Upon the announcement of the partnership with Transavia, Mark Christie, Piksel's Chief Technology Officer, said the company's solution will be a "major disruptor for the industry" and added that he believes "this model will quickly become the future of in-flight entertainment services".
Airline-owned devices have 'inherent benefits'
If Christie is right, what might this mean for other vendors in the wireless IFE space? Do passengers really prefer to download content ahead of the flight, rather than connect to an IFE portal onboard, or would they rather borrow an airline-owned device that has been pre-loaded with content?
According to Greg Latimer, President of Skycast Solutions, airline-owned devices have a lot going for them – a point backed up by the fact that the company recently received a 7,000-unit order from Alaska Airlines for its Windows-based TrayVu8 IFE solution, which offers passengers access to movies, music, games, maps and destination content.
"Exploiting PEDs for an IFE platform will only increase as this becomes a 'table stake' for many airlines, but there are inherent benefits with airline-supplied tablets," he told FTE. "Primary among those is the ability to offer a selection of Early Window movies that studios currently don't allow (to be) streamed to PEDs."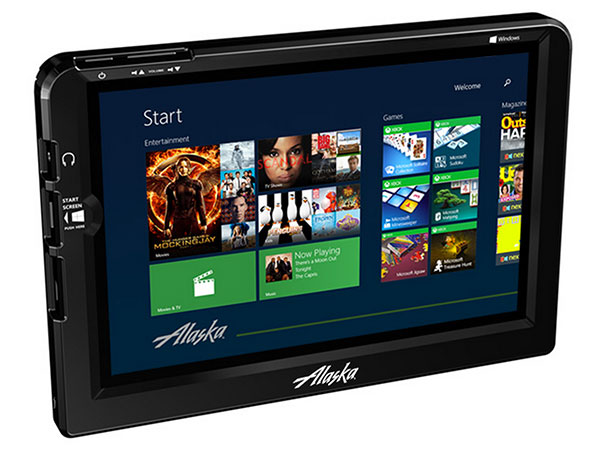 Latimer explained that the company's data shows that this Early Window content is the most popular form of content among passengers. He also pointed to the fact that airline-owned tablets can be offered free of charge to premium passengers, providing a key differentiator from the economy cabin, where passengers may have to pay to rent one of the devices.
It's about more than AVOD
Another vendor in the wireless IFE space, Lufthansa Systems, also appears relaxed about the emergence of pre-flight download IFE platforms. The BoardConnect system, which can be accessed via passengers' PEDs, is already available on Lufthansa, Virgin Australia, EL AL and Aircalin aircraft, and Lufthansa Systems' Eckart Wallis, Product Manager BoardConnect, explained that the solution is "much more than an Audio/Video on Demand (AVOD) platform" and therefore has wider appeal.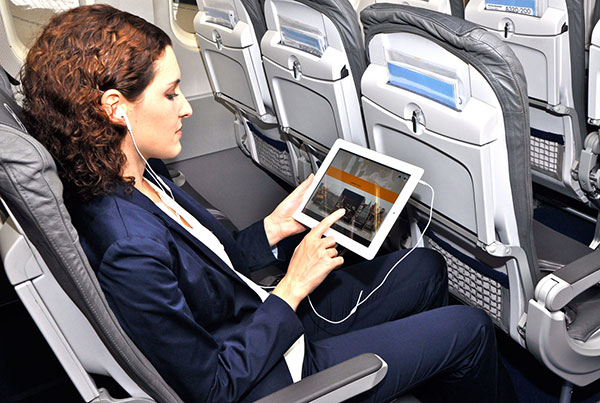 He said: "It offers additional services for the passenger (e.g. moving map, flight information, shopping etc.). It provides a reliable Wi-Fi network in the cabin to provide broadband internet and content to the full cabin and every passenger at the same time. Our solution is developed into the direction of an affiliate advertisement and travel companion platform, providing relevant information and offers to the passenger throughout his journey, and on the other hand generates ancillaries for the airlines."
Bite-size content vs Hollywood blockbusters
Each IFE option clearly has its merits, and while there may not be universal agreement as to which solution airlines should invest in, there is an increasing appreciation of the fact that many travellers now have a penchant for bite-size content along with access to a near endless library of content – a trend perhaps best highlighted by JetBlue's partnership with Amazon Prime.
Skycast's Latimer acknowledged the fact that "passengers want entertainment options, so a way to deliver more snackable entertainment will be a win", but said "the primary demand will always remain for the newest, biggest Hollywood movies".
Meanwhile, Lufthansa Systems, which will be exhibiting at FTE Global 2015, revealed that it is paying attention to passengers' increasing demands for access to streamable content from the likes of Netflix and Amazon Prime, but is keeping its cards close to its chest on this front, for the time being. "We are looking into this as well," Wallis told FTE. "We have some activities around this but cannot disclose the current status. However, (these) concepts are much more difficult in Europe since the content rights are usually regional rights. We also believe that video streaming via satellite is still limited in quality and bandwidth due to the limitations of the antennas installed."
Piksel's Hilton concurs with this opinion, pointing to "limited bandwidth capabilities and expensive installation, management, and maintenance" as reasons why "the business model for streaming video through in-flight Wi-Fi appears to be some way off", at least on a widespread basis.
In-flight entertainment used to mean seatback screens and Hollywood blockbusters on long-haul flights, but smartphones, tablets and alternative forms of content are reshaping the market. With so many solutions and a variety of PED-based IFE platforms on the market, airlines have difficult choices to make when it comes to investing in their IFE products.
The good news for passengers is that regardless of airline, aircraft or flight length, the chance of having access to a decent IFE offering continues to increase.