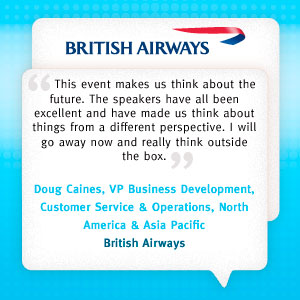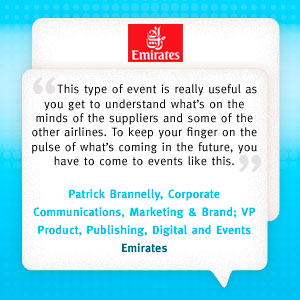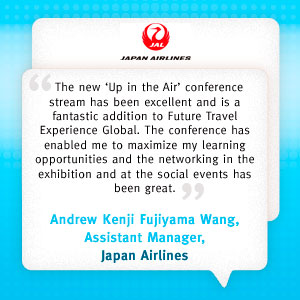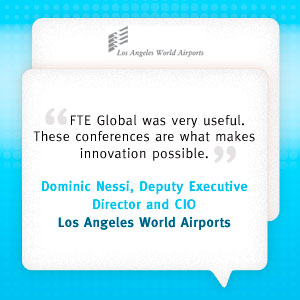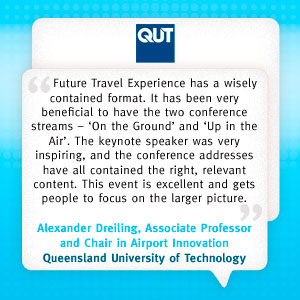 The evolution of FTE began in 2006 with our first ever event in this realm – disCUSS. It then evolved into the Check-In show before becoming Future Travel Experience in 2011. Until the FTE Global 2013 event, our focus had been almost exclusively on what could be done to improve the passenger experience at the airport. While we have now also introduced the 'Up in the Air' conference stream, we are just as passionate about the airport experience as ever before, because despite there being vast improvements in the airport experience since 2006 (in areas like check-in), we are still a long way from solving the frustrations passengers face on a daily basis. We want to continue to play an important role in inspiring travel industry stakeholders to innovate and collaborate to deliver a seamless and personalized passenger experience on the ground, and help them effectively plan future facilities and processes with our unique insights on future trends, and practices.
While the theme of the 2014 event is 'Redefining the end-to-end passenger experience', there will still be a dedicated conference stream for the 'On the Ground' elements of the passenger experience, so if your interest is solely on the airport of the future, we are still undoubtedly the event where you can get the most insight and intelligence on the subject.
We can promise you our most ambitious agenda yet, bringing together a collection of inspiring experts from industry-leading organizations through unique session formats to explore the latest technologies, newest concepts and most innovative visions to enhance the passenger experience.
Conference programme to be announced in the coming months
While the event theme has been defined early, the full agenda and speaker line-up will be launched in the coming months. To give you an idea of the quality of our speakers, focus and commitment to progressive discussion, please review the FTE Global 2013 agenda below.
Workshops/Sessions
Social events/Networking

2013 Conference Program

Wednesday 4th September
13:00 – 17:30
Future Travel Experience – "On the Ground" Workshops
Future Travel Experience Global 2013 will be complemented by workshops addressing major industry challenges whilst exploring the viability of new technologies, best practice of implementing those with merit, and forging discussion where common ground by industry stakeholders cannot be found.
13:00 – 14:45
Questions to consider:
How far can we go with self-service before it feels like no-service?
Is the growing trend of virtualizing interactions with passengers a good idea?
Are we about to see the demise of the human agent and all check-in and gate areas staffed by agents virtually working out of another location?
How will the utilization of kiosks evolve – will they be extinct within the next 10 years?
How does an airport create the right levels of passenger facing service across the whole range of service providers that exist at an airport?
Should we be investing heavily into biometrics to enroll the passenger at the first airport touch point and then for verification throughout the airport through to boarding the flight?
Should airports and airlines be investing in self-boarding at all gates like Vienna Airport has done?
Will the ageing population accept extensive use of self-service?
How will terminal design from check-in to the gate evolve based on the emergence of new technologies in handling passengers and baggage?
Is successfully integrating mobile the secret to taking self-service into being the preferred choice to full service for passengers?
Is self-service the answer to border queues and cost cutting initiatives that cause major passenger frustration by substantially increasing security checkpoint and border queue times such as sequestration?
Workshop 1: Assessing the viability of the latest self-service and passenger facing technologies
Workshop that begins with case studies on some advanced self-service initiatives before moving into a wider panel discussion on the tensions between industry stakeholders and passengers in this area.
Chairman's presentation: Sharing McCarran's views on its advanced self-service implementations and how self-service could, in time, deliver more passenger benefit than full-service.
David Bourgon
Manager, Airport IT Services, Las Vegas McCarran International Airport

Presenters:
Experiences from equipping 92 Self-boarding gates across Vienna International Airport
Peter Mayerhofer
Masterplan Coordination Operations, Vienna International Airport

The long term view of Air France KLM on automating engagements with passengers
Manuel van Lijf
Manager R&D and Innovation, Air France KLM

Additional Panelists
Llewellyn Jones
Manager Ground, Product and Guest Service Systems, Virgin Australia

Bradford Iverson
Travel & Transportation – Industry Smarter Solutions, IBM Corporation

15:00 – 17:00
Other questions to be considered by the panel:
What is set to be the dominant bag tag of the future - backwards compatible permanent bagtags, Hybrid E-ink RFID tags, home printed, NFC, other?
What impact could effective utilization of tracing/tracking/real time data deliver?
What is the optimum set up for a bag drop?
Will there be any challenges for the baggage handling process due to emerging new technologies such as NFC?
How can we bring standardization to hand luggage rules to avoid problems for the passenger at the gate the airport has to solve?
The implementation of baggage fees has led to additional carry-on bags which has a negative effect on aircraft turn times. How can these impacts be rectified?
What impact will mass roll out Self-service Common Use Drop-off points have on the future design of landside and airside areas?
Indications are that a number of airlines will seriously invest in home printed bag strategies – how will this new method play amongst the other approaches and what will the repercussions be for industry stakeholders?
Trials of self-boarding gates have shown that a high percentage of home printed boarding passes don't read well due to low levels of ink – wont the same thing happen with home printed bag tags, but create far bigger problems?
Is it looking likely now that permanent, and home printed bag tags will be the key methods of choice for the future traveller?
With the trend of un-bundling baggage allowance, there could be a major increase in amount of hand luggage on board. How do airlines, handlers and airports tool, train and communicate with their employees and passengers on this?
Workshop 2: What is the next big improvement for baggage set to be?
Workshop that begins with some case studies on advanced baggage initiatives and topics before moving into a wider panel discussion on the tensions between industry stakeholders and passengers in this area.
Chairman's presentation: Experiences of working both within the industry to design and develop devices, and also with airlines and regulators on the business processes of operating a new bag drop and screening system at the 'bleeding edge' of technology.
Michael J. Healy
Vice President - Infrastructure & Commercial Development, Halifax International Airport Authority

Presenters:
The strategy behind and initial results of Iberia's My Bag Tag launch – the world's first major international rollout of home printed bag tags.
Dimitris Bountolos Montabes
Vice President of Customer Experience, Iberia

Self Bag Drop: Is the world ready? Practical considerations and real world experience.
Joint presentation:
Christophe Arnaud
Head of Marketing & Business Development, IER

Chris Chang
Director Airport Strategy, United Airlines

Additional Panelists
Scott Applebee
Vice President Marketing, Travelpro International, Inc

Anders Nielsen
VP Project and Development, Billund Airport

17:00 – 17:30

17:30 – 18:30
Opening Keynote Session for all participants
Welcome addresses
Daniel Coleman
Event Director & Founder, FTE

Samuel Ingalls
Assistant Director of Aviation, Information Systems, Las Vegas McCarran International Airport

To infinity and beyond: Imagining the future of travel
Rob Girling Principal, Co-founder


Travel has never before been safer, faster and more popular--and technology has played a huge role in making it so. Yet along the way, it has lost what made it so exciting— the feeling of adventure, freedom and discovery. Rob Girling, Co-founder and Principal of award winning technology product design firm Artefact will explore a different perspective on the role of technology in the future of travel. Instead of focusing on how design and technology can make travel frictionless and enhance the utility, savings and efficiency, Rob will challenge the audience to think about technology that allows you to break barriers, establish new connections with each other and the new environments travel takes us to, and bring back the feeling of adventure. Using wearable technology, entertainment and services as examples, Rob will demonstrate how design can make travel not only fun and exciting, but help the industry identify new revenue opportunities that strengthen customer loyalty.
Before co-founding Artefact,
Rob worked for the following organisations...
18:30 – 20:00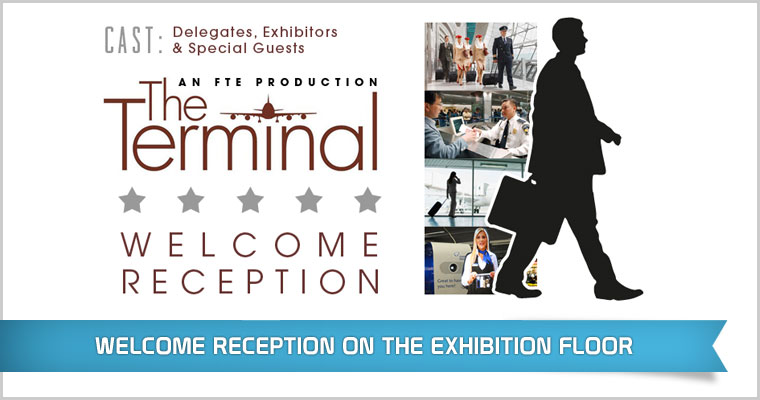 End of day
Thursday 5th September
08:30 – 10:30

Future Travel Experience "On the Ground" Conference commences
10:30 – 12:00
Questions to consider:
How will airlines and airports leverage technology to work together to give passengers a unified experience?
Will complex itineraries and personalization efforts add new complexities to travel experience stakeholders?
What will the points of engagement throughout the travel continuum for the passenger be and will that engagement be with technology or humans?
How will new technologies like Google Glass impact travel?
Will technology facilitate the bringing of glamor back to travel, and can that only be achieved through personalization?
How will we take the drudgery out of travel – waiting for luggage to come through, a check at the gate and at the aircraft door, multiple WiFi log ons, etc?
How will business intelligence evolve, and how will that information help airports and airlines be more efficient?
One major airline will be begin trials in the coming years of using robots to assist passengers with their transfer experience. How quickly will this become the norm?
Are surrogates emerging and are they a threat to air transport – how would they be used in an airport context?
Opening Session – To what extent will the travel experience of 2030 outside of the plane be impacted by technology and what might the knock on effect for industry stakeholders be?
Chairman's Presentation: How the technologies of 2030 like genetic security, wearable devices, AI, automatic language translation, immersive worlds etc. could literally transform your travel experience
Rohit Talwar
CEO, Fast Future Research

After a scene setting presentation from the Chairman there will be a five minute presentation from each presenter before a panel discussion:
Panelists:
Samuel Ingalls
Assistant Director of Aviation, Information Systems, Las Vegas McCarran International Airport

Orlando Kajibata
Airports Operations Planning and Development Manager, TAM Airlines

Professor Alexander Dreiling
Associate Professor and Chair in Airport Innovation, Queensland University of Technology (QUT)

Stuart Garrett
Marketing Director, ARINC

12:00 - 13:45 | Lunch on the exhibition floor
13:45 - 15:15
Second Working Session – Mobile innovation and advanced personalization efforts
Chairman: Jonathan Stephen
Head of Mobile and Emerging Technologies, jetBlue Airways

Heathrow's advancements in CRM and mobile engagement with passengers
Nick Adderley
Marketing & Insight Director, Heathrow Airport Limited

What is the future of NFC and apps and how can airlines and airports harness mobile channels to truly elevate the travel experience?
Andrew Kenji Wang Fujiyama
Assistant Manager, Japan Airlines

Utilizing mobile channels in conjunction with airport infrastructure such as digital signage to create a truly revolutionary multi-sensory passenger experience at the multi-billion dollar redeveloped LAX
Dominic Nessi
Deputy Executive Director & Chief Information Officer, Los Angeles World Airports (LAWA)

15:15 – 16:00 | Refreshments on the exhibition floor
16:00 – 17:30
Third Working Session – Future Airport concepts
Chairman's presentation: Findings from the Fentress Global Challenge: Airport of the Future
Thomas Walsh
Director of Airports and Principal, Fentress Architects

What does the future airport experience look like?
Rowan Chalmers
Head of Ground Operations Sydney/Canberra, Qantas

Highlights of PANYNJ sponsored Airport Terminal Of the Future Workshop
Kiran Merchant
Manager Aviation Planning Division, Port Authority of NY&NJ

American Airlines revealed its Next Generation Airport concepts at DFW Terminal A - what was the justification behind the concept and what are employees and customers saying about it?
Kevin Doeksen
Director – Customer Planning, Customer Planning & Consulting, American Airlines

19:00 – 22:00

End of day
Friday 6th September
09:00 – 09:30

Exclusive for FTE 2013 - What is needed to increase the speed at which industry progress in improving the passenger experience on the ground is achieved, and what might the passenger experience look like by 2025? Recommended strategies from a think tank
Questions to consider:
How do we foster an environment for innovation amongst the industry which is so risk averse?
What are the industry obstacles to real change for the passenger and how do we overcome them?
Who should drive change – airports or airlines?
Would establishing airport alliances who shared common visions help?
What collaborative efforts need to be prioritized?
How do we change a culture where airlines, airports and vendors are unwilling to invest in innovation?
How do we move beyond bespoke standards that work for individual organizations to scalable cross industry standards in key areas?
Do industry associations need to be stronger to quickly force through standards that will benefit the industry, rather than delay to appease influential members who may not agree with the general consensus?
Why are we yet to achieve more in terms of collaboration and how do we incentivize clearly essential collaboration for the benefit of the passenger?
Why is the customer rarely the starting point for change? Why is it always driven by cost efficiencies and structural benefits and how do we change that?
Can we be more transparent with databases to share data on passengers?
Is open information and collaborative efforts the way forward?
Would a single token through the airport change everything and if so what do we need to do to make that a reality?
Participants are industry leaders committed to change with little involvement in industry association working groups to help provide an alternative new take on how industry progression can be achieved.
Think tank members:
Lena Rökaas
COO, Swedavia

Cees de Vos
Director Innovation Outstations & Partnerships,
Air France KLM

Greg Fordham
Managing Director, Airbiz

Daniel Coleman
Founder, Future Travel Experience

09:30 – 10:45
Questions to consider:
What lessons have been learned and new strategies implemented as a result of the major disruption events of the last few years around the world?
How have disruption procedures changed in terms of communicating, accommodating and compensating the passenger?
How have internal system and process capabilities changed within the travel sector to deal with disruption?
How do we improve the way airlines and airports work with travel distributors (TMCs, travel agencies, OTAs, tour operators) with regards to disruptions?
How do we improve collaboration amongst all travel industry stakeholders during times of disruption when the passenger needs it most?
How do we measure the impact of delays and cancellations on passenger sentiment towards your company?
How do we try to change passenger sentiment when a delay or cancellation occurs?
What are the operational challenges between the airline and airport when it comes to delays and cancellations?
What role can mobile technology play in future disruption situations?
How do travel industry stakeholders ensure their mobile communications are timely and relevant to the passenger based on their needs?
How do we manage the impact of social media on disruptions?
What lessons can be learned on disruption from the hospitality where customer service is king?
Fourth Working Session – Strategies to drastically improve industry performance for the passenger during disruptions
After an opening presentation the Chairman will lead a panel discussion with a group of experts and innovators in this area, as well as encourage questions and discussion with the audience:
Chairman: Norman Rose
Senior Technology Analyst, PhoCus Wright, INC

Rethinking irregular operations: towards a customer-centric environment
Patricia Simillon
Head of Airlines Operations Strategy, Amadeus

Panelists:
Keiichiro Kadota
Director, All Nippon Airways Co., Ltd

Llewellyn Jones
Manager Ground Product and Guest Service Systems, Virgin Australia

Ralph Lepore
Assistant Director for Terminal Operations, McCarran International Airport

10:45 – 11:30 | Refreshments on the exhibition floor
11:30 – 13:00
Fifth Working Session: Unconference – Assessing the viability of new passenger experience initiatives and practices
Unconference is a facilitated, participant-driven approach, which will see the conference room rearranged into a series of specific working areas where delegates (who will be led by a specialist facilitator) can share experiences and ideas across the following subjects:
Mobile and Apps
Facilitator – Jared Miller,
Vice President and General Manager, Travel and Gaming Solution, NCR

Topics to be covered:
Will NFC and mobile payment solutions ever take off, and will they help airports to generate more revenue and improve customer experience? How can location based services be best implemented to support passengers and airport internal needs?
Native mobile apps vs the HTML 5 browser based app: Which is a better strategy, and what are their limitations/advantages? How can airports better support mobile savvy passengers needs moving forward?
Augmented reality solutions: Is this just another gimmick or is this really value-added service to airports?
Technology and Baggage
Mark Stokes
Transportation and Logistics Business Unit Manager, Brock Solutions

Topics to be covered:
What is a Baggage Image and Weight Identification System (BIWIS) and how can it improve your passengers' experience, streamline the connection process, save the Airport space, reduce Airline connection times and improve security?
With Automatic Bag Drop machines becoming a reality, what is the right balance of services offered by these machines? Can and should there be one process for everyone?
"Where is my bag?" How would centralizing all of your real-time baggage tracking information in a Baggage Operational Database (BODB) or an Airport Operational Database (AODB) allow you to answer this question?
Beyond engagement and social media – Towards a Commercial Digital Airport
Professor Alexander Dreiling
Associate Professor and Chair in Airport Innovation, Queensland University of Technology (QUT)

Topics to be covered:
Digital Strategy

Why would airports want one?
What do they look like?
What are they covering?
What's the relationship to the corporate strategy?
Why are traditional ways of devising strategy unsuitable for digital strategies?

Commercially relevant entertainment, ambience and digital channels
Digital services as a complement to infrastructure services
Digital transformation, personalization and social: changes to other industries that airports have largely missed out on so far. Associated risks and opportunities
13:00 – 14:00 | Lunch on the exhibition floor
15:00 – 17:00

The Las Vegas McCarran International Airport tour is a unique opportunity to experience firsthand the unparalleled facilities of this forward-thinking airport. Centering on the trailblazing new Terminal 3, the tour begins curbside, where delegates will explore the check-in areas – taking in everything from sophisticated digital signage to the utilization of kiosks and advanced self-bag tagging facilities – and will be given an understanding of check-in area layout and flexibility of design in the terminal space. From departures, the tour moves airside, where a look at the digital signage at the gates, the automated self-boarding system and the activity on ramps will give a fascinating insight into the innovation behind McCarran International Airport's operations.
Sponsored by Las Vegas McCarran International Airport