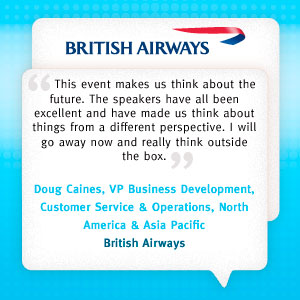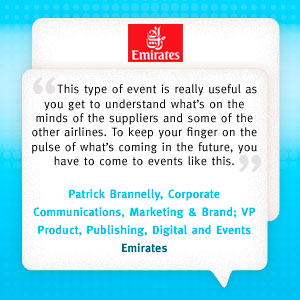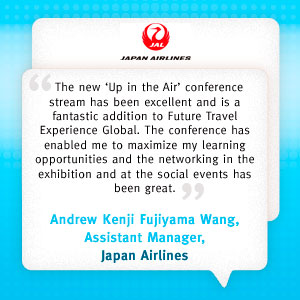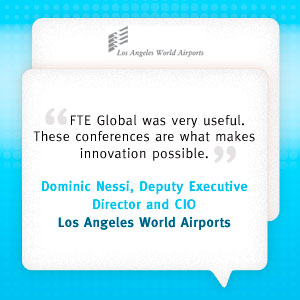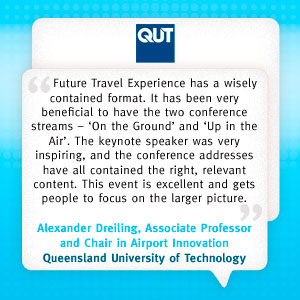 Enhancing the airport experience has been at the heart of Future Travel Experience since our first event (then called 'disCUSS') back in 2006. While we have now extended our focus to also include the onboard experience through the 'Up in the Air' conference stream, we are just as passionate about the airport experience as ever before, because despite there being vast improvements in passenger experience on the ground since our first show in 2006 (in areas like check-in), we are still a long way from solving the frustrations travellers face on a daily basis. We want to continue to play an important role in inspiring travel industry stakeholders to innovate and collaborate to deliver a seamless and personalised passenger experience on the ground, and help them effectively plan future facilities and processes with our unique insights on future trends, and practices.
While the theme of the 2014 event is 'Redefining the end-to-end passenger experience', there will still be a dedicated conference stream for the 'On the Ground' elements of the travel process, so if your interest is solely on the airport of the future, we are still undoubtedly the event where you can get the most insight and intelligence on the subject.
We can promise you our most ambitious agenda yet, bringing together a collection of inspiring experts from industry-leading organisations through unique session formats to explore the latest technologies, newest concepts and most innovative visions to enhance the passenger experience.
Workshops/Sessions
Social events/Networking

2014 Conference Programme

* invited to conference
Wednesday 24th September
09.30 – 12:30
Airport Terminal of the Future Members Forum

Airport Terminal of the Future provides a discussion forum on important issues that will drive the evolution of future terminal planning and design. Its mission is to explore and investigate future trends, design concepts and technological innovations that will change the way airport terminals will be designed and used by the next generation of passengers. Airport Terminal of the Future aims to improve the industry through a collegial discussion between leading professionals from around the world who offer a diverse range of perspectives, including airports, airlines, consulting firms, the supply chain and academia.
The last Airport Terminal of the Future workshop was hosted by the Port Authority of NY & NJ in September 2012 (see photo above right). 95 Aviation Industry experts from around the world attended this interactive workshop to discuss "Big Ideas" of the future. The impressive list of attendees represented many US and International Airports, Airlines, Regulatory agencies, Independent aviation organizations and consultants with combined experience of more than 1800 years. We hope for a similar turn out in Vegas this year.
12:30 – 13:30 | Lunch break
13:30 – 15:00
Baggage Advancements Forum

Questions to consider:
Are home-printed and permanent bag tags reliable, and how dominant will they be in the future baggage process?
In the future it looks likely that passengers and bags will be moving en masse through the travel process separately, so what will this mean from facilitation, security and ease-of-travel perspectives?
What is the future model for providers that facilitate baggage delivery? Will airlines and airports help to facilitate it, or will it be new independent providers, or a hybrid?
What is the optimum set-up for a self-service bag drop, and how can airports and airlines reduce processing times?
Why is common-use bag drop not rolling out faster?
What problems will increases in the level of hand luggage, and taking tagging away from the airport environment, create for stakeholders in the long-term?
How do we provide an all-encompassing and consistent baggage offer for passengers worldwide, and how will the future trend of passengers and bags travelling separately impact travel facilitators and processes?
Workshop that begins with case studies on advanced baggage initiatives and key topics, before moving into a wider panel discussion on the tensions between industry stakeholders and passengers in this area.
Chairman: David Bourgon,
Manager, Airport IT Services, McCarran International Airport

Experiences and lessons learned from launching home-printed and permanent bag tags
Laila Ben Salah,
Manager Product Innovation, Air France-KLM

Samir Cadi,
Program Manager, Air France-KLM

Lessons learned from two years of extensive experience with automated common-use bag drop in Norway to help you make the case for airline use, and insight into how two new airport terminals are being built with these findings in mind.
Jens Andreas Huseby,
Senior IT Advisor - Corporate IT - IT Strategy, Architecture and Innovation, Avinor

Yngvar Sundsfjord,
Chief Project Manager, COWI

How 'Bring Your Own Device', and industry stakeholders accessing external data, can finally give passengers the same control of their baggage experience as they get across every other part of their journey.
Joint presentation from:
Andrew Price,
Head of Airport Operations, IATA

Max Behan,
IT Development Manager, HomingPIN

Additional panellists:
Craig Mateer
Founder, HomeServ Delivery & BAGS Inc.


Rick Warther,
President & CEO, Vanguard ID Systems

15:00 – 15:30 | Coffee break
15:30 – 17:00
New Technology Forum

Questions to consider:
What have been the results of trialling iBeacons, and can they effectively personalise the journey through the airport?
To what extent will roving agents carrying iPads, PDAs and other devices spell the end of traditional airline check-in desks and kiosks?
How can new technologies be used to help sell the passenger personalised and unique offers related to their travel itinerary, such as fast track security or entry to tourist attractions at their arrival destination?
Does the industry really need to adopt a common use approach to beacons or does this approach benefit the major IT providers more than airlines and passengers?
What is the ideal connectivity platform on which to run mobile-based customer service solutions – Wi-Fi, 4G, Hotspot 2.0 etc?
Will faster Internet speeds at airports enable passengers to quickly download movies, music and content ahead of boarding flights?
Which techniques and technologies have been implemented to improve the customer experience in other industries that could be utilised by airlines and airports?
Leveraging next-generation technology to empower staff, drive ancillary revenue generation and help improve the airport experience
Workshop that begins with case studies on the utilisation of new technologies, before moving into a wider panel discussion on which technologies travel industry stakeholders should be planning for.
Chairman's presentation: How developments in areas such as Cloud Computing, Data Analytics, Mobility Solutions and Social Business offer new means to improving passenger experience to differentiate in the market and reduce operational cost.
Chairman: Rob Ranieri,
EVP & Partner - Application Innovation Services, IBM

Results and lessons learned from Air France-KLM's pilots deploying iPads in the hands of frontline staff, and a preview of other new projects
Cees de Vos,
Director Innovation Outstations & Partnerships, Air France-KLM

Leverage innovative technologies to improve customer services, loyalty & retail experience
Joe Chiu,
Vice President, Corporate IT, Changi Airport Group

How American Airlines is simplifying the passenger experience at DFW with the industry's biggest deployment of iBeacons
Phillip Easter,
Director Mobile Apps and Wearables, American Airlines

Additional panellists:
Jimmy Buchheim
CEO, BEEKS Proximity Solutions

Ryan Ghee,
Editor & Event Strategy Manager, Future Travel Experience

17:00 – 17:30

17:30 – 18:30
Opening Keynote Session
Welcome addresses:
Daniel Coleman
Event Director & Founder, Future Travel Experience

Samuel Ingalls
Assistant Director of Aviation, Information Systems, McCarran International Airport

What can the travel industry learn from Disney's guest experience principles and latest initiatives, such as MyMagic+, to help create the most seamless and personalised end-to-end travel experience possible?
Bob Simmonds VP Domestic Travel Operations, Disney Destinations

Bob is responsible for helping to create the most magical experience possible for guests planning to visit any Disney destination worldwide. Whether through a phone call, an email, a web chat or even a letter, Disney helps its guests create "magical memories that last a lifetime". Bob's responsibilities include driving sales and guest satisfaction using advanced people, process, technology and strategies, "while sprinkling a little pixie dust". He is also responsible for product development and the P&L for the Walt Disney Travel Company, one of the world's leading travel wholesalers providing Disney products to world-class travel industry partners and consumers. In this keynote address, he will help travel industry stakeholders identify how they can learn from Disney's approach to help improve their own guest experience.
18:30 – 20:00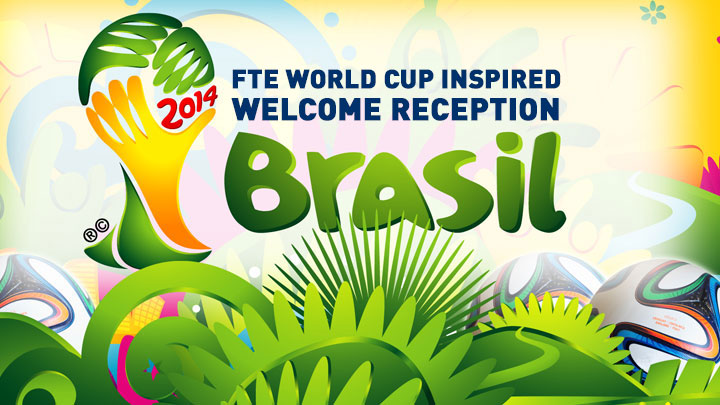 Take advantage of the vital networking opportunities provided at this Welcome Reception, where delegates can enjoy demonstrations in the exhibition for the first time during the event, as well as drinks and entertainment inspired by this year's FIFA World Cup in Brazil, which like FTE Global brings together nationalities from all over the world in one place to showcase the best of the best.
Entertainment will include a penalty shoot-out, where a nominated representative from each country in attendance at the show will participate in a 'sudden death knockout' competition. The winning penalty taker, and their fellow country representatives, will be immortalised in a trophy lifting ceremony at the end of the evening!
Once more, the Welcome Reception will begin early so participants have more scope to network outside of the official event proceedings.
End of day

Thursday 25th September
08:00 – 09:00

09:00 – 10:30
FTE 'On the Ground' Keynote Address and Opening Session
After an opening presentation, our keynote will lead a panel discussion with a group of experts and leaders in change management and airport transformation, as well as encourage participation from the audience.
FTE Exclusive – Launch of Industry Changing Research

Airport Transformation – 'A Roadmap to Viability'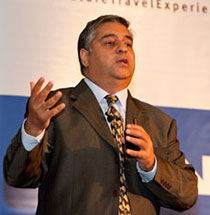 Rohit Talwar CEO,
Fast Future Research


Like every other industry across the globe, airports are beginning to acknowledge that the strategies, ways of working and business models of the past are simply not enough to ensure success in the 21st century. Fundamental transformation is now required in the thinking, assumptions and beliefs that underpin airport strategies and operating models. In this keynote, global aviation industry futurist and award-winning speaker Rohit Talwar will launch the findings of a new study exploring how the industry can transform itself to succeed in the face of a constantly changing external environment.
Rohit will draw on lessons and examples from within the sector, and from firms in other sectors that have delivered successful transformations. He will highlight how they are reworking their strategy, culture and practices to create effective organisations for the 21st century. To help drive real action, Rohit will step delegates through a 'roadmap to viability', highlighting the critical decisions and actions that need to be taken to establish an airport that is fit for the future.
Additional panellists:
Jeff Foland
Executive Vice President of Marketing, Technology and Strategy, United Airlines*

Craig Richmond
President and CEO, Vancouver Airport Authority

10:30 - 11:15 | Coffee break on the exhibition floor
11:15 - 12:45
Second Working Session - What are the future collaboration models that will help achieve progress at the real passenger pain-points - airport security and inbound immigration?
Questions to consider:
How far are we from creating seamless, walkthrough security and immigration checkpoints, and what can be done to achieve this goal as soon as possible?
Should the industry be embracing a risk-based approach to expedite the security process?
How can the airport security and immigration processes be improved through design, as opposed to new technologies?
How far can we go with Automated Passport Control globally, and is it the key to solving unacceptably long queues at international arrivals?
What impact has sequestration had on the airport security and immigration process in the US and what should airports do to ensure that security standards aren't negatively affected by the governmental cuts?
Chairman: Antoine Rostworowski,
Industry Relations, Montréal Trudeau International Airport & Chair of the ACI World IT Standing Committee


Special presentations to set the scene and show what is possible through true innovation and collaboration in these areas, before moving into a wider panel discussion on the best means to improve passenger experiences in these areas going forward.
Amsterdam Airport Schiphol, in collaboration with its stakeholders, has developed and rolled out a brand new security checkpoint concept utilising the latest design, technology and processing methods to turn security into a service. In addition, for the first time ever, through its management partnership at Aruba Airport, biometrics is being used as the main passenger identification token in an airport. How were these landmark projects realised?
Jos Nijhuis,
President & CEO, Schiphol Group*

Chicago O'Hare was the first airport in the US to launch Automated Passport Control (APC) kiosks following a collaborative project with its airline partners and US CBP, leading to a 27.5% decrease in the average wait time at customs. How has this been achieved, what lessons have been learned and what are the future APC plans?
Joint presentation from :
Richard Edgeworth,
Chief of Safety and Security, Chicago Department for Aviation

Milton G. Uribe
Chairman, O'Hare Airline Managers Association*
12:45 - 14:00 | Lunch on the exhibition floor
14:00 – 14:45
Post-lunch Joint Keynote for all conference delegates
FTE Global 2014 Exclusive -
Integrating the destination into every part of a passenger's travel experience: the airplane, the airport, and the city.
A passenger's destination is the most important element of every journey. Capturing the spatial, emotional, and cultural qualities of this destination throughout the passenger journey will be a key differentiator in the design of future experiences. In this session, a multi-disciplinary team, representing academia, technology, design and government, explain how they are pushing the boundaries of design thinking and technology to connect passengers to the places they experience. The panel will discuss the design processes, outcomes and partnerships that have started to turn this idea into reality, and present their goals for the future of passenger experiences around the globe.
Anijo Mathew
Associate Professor, IIT Institute of Design, Chicago

Muki Hansteen-Izora
Research Scientist & Senior Strategist, Intel Labs

Melissa Cherry
VP of Cultural Tourism & Neighborhoods, Choose Chicago

Timothy Miller
Program Manager and Strategist, TEAGUE

14:45 – 15:45
Third working session – Planning for the Airport of 2030 – what are the key technologies and other considerations that you should be planning for to ensure your organisation can meet the demands of the passenger of 2030 while they are on the ground, and how do you bridge the gap between now and then?
Questions to consider:
What are the key emerging technologies that will be commonplace in the airport of 2030?
What steps should airports and airlines take now to ensure they are well placed to capitalise on emerging technologies to enhance day-to-day operations and the passenger experience?
What are the spending habits of passengers likely to be in 2030 and how do you position your business to maximise upon these likely trends?
Should airports and airlines be working with traditional aviation IT providers, or should they be teaming up with the global tech giants who are now taking an active interest in travel?
How do we reach the point where a single token is used for every step of the passenger journey, and is facial recognition the platform for this token?
How will the role of the airline agent change between now and 2030?
Each speaker will deliver a five-minute presentation on a specified topic after the Chairman has set the scene, before taking part in an interactive Q&A debate.
Chairman's presentation: A view on what customer service expectations will be in 2030
Chairman: Rick Garlick,
Global Practice Lead – Travel and Hospitality Group, JD Power

A view on how airlines will use airports in 2030
Takumi Kosawa
Director - Services Development, Airport Services & Operations Planning, All Nippon Airways Co., Ltd

A view on how consumer technologies will interact with airport infrastructure in 2030
Clark Brown
Vice President of Sales, LG Electronics

A view on how airports will support airline and passenger demands in 2030
Mike Hardaker
Head of Business Improvement, Dubai Airports

A view on how airport systems will evolve by 2030
Betros Wakim
Chief Executive Officer & Chief Technology Officer, AirIT

15:45 - 16:15 | Coffee break
16:15 – 17:15
Redfining end-to-end passenger experiences keynote session

Chairman: Samuel Ingalls,
Assistant Director of Aviation, Information Systems, McCarran International Airport

Views from the world's first LCC to operate both short-haul and long-haul on how airlines can take ownership of, and redefine, the end-to-end passenger experience

Bjorn Erik Barman-Jenssen,
Senior Vice President Ground Operations, In-flight Services & Cargo, Norwegian Air Shuttle

Views from one of the world's leading hospitality companies on how the end-to-end travel experience can be truly enhanced and redefined through technology and collaboration

Josh Weiss,
VP Brand and Guest Technology, Hilton Worldwide

20:00 – 23:00

Location – TBC
Timing – 20:00 – 23:00
Dress code – Business casual
McCarran International Airport will be hosting a memorable evening with the finest food, drink and entertainment that Las Vegas has to offer. The evening will also play host to the prestigious 2014 Future Travel Experience Awards ceremony.
End of day

Friday 26th September
09:15 – 10:15
Outside of the box thinking to show what will be possible by leveraging new technology throughout the travel continuum
Visionary Keynotes

Chairman: Ryan Ghee,
Editor & Event Strategy Manager, Future Travel Experience


The future view on how technology and consumer needs will evolve, and how travel industry stakeholders should adapt to these changes
Greg Jones,
Industry Director, Worldwide Hospitality & Travel, Microsoft


Using technology to leverage consistency across the entire journey
Matt Muta,
VP Innovation & Commercial Technologies, Delta Air Lines

10:15 – 11:00 | Coffee on the exhibition floor
11:00 – 12:30
The FTE Wearable Technology Forum
Is wearable a fad or, as recent evidence suggests, a powerful new tool in travel?
In recent months, interest around utilising wearable technology in a travel context has exploded. First Virgin Atlantic launched a groundbreaking trial using Google Glass and Sony Smartwatches to deliver a high-tech, personalised passenger experience in the Upper Class Wing at London Heathrow Airport, and since then we have heard publicly that London City Airport is exploring how it can leverage Google Glass from an airport operations perspective. We've also had further announcements from the likes of Iberia, Vueling and airberlin that their passengers will be able to download boarding passes directly to their wearable devices.
However, we are only scratching the surface of what is possible through wearable technology across the travel continuum and this Forum will provide an invaluable platform for first-movers to share what they are doing, and the lessons they have learned along the way. It will provide a unique platform for our speakers and audience to explore together where wearable technology is going next and how airlines, airports, service providers, concessionaires, immigration, security agencies and other travel industry stakeholders can take advantage of these technologies to improve future business performance and passenger experiences.
Format: Cutting-edge case study presentations to showcase how wearable technology is being leveraged today, before moving into a wider panel discussion on where the technology is going next and what opportunities it might present for the travel sector going forward.
Chairman's Opening Presentation:
Thoughts on next-generation wearable devices, such as those that will allow you to unlock personal devices and pay bills using only your biometrics, and what these might mean for travel.
Julian Beltrán,
CEO, Droiders



Panellists:
Since February this year, Virgin Atlantic has been trialling smartwatches and Google Glass in its Upper Class Wing at Heathrow to provide next-generation customer service to passengers. What are the results and lessons learned from these first-mover efforts, and will wearable be a key technology leveraged by the airline going forward?
Joint presentation from:
Tim Graham,
IT Innovation and Development Manager, Virgin Atlantic Airways

Jim Peters,
Chief Technology Officer, SITA

How wearable technology could automatically identify passengers using facial recognition technology across the travel process, helping to create a more personalised and seamless experience at key points at the airport and in-flight
Dan Cui,
Vice President Business Development, Vuzix Corporation

Experiences and lessons learned from Iberia – the airline that has gone furthest with leveraging wearable technology
Dimitris Bountolos Montabes,
Vice President of Customer Experience, Iberia Airlines*

12:30 – 13:45 | Lunch on the exhibition floor
13:45 – 14:45
Unconference Sessions
Unconference is a facilitated, participant-driven approach, which will see the conference room rearranged into a series of specific working areas where delegates (who will be led by a specialist facilitator) can share experiences and ideas across the following subjects:
Strategies to enhance the end-to-end travel experience
Facilitated by Duncan Abell,
VP of Creative, Advanced Inflight Alliance AG

The future of airport common use
Ryan Ghee,
Editor & Event Strategy Manager, Future Travel Experience

Leveraging technology onboard to personalise passenger experiences and drive spending
Facilitated by Raymond Kollau,
Founder, AirlineTrends.com

Leveraging technology at the airport to personalise passenger experiences and drive spending
Daniel Coleman
Event Director & Founder, Future Travel Experience
15:30 – 17:00