Take advantage of the unrivalled networking opportunities on offer at Future Travel Experience Global 2015
Future Travel Experience is renowned for its unique and memorable social and networking events, and our 2015 show will be no exception. Among the highlights at FTE Global 2015 will be:
Wednesday 9 September
Welcome Reception on the Exhibition Floor at the Mandalay Bay Resort
Theme: Viva Las Vegas
Take advantage of the vital networking opportunities provided at this Welcome Reception, where delegates can enjoy demonstrations in the exhibition for the first time during the event, as well as drinks and Sin City inspired entertainment. Once more, the Welcome Reception will begin early so participants have more scope to network outside of the official event proceedings.
Thursday 10 September
FTE Global 2015 Beach Party
Location – Daylight Beach Club at the Mandalay Bay Resort
Dress code – Business Casual
Taking place at the notoriously cool Daylight Beach Club at the Mandalay Bay Resort & Casino, McCarran International Airport, with the support of Rockwell Collins, will host a memorable evening with the finest food, drink and entertainment that Las Vegas has to offer. Run by the Hakkasan Group, the venue is the ultimate sophisticated poolside retreat that will provide our guests with a modern tropical oasis where they can network and relax, before letting their hair down and enjoying a night they will never forget.
The evening will culminate with the Future Travel Experience Awards 2015 ceremony, and a headline performance from one of Las Vegas' most popular live acts, the Peter Monroy Band, who will take us on a musical journey through the '70s, '80s, '90s and 2000s.
FTE Awards 2015 Ceremony
The FTE Global 2015 Beach Party will include Future Travel Experience's annual awards ceremony.
The 5th Future Travel Experience Awards will celebrate the outstanding efforts of organisations that have gone the extra mile to improve the passenger experience on the ground and up in the air. Presented to the winners in the presence of their industry peers, the awards will recognise the most innovative, ambitious and effective initiatives and organisations across 10 categories.
View more information on the FTE 2015 Awards here.
Friday 11 September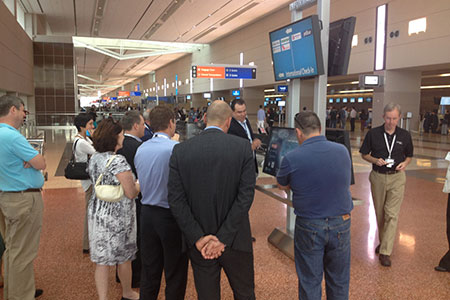 Las Vegas McCarran International Airport Tour
The Las Vegas McCarran International Airport tour is a unique opportunity to experience first-hand the unparalleled facilities of this forward-thinking airport. Focusing on the trailblazing Terminal 3, the tour begins curbside, where delegates will explore the check-in areas – taking in everything from sophisticated digital signage to the utilisation of kiosks and advanced self-bag tagging facilities – and will be given an understanding of check-in area layout and flexibility of design in the terminal space. From departures, the tour moves airside, where a look at the digital signage at the gates, the automated self-boarding system and the activity on ramps will give a fascinating insight into the innovation behind McCarran International Airport's operations.