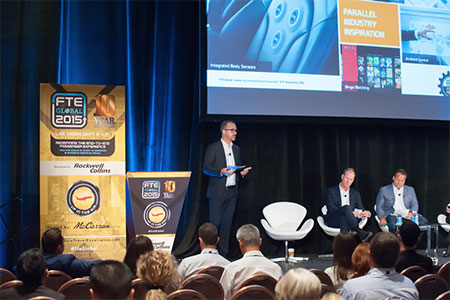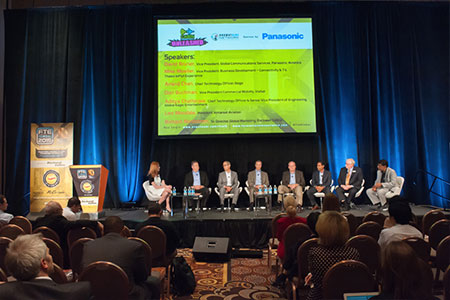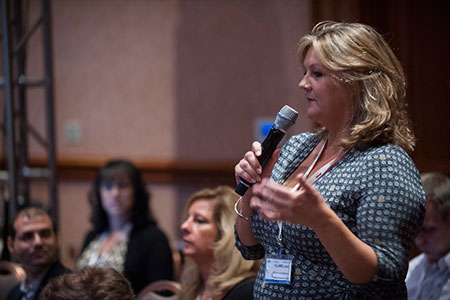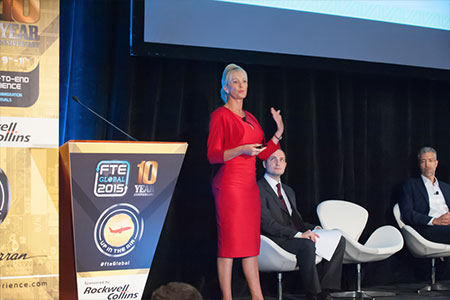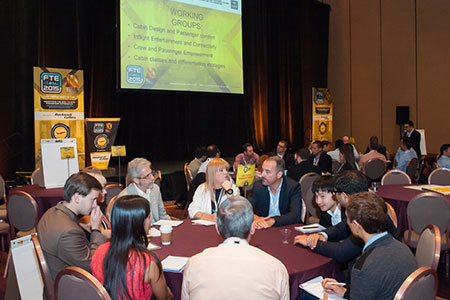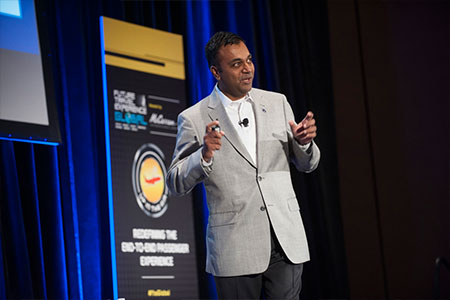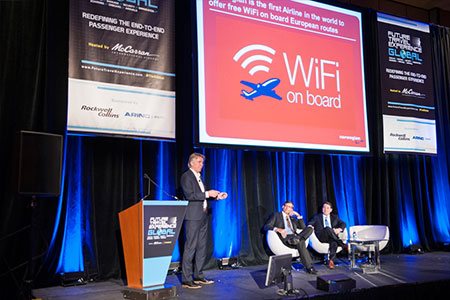 The 'Up in the Air' conference stream at FTE Global, which will be delivered in partnership with the Airline Passenger Experience Association (APEX), is widely regarded as an industry-leading conference for airlines, OEMs, cabin designers and vendors to share their latest onboard innovations and define which direction the in-flight passenger experience will take in the future. FTE's independent and passenger-focused mentality is renowned for creating high quality discussion and progress that instigates industry improvements well beyond the walls of the conference room.
FTE's independent and passenger-focused mentality creates discussion and progress that cannot be matched by any other event in the marketplace. Great care is taken to ensure only the most forward-thinking and pioneering air transport and travel industry leaders have the opportunity to address delegates, making the 'Up in the Air' stream the industry's most progressive conference dedicated to the in-flight customer experience. The 2016 'Up in the Air' agenda will focus on future opportunities and challenges in areas relating to next generation in-flight entertainment, connectivity, cabin design, passenger comfort, crew empowerment and personalisation opportunities.
In keeping with FTE's end-to-end focus, delegates will also have access to the 'On the Ground' and 'Terminal Design & Delivery' conferences.
The full agenda will be released in the coming months
The 2016 'Up in the Air' conference agenda will be released shortly, but please view the 2015 agenda below, which provides a taste of what you can expect.

Workshops/Sessions
Social events/Networking

2015 Conference Programme

* invited to conference
Wednesday 9th September
10:30 – 12:00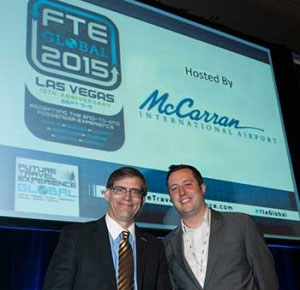 Opening Keynote Session
Welcome from the organiser and host:
Daniel Coleman,
Founder, Future Travel Experience

Samuel Ingalls,
Assistant Director of Aviation, Information Systems, McCarran International Airport

Welcome from Oscar Goodman – America's greatest Mob lawyer, Former Mayor of Las Vegas, and Las Vegas Convention and Visitors Authority Host Committee Chairman
Oscar made his name as the Mafia's go-to criminal defence attorney, and he has tried an estimated 300 criminal cases, and won most of them. His roster of clients reads like a history of organised crime: Meyer Lansky, Nicky Scarfo, and "Lefty" Rosenthal, as well as Mike Tyson and boxing promoter Don King. After 35 years as a defender, he ran for Mayor of Las Vegas, and America's greatest Mob lawyer became the mayor of its sexiest city. He was so popular his image appeared on the $5, $25 and $100 chips. While Mayor of Vegas, he starred on the screen in Rush Hour 2 and CSI. He is as large a character in the history of organised crime as any of his clients and as legendary a figure in the history of Las Vegas as the entrepreneurs (his friends and clients) who built the city.
Oscar is now the Las Vegas Convention and Visitors Authority Host Committee Chairman. In addition to his work as the No.1 ambassador for Las Vegas, he has taken up acting, playing himself in the movie Casino and most recently starring in an episode of the prime time hit series CSI: Las Vegas. Mr Goodman is the author of the highly acclaimed Being Oscar: From Mob Lawyer to Mayor of Las Vegas.
How technology will change the travel experience, and how industry stakeholders should adapt

Megan Danielson,
Head of Travel Industry, Google


Max Coppin,
Partner Development Manager, Google

The future of travel is no longer about just getting passengers from A to B; it's also about providing a personalised and memorable experience along the way. This can only be achieved through new forms of collaboration between the traditional industry players and tech giants such as Google, who passengers engage with every day, whether they are travelling or not.
In this fascinating joint keynote address, Megan and Max will open the audience's eyes to the possibilities new technologies and a truly "customer focused" mentality could create in travel, and the likely repercussions of realising those possibilities both to passengers and industry stakeholders. After hearing this keynote, all of those present in Vegas will be able to better plan how to future proof their strategies, and improve their end-to-end passenger experiences.
12:00 – 13:30 | Official exhibition opening, lunch break and networking on the exhibition floor
13:30 – 15:00
The FTE Collaboration Forum Part 1 – Briefing and Idea Sharing

Session Chairman: Kiran Merchant,
CEO, DY Consultants

We want FTE to be an industry change catalyst and we are making more efforts to facilitate actual industry collaboration at the show, as opposed to just discussing the need for it, which is why we are introducing the FTE Collaboration Forum. The session will provide a discussion platform for various stakeholders to discuss how they can collaborate in key areas to enhance the end-to-end passenger experience. Delegates will be able to choose which topic they would like to discuss and then join the relevant table to exchange thoughts, ideas, frustrations and potential ways forward.
There will be four key groups in different working zones, each with their own captain who will brief and help guide the working groups with their discussions on each table. At the start of the session, each delegate will join one of the following 13 working groups. They will then play an important role in forming ideas and conclusions within that sub-group, before conclusions are shared collectively in the following session that closes the day.
Group 1 - "Up in the Air"
Captain: Rodrigo Llaguno,
Vice President – Customer Experience, Avianca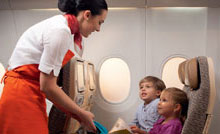 Working groups:
Cabin Design and Passenger comfort including seating, cultural identity of the airline into cabin, cabin ambience, luggage bins, facilities galleys and toilets), cabin integration efforts i.e. seating/IFE etc.
Inflight Entertainment and Connectivity including seatback IFE, wireless IFE, BYOD, most suitable connectivity platform i.e. KA, KU, 4G LTE, low-cost scalable wifi etc, wider e-enablement through the cabin, content, IFEC to drive ancillaries, wearable/Virtual reality, IFEC for different passenger groups including impaired travellers, kids, cultural differentiation, should it all be free to the passenger? etc
Crew and Passenger Empowerment - including concierge style service, empowerment through technology, new payment solutions, service of F&B by crew, self-service ordering and payment, passengers creating their own onboard itinerary, personalisation to passenger, crew driving ancillaries and assisting passengers with planning their destination visit.
Cabin classes and differentiation strategies including do we need first, business, premium economy, economy and budget economy – how are they each different from a passenger comfort, IFEC, service, F&B perspective?
Group 2 - "Data Sharing"
Captain: Matthew Streem,
Vice President, Aviation Services Roomstorm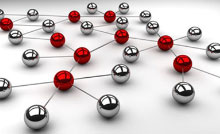 Working groups:
Multi-bookings journey scenario – A passenger is on a multi-leg journey with a connection involving three airports. They have booked flights and a hotel separately. What information and services does that passenger need to create a seamless experience, and how can the industry collaborate to deliver it?
Disruption scenario – A passenger travelling on business arrives at the airport for a multi-leg journey. Due to an incoming storm the initial flight is delayed for two hours, meaning he will miss his planned connection, and won't make his meeting on time. How can the industry collaborate to reduce stress, and automatically inform all those affected, such as his business colleagues, hotel and pre-booked ground transport for him?
Personalised passenger engagements – How can the industry collaborate to ensure passengers get the right information at the right time to deliver a better, more personalised experience as they move through airport facilities?
Group 3 - "On the Ground"
Captain: David Bourgon,
Manager, Airport IT Services, Manager, Airline Systems, McCarran International Airport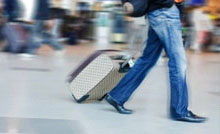 Working groups:
Moving passenger and baggage processes away from the airport
How do we transform customer experiences at airport security and immigration checkpoints?
How do we transform customer experiences at the gate and during boarding?
How do we transform customer experiences at arrivals and baggage reclaim?
15:00 – 15:30 | Coffee break
15:30 – 17:30
The FTE Collaboration Forum Part 2 – Conclusion Gathering and Conclusion Sharing

Following the opening discussion, all working groups will have 30 minutes to form their conclusions, before all groups (except "Up in the Air") come together to provide feedback collectively to the room, to share the most pertinent issues and findings from their discussions.
Key points to consider when forming collective conclusions and recommendations:
What collaboration model(s) could help achieve these improvements?
What are the realistic timeframes for executing these plans?
Who should fund/lead the improvements?
Key questions for working groups to consider:
What are the biggest challenges to improving performance in this area from each stakeholder perspective?
Taking into consideration the challenges facing each party involved, what are the best ideas for improving these areas from each stakeholder perspective?
Following the conclusion sharing, group captains will collate grand conclusion documents from all of this feedback, which will be shared with all delegates after the event, and will also be passed to industry associations to help influence their next steps, so the good work can live beyond our time together in Vegas.
17:30 – 19:00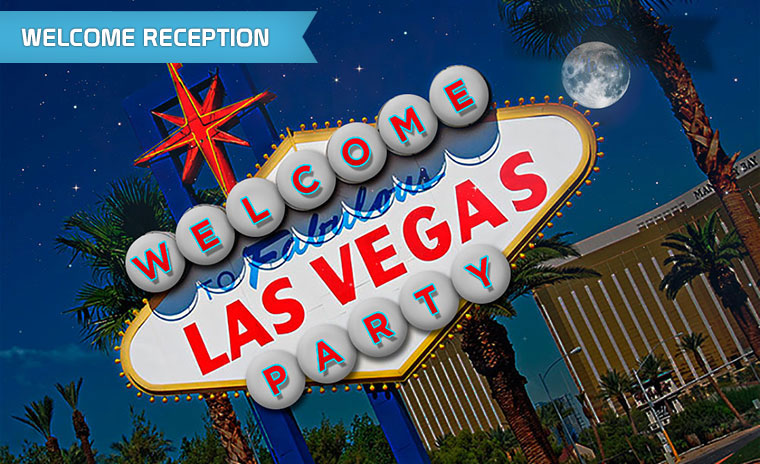 Take advantage of the vital networking opportunities provided at this Welcome Reception, where delegates can enjoy demonstrations in the exhibition, as well as drinks and Sin City inspired entertainment.
The Welcome Reception will begin early so participants have more scope to network outside of the official event proceedings.
End of day

Thursday 10th September
08:00 – 09:00

09:00 – 10:15
Day 2 Opening Keynote for all conference participants
How will Virgin Galactic deliver the ultimate travel experience through Spaceport America and beyond the atmosphere?

Jonathan Firth,
Senior Vice President of Spaceport and Program Development, Virgin Galactic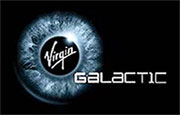 In the coming years, commercial travel will be revolutionised when Virgin Galactic launches the first ever space tourism flight. While it is initially only available to those rich enough to afford a $250,000 ticket, the company is keen to bring space travel to the masses and aims to offer a passenger experience far exceeding anything that has been offered before. Ranging from the flight preparations that all passengers – or astronauts – must undertake, to the geography lesson they receive to allow them to fully appreciate the spectacular sights, to the design of the spaceship interior and Spaceport America, every aspect of the customer journey has been intricately planned to ensure it exceeds all expectations.
Our keynote speaker, Jonathan Firth, has been a member of Virgin Galactic's leadership team since its inception in 2004 and has been Project Director, Director of Operations and Projects, and now Senior Vice President of Spaceport & Program Development. His unparalled CV also includes stints with Virgin Rail Group and Virgin Atlantic Airways, and at FTE Global 2015 he will outline how Virgin Galactic will truly revolutionise the travel experience on the ground and up in the air.

10:15 – 11:00 | Coffee break on the exhibition floor
11:00 – 12:30
First Working Session – FTE "Up in the Air" Keynote Address
FTE Onboard 2025 Think Tank – exclusive unveiling of vision and recommendations
After the success of the FTE Airports 2025 Think Tank back in 2013, we now take on the challenge of helping to redefine the future onboard experience. We have brought together a think tank of leading industry figures committed to change, tasked with the challenge of answering the following question and providing recommended strategies on how positive change can be achieved:
"What is needed to increase the speed at which industry progress in improving the passenger experience up in the air is achieved, and what might the passenger experience onboard narrow-body aircraft look like by 2025?"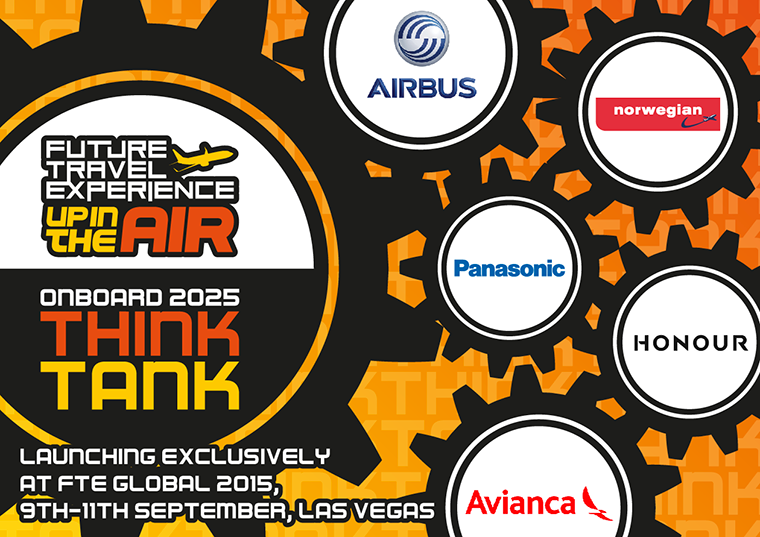 Captain: Mike Crump
Product & Innovation Director, Honour Branding

Ingo Gäthje
Head of Cabin Design Office, Airbus

Bjorn Erik Barman-Jenssen,
Senior Vice President Ground Operations, In-flight Services & Cargo, Norwegian Air Shuttle

Neil James
Executive Director of Corporate Sales & Product Management, Panasonic Avionics Corporation

Rodrigo Llaguno,
Vice President - Customer Experience, Avianca

The presentation will tackle the following topics:
Cabin Design and Passenger comfort, including seating, reflecting the cultural identity of the airline, cabin ambience, luggage bins, facilities (galleys and toilets) and cabin integration efforts.
Inflight Entertainment and Connectivity, including seatback IFE, wireless IFE, BYOD, suitable connectivity platforms (i.e. Ka, Ku, low-cost scalable Wi-Fi etc), wider e-enablement opportunities, IFE content, IFEC-based ancillary revenues, wearable tech/virtual reality and differentiation efforts.
Crew and Passenger Empowerment, including concierge style service, empowerment through technology, new payment solutions, F&B service, self-service ordering and payment, personalised onboard itineraries, crew driving ancillary revenues and assisting passengers with planning their destination visit.
Cabin classes and differentiation strategies, including first, business, premium economy, economy and budget economy – how are they each different from a passenger comfort, IFEC, service and F&B perspective, and to what extent will each class remain relevant?
How do we achieve this vision? What are the main obstacles to overcome? To what extent will the industry need to change its mindset and collaborate to make this vision a reality? How do we create a business model that will justify these upgrades? What are the most suitable financial models? What role will regulators and industry suppliers need to play?
12:30 – 13:45 | Lunch on the exhibition floor
13:45 – 14:15
Post-lunch Joint Keynote for all conference delegates
Defining new customer experiences with IBM Watson

Keith Mercier
Watson Global Retail Leader, IBM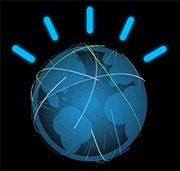 Watson is an artificially intelligent computer system capable of answering questions posed in natural language. Named after IBM's first CEO and industrialist, Thomas J. Watson, the computer system competed on Jeopardy! and beat former winners to receive the first place prize of $1 million.
Cognitive computing can have multiple applications across multiple industries. Watson is now working side-by-side with industry leaders to help them discover smarter ways to use their Big Data to access knowledge and insights with proven capabilities in industries like finance, retail, service and travel.
Keith brings more than 27 years of specialty apparel retail experience including functional expertise in strategy, marketing, stores, operations, ecommerce, wholesale, and business development at Gap Inc. As Vice President/GM of gap.com and Gap 1969 Jeans, Keith has practical P&L experience and has built long-term strategies that drive financial growth and deliver customer value. Additionally, Keith has experience optimizing business processes and organizations to drive the overall strategy. His strong communication and influencing skills enable him to lead organizations through change and foster genuine relationships with C-level executives.
14:15 – 15:45
Second Working Session – Empowering the cabin crew of tomorrow and exploring how the industry can create a more personalised and enhanced onboard customer experience

Session will consist of presentations before all panellists take part in an extensive Q&A.
Questions to consider:
How is the role of flight attendants going to evolve in the future, and how will it be impacted by new technology and changing passenger expectations?
What steps must airlines take now to ensure their staff can meet and exceed future demands?
Can cabin crew really provide a concierge style service, and what training would be needed to achieve this?
Could a concierge style service really be delivered to all classes, and is big data the only way of going about achieving this?
How will onboard payment evolve, and which new methods should airlines be preparing for?
How can airlines better help passengers use their time onboard to make the most of time at their final destination?
Chairman: Ryan Ghee
Editor, Future Travel Experience

How will the new Alitalia onboard experience be redefined, and how will its cabin crew be empowered to realise this vision?
Aubrey Tiedt
Chief Customer Officer, Alitalia

"Lufthansa aims to be the first five-star airline in the western hemisphere – in addition to its First and Business Class retrofit, onboard Wi-Fi rollout and a new Premium Economy cabin, how is it working to deliver a more personalised and enhanced onboard customer experience?"
Dr Joachim Schneider
Vice-President - Product Management, Lufthansa German Airlines

15:45 – 16:15 | Coffee break on the exhibition floor
16:15 – 17:30
Third Working Session – Cabin Connectivity Unleashed: How the Internet of Everything will change airlines and aviation forever

Mary Kirby, Founder & Editor of Runway Girl Network, will set the scene and then host a no-holds-barred, spin free discussion with the industry's leading in-flight connectivity providers about how nose-to-tail connectivity will change the game. Panellists will face rapid fire questions on how they intend to increase revenues, drive efficiencies and how far we can go with leveraging its capabilities to reinvent the passenger experience onboard.

Chair: Mary Kirby,
Founder and Editor, Runway Girl Network

David Bruner
Vice President, Global Communications Services, Panasonic Avionics

Mike Moeller
Vice President, Business Development – Connectivity & TV, Thales InFlyt Experience

Anand Chari
Chief Technology Officer, Gogo

Don Buchman
Vice President Commercial Mobility, ViaSat

Aditya Chatterjee
Chief Technology Officer & Senior Vice President of Engineering, Global Eagle Entertainment

David Coiley
VP Sales for Europe, Inmarsat Aviation

Richard Nordstrom
Sr. Director, Global Marketing, Rockwell Collins

19:30 – 22:30

Taking place at the notoriously cool Daylight Beach Club at the Mandalay Bay Resort & Casino, McCarran International Airport, with the support of Rockwell Collins, will host a memorable evening with the finest food, drink and entertainment that Las Vegas has to offer. Run by the Hakkasan Group, the venue is the ultimate sophisticated poolside retreat that will provide our guests with a modern tropical oasis where they can network and relax, before letting their hair down and enjoying a night they will never forget.
The evening will culminate with the Future Travel Experience Awards 2015 ceremony, and a headline performance from one of Las Vegas' most popular live acts, the Peter Monroy Band, who will take us on a musical journey through the '70s, '80s, '90s and 2000s.
End of day

Friday 11th September
09:30 – 10:30
Day 3 Opening keynote for all delegates
Navigating travel in a connected world

Lee McCabe,
Head of Travel, Facebook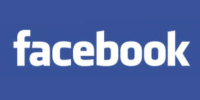 Lee works closely with the travel industry to set the course for how marketers can best leverage the world's largest digital network in the mobile era, and he can offer unique insight on what this means for the travel sector as a whole, and the air transport industry in particular. Prior to joining Facebook, he held various senior positions at Expedia. During his five years at Expedia, he was responsible for managing supply strategy and operations across several regions including North America and Asia Pacific. He has also held Sales and Marketing roles with eBay, Telstra and Warner Music.
In this enlightening keynote Lee will outline how the proliferation of mobile devices and the emergence of the always-connected traveller have created huge opportunities for consumer technology giants to help reshape the passenger experience, and how airlines and airports can take advantage of this major global trend.
Exclusive

- The future has already arrived: the airline experience of you

Joe Leader,
CEO, APEX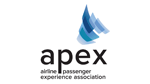 This presentation from the new CEO of the Airline Passenger Experience Association (APEX), Joe Leader, will demonstrate how the airline passenger experience will centre on the individual far beyond the aircraft. Your near-future flight curation follows your preferences from your booking to your pricing, from your home to your ride, and from your airport walk to your inflight experience. Surprisingly, the technology for the flight of your dreams already exists today. Leader will illustrate how industry visionaries are working to integrate this technology so that your future travel experience lands much sooner than you ever thought possible.
10:30 – 11:15 | Coffee on the exhibition floor
11:15 – 12:45
Fourth Working Session – The Road Ahead: Technology and Impact Design Thinking Workshop

Design Thinking - a human-centered, prototype-driven innovation process - can help companies enhance their products, service and business. In this dedicated session, Artefact (which has worked with Panasonic Avionics, Thales and Alaska Air to accelerate their digital innovation, and whose CEO, Rob Girling, delivered the FTE Global 2013 keynote) will lead airlines and other travel industry players to evaluate the impact of new technologies that could be utilised in-flight. Through a unique mix of theoretical insights with practical activities and real world examples from industry best practices, the Artefact workshop will become a key milestone as travel executives work to transform their companies into user-centered, design-driven organisations. Using customised toolkits and methodologies, the highly interactive workshop will help participants map out the pros and cons of hot new technology developments like virtual reality, wearable tech and the internet of things, encouraging them to practice outcome focused thinking and helping them invest in confidence in the next generation of technology, while minimising the potential pitfalls associated with implementation.
Artefact's workshops are cornerstones of broad industry events like IxDA Interaction Conference, Wearable Tech conference and others. They have been indispensable to clients like healthcare cooperative Group Health, innovation think-tanks like Vulcan, and global manufacturers like Schneider Electric. It promises to be inspirational, radical and most importantly insightful.
The workshops will be led by: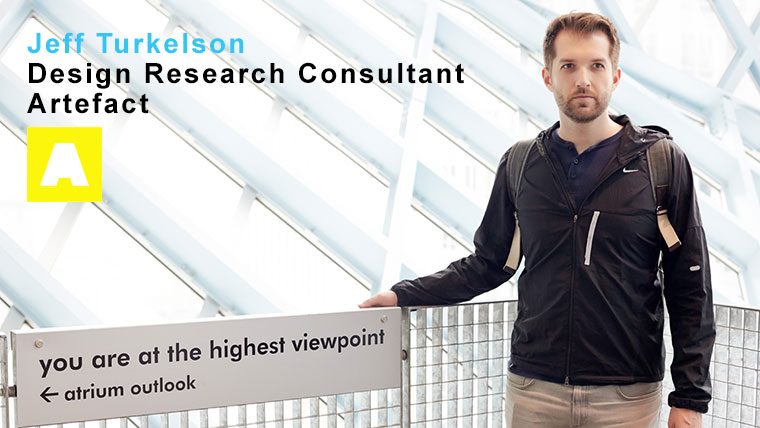 Jeff Turkelson is a design researcher whose experience spreads across many industries, including consumer technology, healthcare, education, and automotive. His passion lies in examining the interplay between technology and culture. Jeff has studied the impact of connected cars on often ignored segments of the population, identifying new opportunity areas and challenges for integration. Deeply familiar with the travel industry, he is a key contributor and project leader in several of Artefact's travel technology solution projects.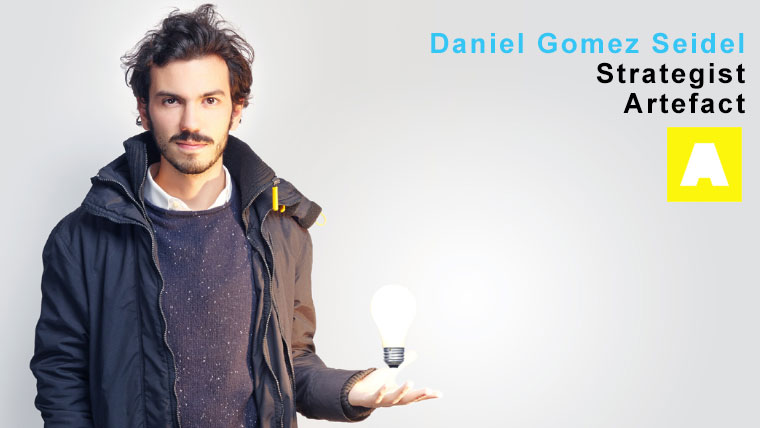 As a strategist at Artefact, Daniel Gomez Seidel's role is to help clients uncover new business opportunities and competitive advantages, and create the meaningful and disruptive experiences that thrive in the marketplace. Daniel has led research and strategy projects at the intersection of human and market behaviours, crafting recommendations for clients such as Microsoft, Air France, Aetna and the Bill & Melinda Gates Foundation, and has led workshops for the likes of AIGA, Wearable Tech UX Conference and Schneider Electric.
12:45 | End of event

Back to top