Conference Theme:
Reinventing the passenger experience through innovation,
personalization and connectivity
Since our first event in 2006 there has been in an immense improvement in the passenger experience on the ground and travellers have been able to take much more control of defining their own passenger experience.
Despite these strides forward however we are a long way from solving the frustrations passengers face on a daily basis, and this year's forum aims to help find wide-reaching solutions to outstanding challenges relating to areas such as baggage, facility planning, disruption, plus meeting the potential of the mobile traveller and enabling passengers to define a personalized experience, – as they able to in pretty much any other part of their lives.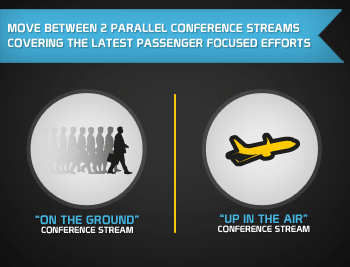 New for 2013:
2 Conference streams for the price of 1
This year, for the first time, there will be a 2nd conference stream running parallel to our traditional "On the Ground" conference, focused solely on improving the passenger experience "Up in the air".
Titled FTE "Up in the Air" after the film of the same name set to the backdrop of airline loyalty programs, the new conference will play an important role in shaking up the passenger experience in the air, which has evolved very little in the last 20 years, unlike on the ground. We will primarily focus on big topic issues and particularly how technology can help improve the passenger experience onboard.
» Find out more about the New "Up in the Air" conference stream.
2013 Conference sessions and Workshops will focus on the following topics:
Workshops
Through our theme we will champion the latest thinking, concepts and collaborative efforts that truly have the passenger experience in mind, and also debate the progressive initiatives that will require buy-in from the industry as a whole if they are to gain the traction they need. Workshops focus on the following subject areas:
Overcoming cost cutting-initiatives that cause major passenger frustration by substantially increasing security checkpoint and border queue times such as sequestration in the US.
Assessing the viability of the latest self-service technologies.
What is the next big improvement for baggage set to be?
Conference Sessions
To what extent will the travel experience of 2030 outside of the plane be impacted by technology and what might the knock on effect for industry stakeholders be?
Mobile innovation and advanced personalization efforts.
Strategies to drastically improve industry performance for the passenger during disruption.
Future terminal concepts and unique airport experiences.
Unconference – Assessing the viability of new passenger experience initiatives and practices.
Full conference details will be available soon
The full conferences programmes will be available soon. Below you'll find the agenda for last year's conference, to give a flavour of the quality of speakers and the subject areas we cover. Subscribe to our newsletter to be stay up to date with the conference's program developments.
2012 Conference Programme
Tuesday 4 September 2012
Time: 16:00 – 19:00
"Transforming airport profitability by rethinking the airport experience in an era of personalisation"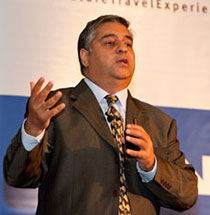 This fast-paced and highly interactive workshop will be led by global futurist and airline industry specialist Rohit Talwar. Rohit was the highly popular lead keynote speaker at FTE 2011. The workshop will draw on key insights from Fast Future's global research programme to help delegates explore how their strategy and business models may need to evolve in order to ensure airports remain profitable and attractive in a rapidly changing world. This workshop will draw on a combination of presentations, small group activities and large group discussion.
Pre-Event Workshop - Tomorrow's Airport – Developing a Roadmap to the Future
The key themes to be explored will include:
Customer insight – Understanding the needs and expectations of tomorrow's passenger
Airport navigation – Personalising and streamlining the passenger journey
Reworking the model – How might shortened passenger journey times through the airport impact key areas such as retail and dining?
Shopping and dining – Rethinking the retail, food and beverage propositions – what can we learn from the high street and shopping centres?
Building relationships – Leveraging social media to deepen and extend the dialogue with passengers
Entertainment – Enhancing the passenger experience – the airport as a leisure destination?
Ancillary revenues – Developing profitable new income streams in the airport environment
Roadmapping change – Building a clear roadmap to ensure future success
Wednesday 5 September 2012
Time: 08:30 – 10:15
Workshop – Baggage Advancements
Workshop that begins with case studies on some key baggage projects before moving into a wider panel discussion on all key baggage issues
Chairman's presentation: Establishing self-tagging and bag drop in the US
David Vance
Managing Director, Customer Operations Planning, American Airlines

Lessons learned in establishing a one-step common bag drop system at Amsterdam Schiphol Airport
Victor Vaessen
Manager Product Development, KLM

Implications of permanent bag tags on infrastructure and passengers (experiences from one of the companies that created the technology behind the permanent Qantas Q Bag Tags)
Mike Sanderson
Managing Director, ICM Airport Technics UK

Topics covered by this workshop include:
Self-tagging
Bag drop configuration
Common use infrastructure
Bag tag models and standards
Lost baggage
Remote baggage drop off and collection
Baggage fees
Additional panellists:
Roland Kühnelt
Head of Technology and Performance Management, Swissport Group Services International

Paul Mewett
Director, Simplified Passenger Travel, Vancouver Airport Authority

Time: 10:15 - 10:25 | Coffee break
Time: 10:25 - 12:00
Questions to consider:
Why should you invest time and resources in CUPPS?
What are the viable alternatives to CUPPS?
Can virtualisation alone be utilised, or does it need to be part of a wider common use solution?
What are the cost and space utilisation differentiators on the two approaches?
Why hasn't the CUPPS initiative moved forward quicker? What are the key challenges to its wider implementation?
To what extent will CUPPS support new technologies and processes, such as NFC, self-boarding and self-tagging?
Are the major technology suppliers an obstacle to the roll out of CUPPS because they are not keen for other suppliers to be able to integrate their solutions into a CUPPS platform, where historically they would have a monopoly on an airport site?
Should CUPPS be declared an 'industry standard'?
Will the addition of common-use bag drop to the latest CUPPS specification help to encourage its further adoption?
Workshop – End user experiences of working with CUPPS, and alternative solutions such as virtualised airline systems for shared use
Workshop that begins with case studies on some key projects before moving into a wider panel discussion
Chairman: Ryan Ghee
Editor, FutureTravelExperience.com

Why we invested in CUPPS - The airport perspective
Frank Wyse
Director of Information & Communications Technology, St. John's International Airport

Further to integrating AirTran what is the view on common use from Southwest now?
Erik Roth
Senior Manager, Southwest Airlines

Additional panellists:
Steve Baird
Deputy Director for Information Technology and Telecommunications, Sacramento International Airport

David Vance
Managing Director, Airport Services, American Airlines

Jochem Fockema Andreae
Manager Kiosk Services, Air France – KLM

Simon Lamkin
Head of Operations Systems, easyJet

Time: 12:00 - 12:45
Official Exhibition Opening and exclusive time to view solutions
Time: 12:45 - 13:30 | Lunch on the exhibition floor
Time: 13:30 - 15:00
Opening Session
Welcome address
Daniel Coleman
Event Director & Founder, Future Travel Experience

Presentation from the host - Strategies that will take interaction between an airport and its passengers to the next level
Kevin Molloy
Vice President Simplified Passenger Travel and CIO, Vancouver Airport Authority

Jose Mariano Lopez-Urdiales
Founder and CEO, Zero2infinity SL

Keynote Address
"Delivering a truly memorable passenger experience to the edge of our world"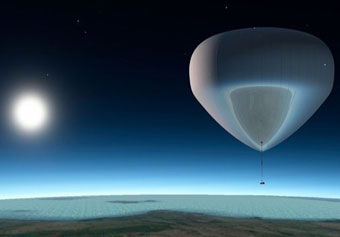 View video above to see Richard Branson and Jose Mariano discussing their respective inter-galactic business ventures at the SLOW LIFE Symposium in the Maldives last year, an annual event to address increased sustainability and environmental protection in the travel and tourism industry.
Zero2infinity SL is a private company developing technologies to enable cost-efficient access to near-space with zero-environmental impact flying solutions. Their first project is the Bloon near-space ship, which after launching from an airport location will calmly soar through our atmosphere pulled by a balloon in a clean and safe way to an altitude of 36 km. Carrying four ticket-carrying travellers on board the pod will dispose of about 3 hours to discover the amazing beauty and fragility of the Earth. Passenger flights could lift off as early as 2013 and at the latest in 2015.

Jose Mariano's passenger focused presentation with innovation and collaboration at its heart will outline the company's vision, what is has taken to get the initiative to the point it is at now and the details of the passenger experience for Bloon customers from the moment they book, to the moment they leave their pod after their flight to the edge of our atmosphere.

Back in March the head of the Federal Aviation Administration predicted that space tourism will be a $1 billion industry within the next 10 years, and clearly there will be opportunities for collaboration with traditional travel facilitators and solution providers as part of this trend, which we will be seeking to explore at FTE 2012 too.
Time: 15:00 – 15:45 | Coffee Break on the exhibition floor
Time: 15:45 - 17:15
Second Working Session – What are the challenges to creating a seamless passenger experience through collaboration, and how do we overcome them?
Chairman: Mikael Lind
Research Manager Sustainable Airports, Viktoria Institute

Panel session where after a scene-setting introduction each presenter will deliver a five-minute presentation. After all presentations have been heard the panel will debate the topics raised.
Panellists:
Deborah Stone
Senior Director – Sales and Reservation Systems, Amtrak

Dimitris Bountolos Montabes
Head of Coordination and Hub Development, Iberia Airlines (IAG Group)

Rohit Talwar
Global Futurist, CEO and Founder, Fast Future Research

Sam Ingalls
Assistant Director of Aviation, Information Services, Las Vegas McCarran International Airport

Time: 18:00 – 20:00
Welcome Reception on the exhibition floor at Westin Bayshore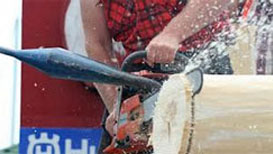 Take advantage of the vital networking opportunities provided at this Welcome Reception where delegates can enjoy demonstrations in the exhibition, as well as drinks and entertainment in a relaxed atmosphere.
We have brought forward the timing of the Welcome Reception from last year so participants have more scope to network outside of the official event proceedings.
Entertainment will be provided by the West Coast Lumberjack Show which is an exhilarating showcase of fearless skills and daredevil displays infused with a rich sense of Canadian history and wonderment.
Thursday 6 September 2012
Time: 08:00 - 08:45 | Coffee and breakfast on the exhibition floor
Time: 08:45 - 09:30
Day 2 Keynote
At FTE 2011 Rohit Talwar tackled the future passenger experience; at FTE 2012 he takes on revolutionising passenger revenues
"The three R's of Strategic Survival and Growth: Rethinking Business Models, Reinventing Passenger Experiences and Revolutionising Passenger Revenues"
In an era where all of our assumptions about airline and airport strategies are being ripped apart, ensuring future survival and growth demands radical new thinking. In this fast-paced and provocative session, Rohit Talwar, the leading aviation industry futurist, award-winning speaker and CEO of Fast Future will share the findings from the firm's latest research on commercial and service strategies in turbulent times from a range of industries. He will examine how core business and operating models will need to evolve to take account of economic realities, explore the priorities and strategies for transforming the passenger experience and highlight opportunities to revolutionise our approaches to generating passenger revenues.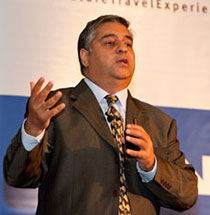 Rohit Talwar
Global Futurist, CEO and Founder, Fast Future Research

Time: 09:30 - 10:45
Third Working Session – Understanding what the passenger wants today, tomorrow and in the long term and implementing strategies that will meet those needs
Chairman: Michael Saunders
Senior Director, Sales and Marketing Systems, The Americas, ARINC

Collaboration - Delivering customer innovation at London Heathrow - the world's busiest international airport
Joint Presentation by:
Saroj Sodi
Head of Airport Customer Strategy, British Airways
and
Stewart Blades
Business Technology Improvement Manager, British Airways

and
Nick Adderley
Marketing and Insight Director, Heathrow Airport

Finnair and Helsinki Airport are introducing a range of new consumer services following a unique experiment which included hiring 'quality hunters' to travel the world to source the best ideas, and asking passengers to provide input too. What were the findings of the initiative and what is being rolled out as a result?
Johanna Metsälä
Customer Experience Manager, Helsinki Airport –Finavia PLC

Project Halo unveiled – Putting mobility at the heart of easyJet's end-to-end passenger experience
Simon Lamkin
Head of Operations Systems, easyJet

Time: 10:45 – 11:45 | Coffee Break on the exhibition floor
Time: 11:45 – 13:15

Fourth Working Session – Mass adoption of Near Field Communication (NFC) is coming quickly – what business solutions will it offer to the travel sector and how can we maximise upon the potential it offers?
This panel discussion, with an opening presentation from the Chairman to set the scene, will explore key issues, such as taking successful domestic self-service initiatives global, data sharing, biometrics, facilitation, universal passenger tokens, trusted traveller programmes and automated border clearance
Chairman's presentation: What business opportunities does NFC offer and what standards are needed in the air travel industry so its benefits can be harnessed to enhance the passenger experience?
Renaud Irminger
Director of SITA Lab, SITA

"SAS' hands-on experiences from international NFC travel with SAS Smart Pass."
Philip Wågnert
Vice President Product Development and Management, SAS AB

The view from Research in Motion on the possibilities presented by NFC to the travel and hospitality sector.
Frank Maduri
Senior Director - Mobile Wallet & Payments,
Research In Motion Limited

Experiences from launching NFC mobile boarding passes in Japan
Toshiya Shimizu
Product Manager, Japan Airlines Co.,Ltd
Kenji Andrew Fujiyama Wang
Supervisor, Mobile Marketing and Strategy, Planning Group, Web Sales, Japan Airlines Co.,Ltd

Time: 13.15 – 14.45 | Lunch on the exhibition floor
Time: 14.45 – 16.30
Fifth Working Session – Addressing major industry challenges to help improve the passenger experience
High level panel discussion where each speaker will give their opinion and debate from their seat the following key industry topics:
Data exchange among partners: What are the problems? How? In what circumstances? For what reason? Under what standards?
Security checkpoints: What is the checkpoint of the future? What is required to get there? Who needs to collaborate? How long will we have to wait?
Passengers 'tokens' to ease processes: What are the tools that can/could/will be used? E-passports, NFC, smart phones, biometrics; all or a few? Choices for passengers or international standards? Whose standards?
Facilitation at border crossings: How do we make the experience better/easier/faster? What are the tools? ABC? Registered traveller schemes? International travel schemes? Exchange of passenger data to expedite border crossing? Have a more risk based approach? Standards among different countries?
Chairman: Antoine Rostworowski
Director, Industry Relations Aéroports de Montréal And Vice Chairman, ACI IT Standing Committee

Panellists:
Brendon Main
Passenger Services Manager, Air New Zealand

Justin Taubman
Project Manager of Passenger Experience, Transport Security Administration (TSA)

Susanne Shepherd
Director, U.S. Customs and Border Protection

Dorothy Reimold
Assistant Director, International Air Transport Association (IATA)

Day 2 Closing Keynote
Addressing Future Screening Process Improvements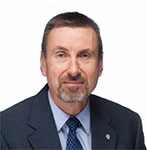 Angus Watt
President and Chief Executive Officer, Canadian Air Transport Security Authority (CATSA)

Time: 17:00 – 23:00
Gala Evening including FTE 2012 Awards Ceremony and industry launches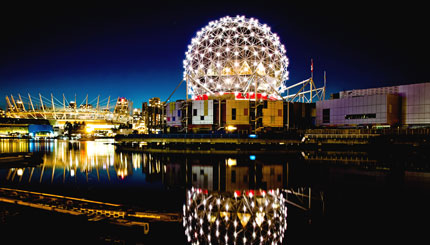 This year's gala reception hosted by Vancouver Airport Authority will be held at Science World, a landmark geodesic dome originally built for Vancouver's World's Fair, Expo 86. This iconic building now houses a museum that offers access to cutting edge, science-themed galleries, films, and educational programmes. Science World sits on the banks of Vancouver's scenic False Creek.
Sponsored by YVR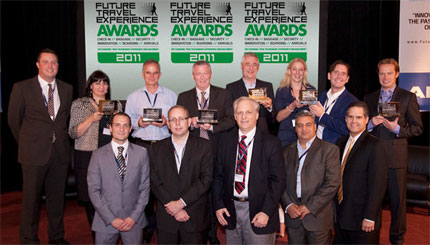 The reception will feature entertainment, West Coast inspired cuisine, cocktails, and the opportunity to experience a selection of Science World's hands-on galleries. The event will also be the location for Future Travel Experience's annual awards presentation. We hope you will join us!
Friday 7 September 2012
Time: 08:30 - 09:00 | Coffee and breakfast on the exhibition floor
Time: 09:00 - 10:30
Sixth Working Session – Utilising technology to improve the passenger experience, whilst increasing passenger spending
Chairman: Rohit Talwar
Global Futurist, CEO and Founder, Fast Future Research

Improving customer experience through CRM and by introducing new channels, whilst enhancing existing channels
Joe Chiu
Vice President, Corporate IT, Changi Airport Group

InfoGates, apps and other innovations to engage with passengers at Munich Airport
Manfred Zoetl
Project Manager Innovative Passenger Service Devices, Munich Airport Group

How McCarran's new $2.4 billion T3 will deliver a unique passenger experience to Las Vegas visitors, whilst ensuring they spend at the airport too
Samuel Ingalls
Assistant Director of Aviation, Information Systems, Las Vegas McCarran International Airport

Time: 10:30 - 11:30 | Coffee break
Time: 11:30 – 13:30
Unconference - Assessing the viability of new passenger experience initiatives and technologies
Unconference is a facilitated, participant-driven approach, which will see the conference room rearranged into a series of specific working areas where delegates (who will be led by a specialist facilitator) can share experiences and ideas across the following subjects:
Mobile – covering mobile check-in and boarding, roving agents utilising mobile devices, apps, mobile websites and NFC
Facilitated by Daniel Coleman
Founder, Future Travel Experience

Automated queue measurement – covering boarding pass scanning, Bluetooth, Wi-Fi and facial recognition
Facilitated by Martin Bowman
Senior Director – Transport, Amor Group

Remote check-in – covering downtown, stations, hotels, cruise ports and home pick-up
Facilitated by Paul Mewett
Director, Simplified Passenger Travel, Vancouver Airport Authority

Wayfinding and Passenger Assistance – covering geolocation guidance and alternative solutions, virtual assistants, apps, personal display cards, digital signage, terminal design, roving customer agents, digital information zones
Facilitated by Dimitris Bountolos Montabes
Head of Coordination and Hub Development, Iberia

Time: 13:30 | Event closes
Time: 14:30 – 15:30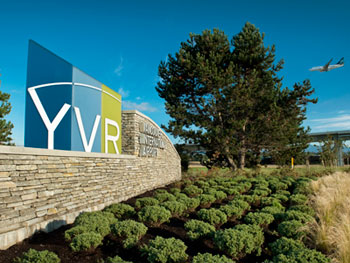 YVR Airport Tour
Vancouver Airport Authority will host an airport tour showcasing its innovative, efficient and secure means of passenger and baggage processing. Secure your place on the tour quickly as registration is limited to 50 participants.
Transport to leave the Westin Bayshore at 13:40 (approx 40 min journey).
Sponsored by YVR

* Invited
Conference Testimonials
"It was a pleasure and also very beneficial for Qantas. Keep up the great work, great conference and very beneficial for airlines to share experiences and challenges."

Gabriella D'Alessandro, Head of IT, Qantas
"It's been beneficial to be here because of the amount of information we got from the speakers and the information that has been shown to us in the exhibition. If we can implement those things, they will definitely help to enhance the passenger experience."

Sridhar C.K., Senior Manager – Terminal Operations, Bangalore International Airport Limited
"I think it's great for the industry to come together and just talk about the future. It allows innovation to occur and if there's one thing that is known it's that change is inevitable. We have to talk about the future and we have to understand the technologies out there. The keynote we had was fantastic, thinking about the world in 2030."

Dee Waddell, Group CIO, Amtrak