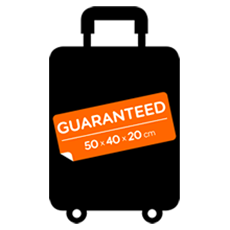 easyJet has announced that it will soon allow some customers to take a second piece of hand luggage onboard the aircraft in a change to its existing policy, which states that all passengers are entitled to just a single piece of cabin luggage.
Holders of an easyJet Plus card, and any passenger who has purchased a Flexifare or upfront/extra legroom seats, will be able to take a handbag or laptop sized bag onboard, in addition to a cabin bag measuring up to 56x45x25cm. For those passengers in front row or over-wing seats, the smaller piece of hand luggage will have to be placed in the overhead locker.
The move is unsurprising considering low-cost rival Ryanair introduced a similar rule over a year ago, but here at FTE we can't help but wonder if this move could have a negative impact on some passengers' experience, because overhead locker space is already so limited.
In 2014 easyJet recorded an improved average load factor of 90.8% and with more passengers now travelling with hand luggage only, FTE has witnessed the battle for overhead locker space on more than one occasion over the last 12 months. Seeing passengers have to check-in cabin-sized bags at the gate because overhead locker space is running out is no longer an uncommon sight.
For some travellers this may be a minor inconvenience, but for others who have made a conscious effort not to travel with hold luggage in order to avoid a long wait at baggage reclaim, it can easily have a negative impact on their experience. It's important to note that this is not an problem unique to easyJet, and other airlines must also work out how they can prevent increasingly limited overhead space from negatively affecting passenger experiences and aircraft turnaround times.
Despite these concerns, Peter Duffy, easyJet's Commercial Director, appears confident that the new policy, which will come into effect on 19 March, will not have any negative side effects. "easyJet Plus customers are among our most frequent and loyal passengers and this is another way of recognising their importance to easyJet and providing them with more value when they fly with us," he said. "We believe we can provide this additional benefit to these passengers while not affecting our industry leading punctuality."