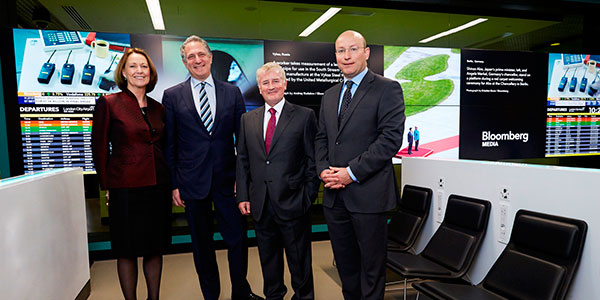 London City Airport has opened the world's first Bloomberg Hub, offering passengers a unique, technology-driven experience while they wait for their flight.
The Bloomberg Hub is aimed at business travellers and provides relevant news, data and information in an interactive environment that comprises five main elements: The Media Panel, The Media Ticker, The Lounge, The Media Wall and The Wi-Fi Sponsorship.
At the entry point to pre-security and passport control, the Media Panel consists of six 4K ultra-high definition 55-inch digital screens that carry contextual messages. Meanwhile, the 130m-long scrolling Media Ticker is constantly updated and includes news headlines and financial updates.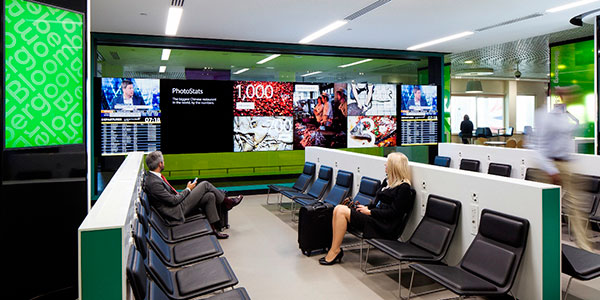 The Lounge, which can seat 180 people, is divided into distinct zones designed to allow travellers to work, relax or network.  It includes the Apps Bar, which features six tablets pre-loaded with the Bloomberg portfolio of apps; charging stations for electronic devices; free Wi-Fi; 24/7 Bloomberg television; the Media Wall with constantly updated news, data and flight information; four Bloomberg terminals for use by subscribers to the Bloomberg Professional service; and comfortable furniture to relax on.
Declan Collier, CEO of London City Airport, said: "61% of our passengers are travelling on business – to and from the business, financial and political centres of Canary Wharf, The City and Westminster – and they will value the information and facilities being made available to them in the Hub extremely highly."
Matthew Hall, the airport's Chief Commercial Officer, added: "The arrival of the Bloomberg Hub in the LCY departure lounge furnishes our passengers with a new level of service – that of up-to-the-minute data and information – which reflects the moves we're making towards managing the passenger journey through the use of technology."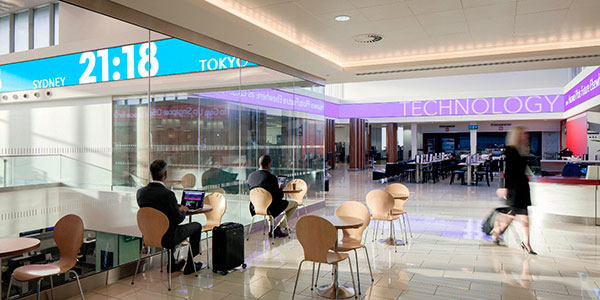 Bloomberg's CEO and President, Dan Doctoroff, highlighted the benefits of creating a brand experience for an ideal target audience. "LCY's customers are business travellers who value the things Bloomberg does best: providing accurate, relevant and timely information that helps them make better business decisions," he said. "The Bloomberg Hub at LCY is a great example of this; it is our biggest brand initiative worldwide and reinforces our continued investment in London as a leading global financial centre."