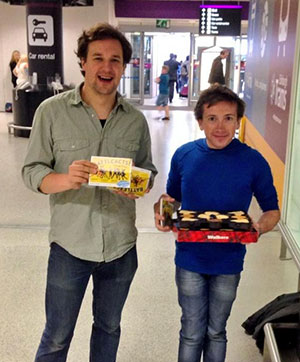 To coincide with the famous annual Edinburgh Festival Fringe, the largest arts festival in the world, Edinburgh Airport is hosting live stand-up comedy and theatre productions in the arrivals hall to keep travellers entertained while they are still at the airport.
The initiative got underway with German comedy duo Jan and Friedrich performing in the terminal, and travellers are also able to watch performances from the likes of improvised comedy team BattleActs, and Starchild: The Little Prince Reborn, which is a theatre production from Shanghai. Those travelling onto the Festival can also collect their tickets in the arrivals hall at a dedicated ticket collection kiosk.
Gordon Dewar, Chief Executive of Edinburgh Airport, said: "This is an amazing time of year where our city truly comes alive. We work closely with city partners to bring some of the buzz and atmosphere out to the airport and we've got a great selection of Fringe performers lined up to entertain our passengers over the next few weeks.
"The fact that we now have a dedicated ticket collection point in the terminal is a real bonus and means visitors can print their tickets here, saving valuable time to explore the city. I've already used the machine to get my tickets.
"We're getting into the spirit of things and want to make sure all visitors have a great airport experience and a fantastic welcome to Edinburgh."