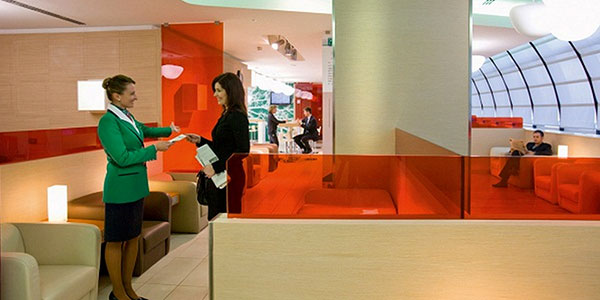 Since the acquisition of a 49% stake in Alitalia by Etihad Airways in December 2014, the highly regarded customer experience of the Abu Dhabi-based carrier has been rubbing off on its Italian equity partner. Back in June, Alitalia unveiled its new brand, livery and wide-body cabin upgrades, and now it has released details of the next raft of customer-focused enhancements, which carry Etihad hallmarks.
Among them is a new chauffeur service for premium passengers, new VIP lounges and upgrades to existing ones, and a renewed focus on improving customer service at its Fiumicino Airport base in Rome. Onboard upgrades will also continue. As well as the cabin upgrades, the carrier plans to extend onboard connectivity to its entire fleet.
As for the ground-based improvements, the executive chauffeur service will be offered to business class customers travelling to Abu Dhabi from Rome, Milan and Venice, as well as to New York JFK from Rome and Milan. Refurbished and new airport lounges will be completed in Rome, Milan Linate, Milan Malpensa, Naples, Catania and New York JFK within 12 months. In addition, 1,820 Alitalia employees have been enrolled in Etihad Airways' Training Academy in Abu Dhabi, while the new Alitalia Excellence Training Centre will soon be opened.
According to Alitalia Chairman Luca Cordero di Montezemolo, Alitalia is on track to meet its objective of reaching profitability by 2017. He said the raft of upgrades will "help to transform the travel experience for customers flying with Alitalia".
James Hogan, Vice Chairman of Alitalia and President and CEO of Etihad Airways, said: "Together we have come a long way. Alitalia is ascending but it still has challenges and to maintain momentum we need to accelerate cultural and operational change at every level within the company.
"Being part of Etihad Airways Partners will help Alitalia succeed in its drive to profitability and with market confidence growing, its customers will have much to look forward to and experience in the next six months and beyond."