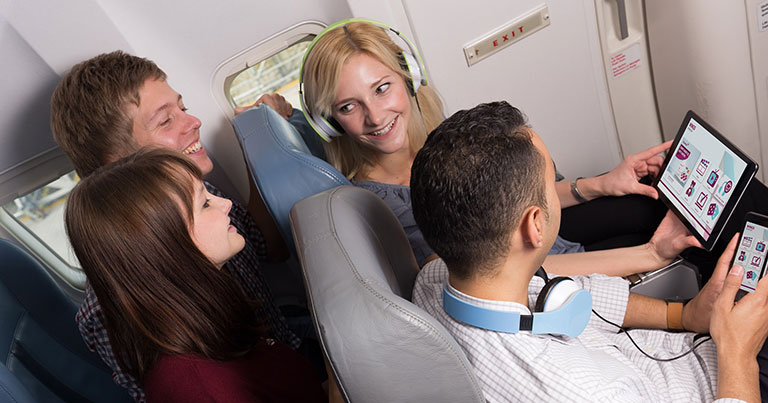 Lufthansa Systems' BoardConnect Portable IFE system has been installed on over 70 of Eurowings' aircraft, meaning passengers can enjoy a wide variety of IFE content. The installation covers almost all of the A320 fleet, and the rest of the airline's aircraft are expected to have the system in place by the middle of this month.
BoardConnect Portable, branded 'Wings Entertain' on Eurowings aircraft, provides passengers with films, TV shows, over 400 songs, and games and audiobooks. It also offers access to a 'Moving Map' and onboard shop. Passengers can access the content immediately after getting on board, and it is available right up until the aircraft has pulled into the gate.
Furthermore, being an all-in-one system, all of the technical components needed for an IFE system – such as a server and access points – are combined in a single 'Mobile Streaming Unit'. This is about the size of a tablet, weighs less than 1.5kg, and can easily be mounted and removed.
Oliver Wagner, CEO of Eurowings, said: "An innovative IFE solution like BoardConnect Portable fits very well with our business model. With Wings Entertain, we are offering our passengers a modern entertainment platform and thus improving their travel experience.
"And not only that – thanks to our large partner network and the ability to integrate paid content and marketing campaigns, we can generate additional revenues with the new IFE system."
Olivier Krüger, CEO of Lufthansa Systems, said: "BoardConnect Portable was unveiled in the fall of 2015, and right from the start there was great interest particularly from niche airlines with smaller fleets.
"But the flexible use and reliability of the application won over other, larger airlines as well. We are proud that we were able to gain a customer like Eurowings in such a short period of time and install Portable so quickly on the entire fleet."