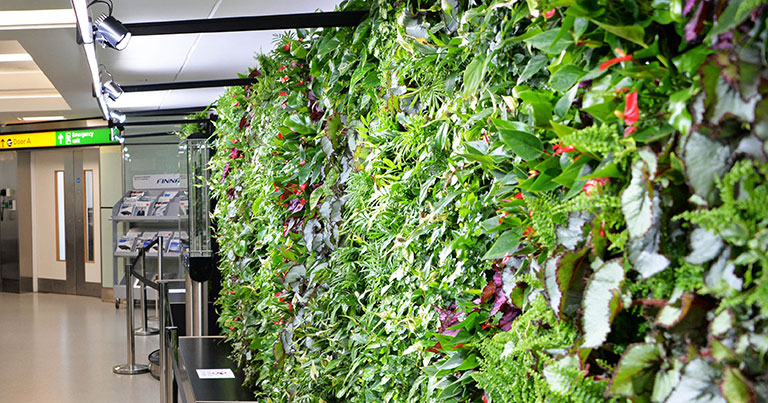 Heathrow Airport has introduced a new 'Garden Gate' at Gate 25 in Terminal 3 to provide a more relaxing environment for passengers.
The Garden Gate has been installed by Biotecture and consists of seven panels, each of which contains 240 plants. The main objective is to instil a sense of calm and comfort, after research showed a correlation between feelings of calmness and exposure to plants.
The concept is being trialled for six months at Gate 25, which serves an average of 287,274 passengers per year. If the trial proves successful, Heathrow will considering creating Garden Gates at other departure gates across the airport.
Emma Gilthorpe, Strategy Director at Heathrow Airport, said: "With our new Garden Gate, our passengers can enjoy a natural sanctuary of rest and relaxation as they make their way through the airport, with 1,680 plants ready to see them on their way."
Richard Sabin, Director of Biotecture, said: "The Garden Gate at Heathrow is the latest, and perhaps most iconic, living wall representing the advancement of eco-technologies in the UK. The world's major cities are increasingly investing in green infrastructure, and the Garden Gate, both technically and ecologically, is cutting edge for its ease of installation, unique plant selection and LED lighting system.
"As the nexus of transit and technology, transportation hubs are ideal locations for green infrastructure to become an investment in public health and wellbeing."