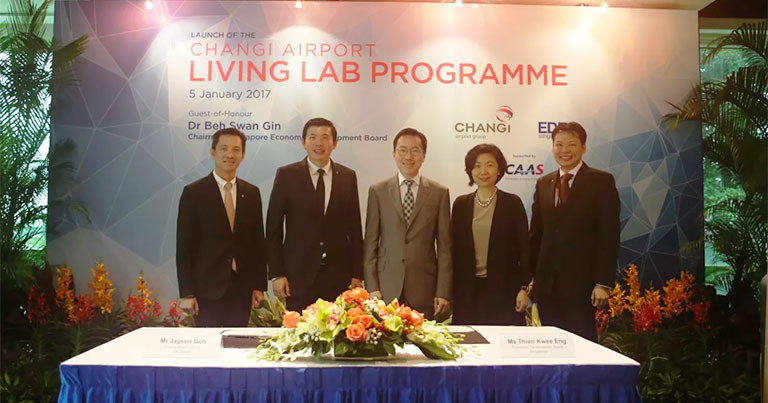 Changi Airport Group (CAG) has launched the Changi Airport Living Lab Programme, which will see the Group collaborate with innovation-driven companies and start-ups to develop and trial new technology solutions in a live airport environment. The lab has been introduced in partnership with the Singapore Economic Development Board (EDB).
According to CAG, with the support of the Civil Aviation Authority of Singapore, the Living Lab Programme provides a platform for the Group and its partners, including government agencies, ground handlers, concessionaires and security providers, to co-create, test and demonstrate new solutions to future proof Changi Airport.
The key areas the lab will focus on include:
Automation and robotics – opportunities to optimise scarce manpower resources and empower the airport workforce to operate at higher efficiency and productivity levels.
Data analytics and the Internet of Things (IoT) – opportunities to enable a more accurate and real-time perspective of airport operations. This will allow Changi Airport to better optimise its operational processes, and power smarter decision-making. Consumer analytics will offer deeper insights into travellers' habits and preferences, thereby strengthening the airport's lifestyle product offerings.
Non-intrusive security technologies – opportunities for Changi Airport to greatly enhance the passenger experience and reduce the stress of undergoing security clearance, while strengthening safety and security standards.
Smart infrastructure management – opportunities to leverage new technologies such as sensors, IoT and smart controls to optimise infrastructure resources.
Changi Airport has already started work on testing some pioneering solutions, including autonomous cleaning robots. The use of automated guided vehicles to transfer passengers between terminals is also being considered.
Lee Seow Hiang, CEO of CAG, said: "Building innovation today is critical to transforming our business and operations for the future. We look forward to partnering established companies and enterprising start-ups to develop cutting-edge technologies for the airport. Through our Living Lab collaborations, I believe that we can add value to our partners in helping them scale up their solutions for real-world applications."