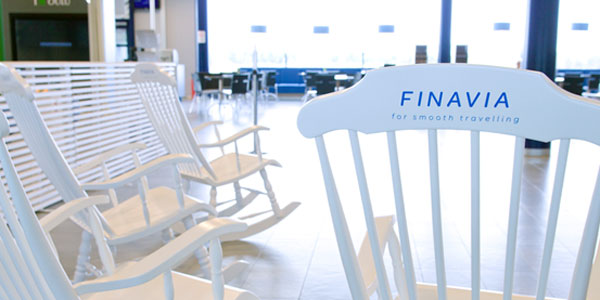 As part of its approach to improving the airport experience for the passenger, Finavia has introduced rocking chairs at four of its airports and is working on the development of a dedicated 'rest area' at Helsinki Airport.
The rocking chairs have been introduced at Vassa, Turku, Oulu and Kittilä airports and will be trialled until the end of the year.
"Airport gate areas are places where all of our customers spend at least some time…before boarding their flights. We were thinking about ways in which to make that time more comfortable and to offer passengers a little 'me time' at the airport," said Johanna Metsälä, Customer Experience Manager at Finavia.
"We decided to test the response to traditional rocking chairs. The experiment with these rockers will continue to the end of the year. Based on customer feedback, we will then decide if we will keep them."
Meanwhile, together with Vantaa Innovation Institute, Finavia is developing a new rest area for passengers at Helsinki Airport. Passengers will be able to choose from a selection of easy chairs and a closed space with an area where they can take a nap. The first rest area will open in September.
Finavia's Vice President, Marko Tikkanen, said: "The rest area is an excellent addition to the services at Helsinki Airport, especially for transit passengers. It will be a coherent and peaceful zone for relaxation while waiting for your flight."