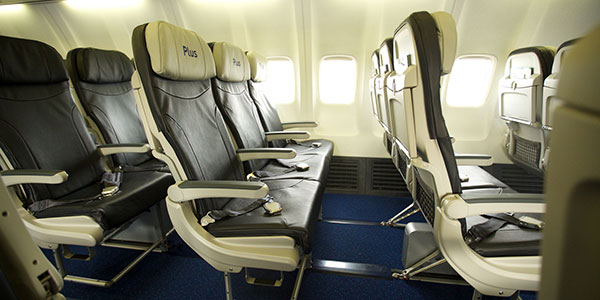 WestJet has outlined a revamp of its Plus product, which the carrier says will help to improve comfort and offer passengers more flexibility.
Among the upgrades to the Plus product on the Boeing Next Generation 737s will be the addition of a tray table between the aisle and window seats, guaranteeing an empty middle seat and helping to increase personal space.
On the Boeing 767s, the Plus seats will be configured 2-2-2 and with a seat width up to 22 inches, will be wider than the existing Plus seats. The meal service will also be improved, with a premium boxed meal served on 737 flights that are longer than two-and-a-half hours and hot meals on all 767-operated services.
The improved Plus product, which will introduced from September 2015, will also include the ground-based benefits that are available today, including two checked bags as standard, fast track security at the airport, fast track boarding and guaranteed space for cabin bags in the overhead bins.