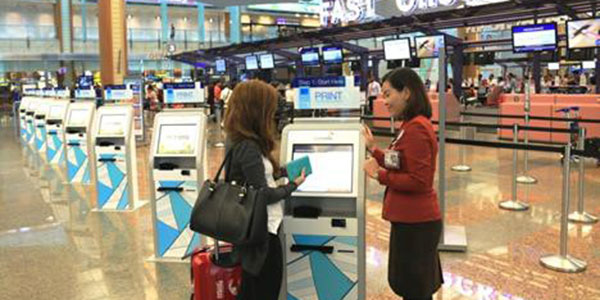 Self-service check-in and self-tagging trials are now underway at Changi Airport's Terminal 2, with Singapore Airlines and SilkAir passengers able to make use of 24 new kiosks. A further 24 kiosks will soon be introduced in Terminal 3, as Changi Airport Group (CAG) continues the rollout of its Fast and Seamless Travel (FAST) project.
Passengers with bags to check-in can print their boarding pass and bag tags at the kiosk before proceeding to a bag drop desk once they have applied the tags, while passengers travelling with hand luggage only can use the kiosks to check-in and obtain their boarding pass before proceeding to the Departure Immigration desks. Instructional videos, signage and staff on the ground are in place to guide passengers through the self-service process.
The latest trial follows a pilot of self-tagging and self-service bag drop, which was undertaken alongside Jetstar Asia in Changi Airport's Terminal 1 last year.
Jayson Goh, CAG's Senior Vice President for Airport Operations Management, said: "The adoption of FAST initiatives is in line with a wider global push towards self-service options at airports to improve productivity and efficiency, while at the same time providing passengers with greater flexibility and convenience.
"CAG is pleased to partner with Singapore Airlines and SilkAir on the FAST journey and will work closely with the airlines to continuously refine the process where necessary, so as to bring about a greater travel experience for our passengers."
Tan Pee Teck, Singapore Airlines' Senior Vice President Product & Services, added: "We welcome the new FAST initiatives, which will streamline the check-in process for our customers. This reflects our ongoing efforts to offer customers more options and improve their travel experience with us."
As FTE reported last month, CAG also plans to leverage biometric technology as part of its FAST initiative, with Terminal 4, which is due to open in 2017, set to make widespread use of facial recognition technology.