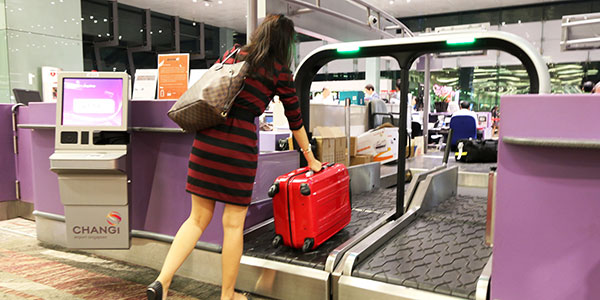 Singapore Changi Airport has started a three-month trial of self-service check-in kiosks, self-tagging and bag drop in Terminal 1 as part of the ongoing Fast and Seamless Travel at Changi (FAST@Changi) project.
The trial is being undertaken alongside Jetstar Asia and it will enable Changi Airport Group (CAG) to assess each of the services ahead of a wider rollout of the products, including in Terminal 4, which is due to open in 2017. As well as assessing the hardware and software, CAG will seek input from passengers to gauge their opinion of the self-service systems.
Two self-bag drop units and four self-service check-in kiosks with bag tag printers have been installed alongside the Jetstar check-in counters in Terminal 1, and passengers on select flights will be invited to use them. Instructional videos, signage and airport staff are also on-hand to make the process as simple as possible for passengers.
Tan Lye Teck, Executive Vice President, Airport Management, CAG, said: "Against a backdrop of growing passenger traffic and the current manpower situation in Singapore, such as in the ground handling sector, the adoption of self-service initiatives will help alleviate some of the pressure faced by the industry.
"The implementation of FAST@Changi is in line with a wider global push towards increasing automation at airports to improve productivity and efficiency, while providing passengers with greater flexibility and convenience."
Barathan Pasupathi, CEO of Jetstar Asia, added: "Jetstar Asia will be the first airline in Singapore to be working with Changi Airport on self-check-in kiosks and bag-drop service for our savvy customers who expect innovative solutions from Jetstar to make travel even easier and more accessible."