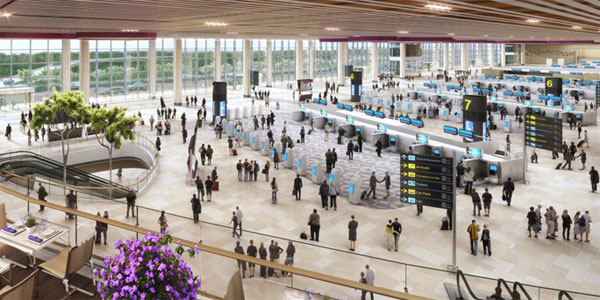 Singapore Changi Airport has broken ground on the new Terminal 4, which is expected to open in 2017 and will include self-service and automated check-in, bag drop, immigration and boarding processes. Roving airline agents will also be on-hand throughout the terminal to assist with passenger queries.
The self-service processes come under the header of  'Fast and Seamless Travel' (FAST) and will provide passengers with more control over their own journey through the terminal.
Changi Airport Group is also embracing a sense of "openness, greenery and natural lighting" throughout the new 195,000 sqm T4. The transit area will include local culture and heritage-themed features and a "visual-transparent" concept will provide a clear view of the transit lounge from the check-in area.
To help create a more linear passenger journey through the terminal, the immigration and pre-board security screening areas will be centralised at the south end of the terminal.
Lee Seow Hiang, CEO of Changi Airport Group, said: "Terminal 4 is set to challenge and redefine the way we travel. We have conceptualised and designed the terminal for passengers who view the time spent at the airport as very much part of their travel and holiday. Hence, we are introducing new breakthroughs that will enhance their travel experience and excite them at the same time.
"With T4, we are rethinking travel, exploring how key operational functions can be designed differently to optimise process flow, interior space, as well as manpower resources. We are also challenging ourselves to deliver an even higher level of the Changi Experience, by creating a boutique ambience and reflecting thoughtfulness for our passengers through the details in our design. In the aspects of architecture, layout and technology, we have future-proofed the terminal so that it can adjust to changing requirements in the industry."