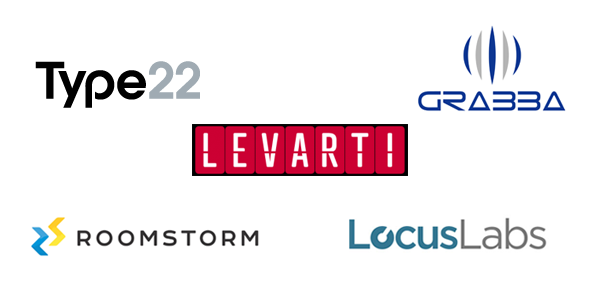 In the last week alone, five more innovative travel industry vendors have signed up to exhibit at Future Travel Experience Global 2015, the landmark 10th Anniversary FTE show that will take place in Las Vegas from 9th-11th September 2015.
The addition of Levarti, Type22, Grabba, LocusLabs and Roomstorm to the FTE Global 2015 exhibition floor plan means that 75% of exhibition space has now been sold.
Between them, the five new exhibitors will be showcasing a range of new generation technologies and services aimed at airports and airlines, including mobile applications, self-service bag drop, beacons, data capture and verification technologies, and simplified hotel bookings for disruption scenarios. LocusLabs and Roomstorm will be exhibiting in our brand new Start-up Showcase area.
Other already-confirmed exhibitors include Access IS, Custom, Damarel, Desko, DSG Bagdrop AS, Epson, Four Winds Interactive, Gunnebo, IER, Kaba, Lufthansa Systems, PrehKeyTec, Rockwell Collins, SITA, SSE Technologies, Vision-Box and Xovis.
>> View the full FTE Global 2015 exhibition floor plan
>> Enquire about exhibiting at FTE Global 2015
>> Register to attend FTE Global 2015