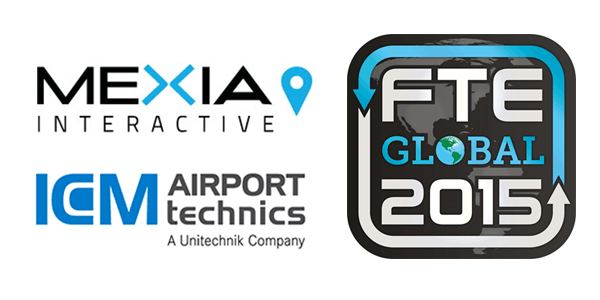 The Future Travel Experience Global 2015 exhibition continues to expand and this week two more pioneering vendors have confirmed that they will be showcasing their latest products and services at the landmark 10th Anniversary show.
ICM Airport Technics will present its self-service bag drop solutions, and MEXIA Interactive will outline how it can help airports eliminate bottlenecks, maximise retail opportunities and improve the overall passenger experience.
ICM and MEXIA Interactive join the likes of Access IS, ARINC, Brock Solutions, CLEAR, Cominfosec, Custom, Damarel, Desko, DSG Bagrop, DS Bagtag, eezeetags, Embross Group, Epson, Four Winds Interactive, GRABBA, Gunnebo, IER, InterGlobe Technologies, Kaba, Levarti, LocusLabs, Lufthansa Systems, Materna, PrehKeyTec, Rockwell Collins, Roomstorm, SITA, SSE Technologies, Type22, Vanguard ID Systems, Vision-Box and Xovis in confirming that they will exhibit at FTE Global 2015.
Meanwhile, more than 140 organisations have already confirmed that they will attend the event, which also includes two conference streams, collaboration forums, the 5th FTE Awards, guided tours of McCarran International Airport and an exciting social and networking agenda.
» More information on FTE Global 2015
» Register to attend FTE Global 2015