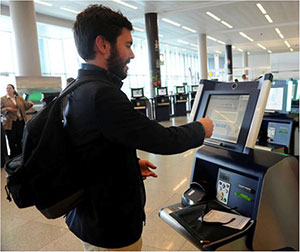 Two more leading industry suppliers have signed up to the FTE Global 2014 exhibition, which will be held at the Mandalay Bay Resort, Las Vegas, from 24-26 September.
BorderXpress, the Automated Passport Control kiosks developed by Vancouver Airport Authority in partnership with U.S. Customers and Border Protection (CBP), has significantly reduced the waiting time at customs for arriving passengers at a number of North American airports, including Hartsfield-Jackson, Vancouver, Chicago O'Hare, Seattle-Tacoma and Montréal-Trudeau airports. FTE Global 2014 delegates will have the opportunity to experience the system first-hand on the exhibition floor.
Meanwhile, Vanguard ID Systems will be showcasing its permanent bag tag solution, which makes use of NFC and RFID technologies, and provides an innovative alternative to the traditional paper bag tag.
» View the latest FTE Global 2014 exhibition floor plan