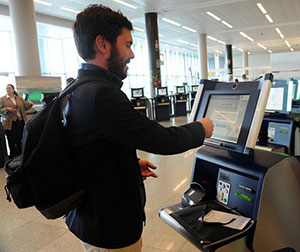 Hartsfield-Jackson Atlanta International Airport, the world's busiest airport by passenger traffic, has announced plans to install 74 Automated Passport Control (APC) BordeXpress kiosks to expedite the customs entry process.
The kiosks, developed by Vancouver Airport Authority, reduce the U.S. Customs and Border Protection (CBP) inspection process by as much as 89% and typically cut passenger queuing times in half at the immigration checkpoint.
As opposed to filling out a declaration card and waiting to see a CBP officer, passengers can complete the declaration and scan their e-passport at a self-service kiosk, and simply present their receipt to a CBP officer for validation.
Craig Richmond, President & CEO of Vancouver Airport Authority, commented: "We're proud to partner with the world's busiest airport to improve the passenger experience – on a grand scale. With international travel on the rise, ATL will use BorderXpress kiosks to move passengers more quickly to meet their increasing demands."
BorderXpress kiosks have already been implemented at a number of North American airports, including Vancouver, Montréal-Trudeau, Chicago O'Hare, and Seattle-Tacoma airports.