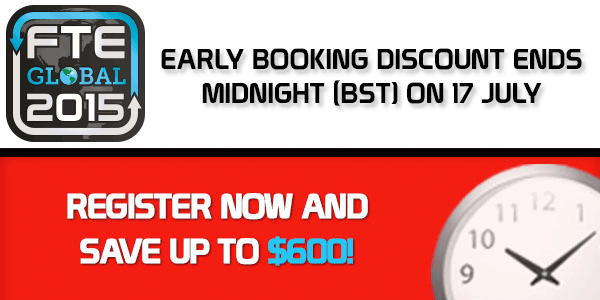 Time is running out to make the most of the reduced registration rates for Future Travel Experience Global 2015, with the early booking discount set to expire at midnight (BST) on Friday 17 July.
The 10th Anniversary FTE Global event, which will take place in Las Vegas from 9th-11th September, will be the biggest and best FTE show to date thanks to two future-focused conference streams, the largest FTE exhibition yet, collaboration forums, the 5th FTE Awards ceremony and an exciting social and networking programme in the "Entertainment Capital of the World".
Inspirational keynotes will be delivered by Google, Facebook, Virgin Galactic and IBM Watson, while the likes of Air France-KLM, Southwest Airlines, Qatar Airways, Airbus, DFW International Airport, Swedavia, Vueling Airlines, Virgin Atlantic, Norwegian Air Shuttle, Avianca, SITA Lab, Brussels Airlines, Rockwell Collins, Panasonic Avionics, Honour Branding, Alitalia, Lufthansa and Airport Authority Hong Kong are all confirmed to speak in the 'On the Ground' and 'Up in the Air' conference streams.
Meanwhile, we are delighted to confirm that five more leading industry vendors have this week confirmed that they will be exhibiting their latest products and services in the FTE Global 2015 exhibition. Brock Solutions, Cominfosec, DS Tags, eezeetags, and InterGlobe Technologies, join the likes of Access IS, ARINC, CLEAR, Custom, Damarel, Desko, DSG Bagdrop AS, Embross Group, Epson, Four Winds Interactive, Grabba, Gunnebo, IER, Kaba, Levarti, LocusLabs, Lufthansa Systems, Materna, PrehKeyTec, Rockwell Collins, Roomstorm, SITA, SSE Technologies, Type22, Vanguard ID Systems, Vision-Box and Xovis in confirming that they will exhibit.
» Find out more about FTE Global 2015