Future Travel Experience Global 2015 is now less than a week away and the exhibition will be our biggest to date, and will host a variety of the very latest solutions that have been developed to help airports and airlines enhance the passenger experience, streamline processing and improve operational efficiency. Viewing demonstrations of the newest technologies first-hand is a key requirement to understanding the very latest developments, and FTE Global 2015 provides a perfect platform for you to do exactly this.
The fourth and final instalment of the FTE Global 2015 Exhibition Preview provides insight into what you can expect to see from Lufthansa Systems, AirIT, CUSTOM, Four Winds Interactive, Grabba, InterGlobe Technologies, Kaba, Levarti, LocusLabs, PrehKeyTec, Roomstorm, SITA, Vanguard ID Systems and Xovis.
» View Part 1 of the FTE Global 2015 Exhibition Preview
» View Part 2 of the FTE Global 2015 Exhibition Preview
» View Part 3 of the FTE Global 2015 Exhibition Preview
Lufthansa Systems (Booth E1)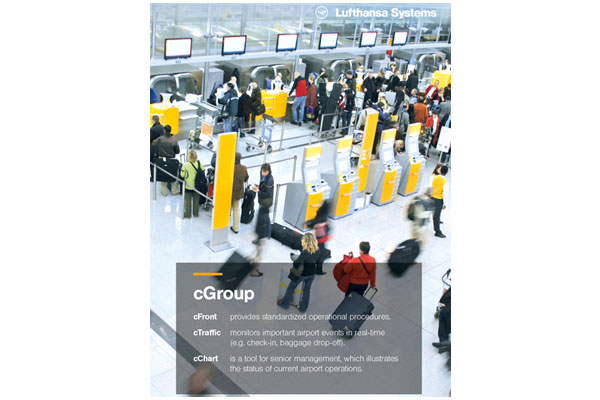 Lufthansa Systems will use FTE Global 2015 as the launch pad for its new cGroup product line, and will demonstrate how its three new IT solutions can support airlines with Common Use Terminal Equipment (CUTE) systems. This software solution for airport operators enables airlines to make common use of existing airport IT infrastructure. In other words, they can all use the same hardware to handle passenger and flight processing via their own servers. cGroup comprises three products – cFront, cTraffic and cChart – and FTE Global delegates will be the first to be offered the chance to take a first-hand look at them.
cTraffic monitors your passenger handling processes from a single device over a whole airport and provides you with valuable business analyses.
cChart gives your senior management a global view of all your airport operations in real time.
cFront runs your DCS applications and web applications at your common use airports, no matter if it is CUTE or CUPPS.
For more information, visit: www.lhsystems.com
Kaba (Booth A10)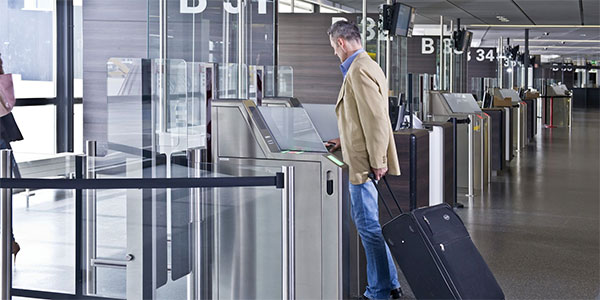 Kaba presents Argus HSB-M03, the state-of-the-art solution for automated boarding pass control and automated self-boarding. The gate exhibited is equipped with a neatly integrated face recognition system, a barcode scanner for validity check of the boarding pass and a device for issue of a receipt.
It is connected to a registration kiosk, demonstrating the complete process of check-in and self-boarding. Via kiosk registration and biometric validation at the gate the passenger may board most conveniently while the identity is perfectly verified.
For more information, visit: www.kaba.com/pas
Grabba, Inc. (Booth A15)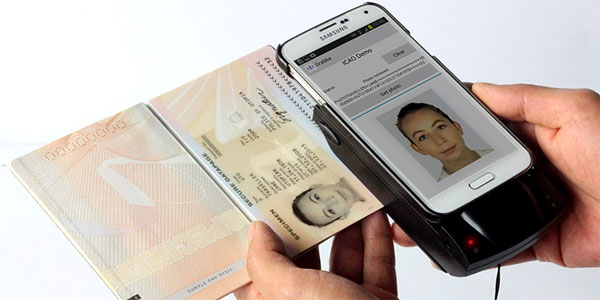 Grabba will be presenting its hand-held solutions for boarding pass and baggage tag issuing, ID checking and verification, passenger boarding, security, roving agents, line-busting and other essential services, using Grabba units attached to commercially available smartphones and tablets.
Grabba barcode scanners, fingerprint readers, iris scan, facial recognition, RFID readers, contact and contactless smartcard readers can be provided in any combination to suit your requirements and will all be on show in Las Vegas.
For more information, visit: www.grabba.com
LocusLabs (Booth S5)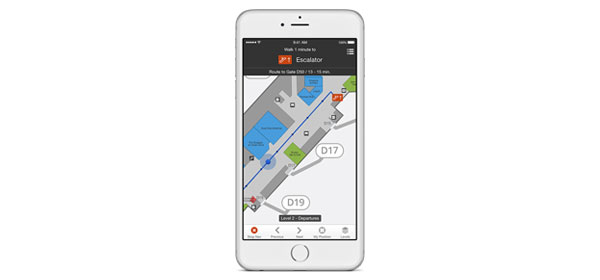 The LocusLabs indoor location and airport map solution is purposely developed for air transport industry use cases with processes that allow indoor map creation and upkeep at scale. The company, exhibiting in the new "Startup Showcase" area, will demonstrate features of the LocusLabs intelligent location SDK for use within airline, airport and travel apps: interactive maps for airport discovery; navigation, way-finding and indoor location; search and find almost anything in the airport.
See how highly detailed interactive airport maps help passengers learn about airport services in the apps they use while travelling.
For more information, visit: www.locuslabs.com
AirIT (Booth E6)

AirIT, an Amadeus company, is an information technology firm based in Orlando, FL. The company's comprehensive portfolio of solutions enables airports and airlines to better utilise and manage resources, enhance the passenger experience, reduce costs, and optimise revenue generation.
Visitors to the AirIT booth will be able to gain key insight into the recent acquisition of the company by global travel technology leader, Amadeus. Learn about the AirIT/Amadeus strategy for delivering any type of airport common use passenger processing technology. Regardless of the airport need – hosted or on premise, native or CUPPS-compliant – AirIT and Amadeus are successfully deploying their combined technology worldwide today.
For more information, visit: www.AirIT.com
CUSTOM (Booth C16)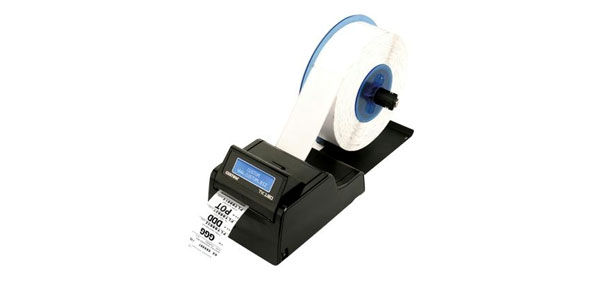 Among the products on display on the CUSTOM booth will be the CUSTOM Triple Bin, which is used in desktop and self-service CUSTOM printers, and allows customers to manage three different types of tickets.
CUSTOM also presents the new TK180, the smallest ATB and BTP AEA CUTE and CUPPS version combined printer with excellent reliability specially designed for check-in desks where the counter space is a major issue. The TK180 printer can handle legacy ATB1 tickets as well as receipt paper roll; bag tag support is provided by the optional roll holder.
For more information, visit: www.custom.biz
Roomstorm (Booth S9)

Roomstorm is thrilled to announce its official launch at FTE Global 2015. The company is providing a brand new fully automated distressed passenger hotel accommodation solution. Now you can provide hotel accommodation in five mouse clicks and send your customers SMS and email confirmations. Or you can build Roomstorm's API into your own tool.
Roomstorm will update your PNRs for you and provide automated reporting and accounting. No more vouchers. No more long lines. No more sitting on hold to find hotels. No monthly fees. Visit the Roomstorm stand to see its platform in action. Redefine your passenger experience during flight disruptions, powered by Roomstorm.
For more information, visit: www.roomstorm.com
Levarti (Booth E2)

Levarti will be showcasing its MAX mobility platform, powering a suite of cutting edge mobile applications designed to streamline your airport and in-flight operation. Designed for both passenger and airline staff with solutions for airport and ramp agents, flight operations and cabin crew.
The company's portfolio includes: Passenger Mobile; MAX Airport & Ramp; Check In, Boarding, Ancillary Sales; OTP Dashboard & Turnaround Management Tools; Disruption Management; MAX Crew, true paperless cabin; and MAX Sale, in-flight point of sale. MAX can completely change how your staff interact with passengers and improve customer service from day one.
For more information, visit: www.levarti.com
PrehKeyTec (Booth A11)

PrehKeyTec is a leading manufacturer of advanced data input devices on the global market. Its product range, which will be on show in Las Vegas, comprises modular standard keyboards and scanners primarily characterised by their high degree of flexibility and extreme reliability, making them the ideal option for professional applications.
Designed specifically for heavy use applications, PrehKeyTec products will continue to perform long after others have failed. Products built by PrehKeyTec are implemented in banking, airports, airlines, pharmacies, retail and every other vertical market, where speed, durability and reliability is required.
For more information, visit: www.prehkeytec.com
SITA (Booth C1)

Almost every airport in the world does business with SITA. As a leading global ICT provider, SITA understands the complexities and pressures of running an airport, and is dedicated to providing solutions that improve the passenger experience, drive operational efficiencies and increase financial success for its customers.
SITA can deliver an integrated, seamless self-service passenger experience – from check-in through security, to boarding the aircraft and border security on arrival. SITA embraces and implements the latest technologies, helping airports become more innovative, increase their competitiveness, accelerate their growth, and strengthen passenger loyalty.
For more information, visit: www.sita.aero
Vanguard ID Systems (Booth B16)
Vanguard ID Systems is a premiere manufacturer of custom-made RFID cards, tags, labels and bands using either HF or UHF technologies. All of its products are custom made and individually tested to ensure the highest quality.
The High Frequency (HF) products operate at a frequency of 13.56 MHz with ISO/IEC 15693 or 14443A standards. Vanguard's Ultra High Frequency (UHF) operates in a global frequency range of 860-960 MHz with an ISO/IEC 18000-6C and EPCglobal Class 1 Gen 2 protocol. These products are available in a variety of shapes and sizes, and can be combined with either a magnetic stripe or bar code.
For more information, visit: www.vanguardid.com
Xovis (Booth A13)

Are you looking for a system for Passenger Flow Monitoring, Queue Measurement, Service Delivery Management or Passenger Tracking? Xovis is a fully developed, industrialised and proven system, in use at over 20 airports worldwide, and it will be on show at FTE Global.
Xovis can measure wait times, queue lengths, process times and much more. For check-in, the system works in an accurate way, distinguishing between passengers, staff, meeters & greeters, and visitors. The Xovis 3D sensor technology is the most advanced technology for passenger tracking available today. The ability to manage mounting heights up to 20 metres and an area coverage of 100m2 per sensor are unique features.
For more information, visit: www.xovis.com
InterGlobe Technologies (Booth A3)

InterGlobe Technologies (IGT) is a fully travel domain solutions provider, which has been helping travel companies provide highly engaging and personalised travel experiences. IGT offers an integrated customer experience management through its various innovative solutions like Travel Buddy™, beacon applications, BI/DW solutions and integrated contact centre management, aimed at transforming the traveller's life-cycle experience.
IGT is part of InterGlobe Enterprises Limited with interests in aviation, technology and hospitality. With its state-of-the-art delivery centers across five continents and worldwide operational presence, IGT employs over 7,000 travel industry experts.
For more information, visit: www.igt.in
Four Winds Interactive (Booth A20)

Four Winds Interactive (FWI) provides a software platform for developing, deploying and managing visual communications networks on digital signs, interactive kiosks, web and mobile devices. FWI's solution makes it possible to quickly and easily create dynamic messages to inform, educate and motivate travellers through a single solution that supports all of your digital communications applications.
For more information, visit: http://www.fourwindsinteractive.com/