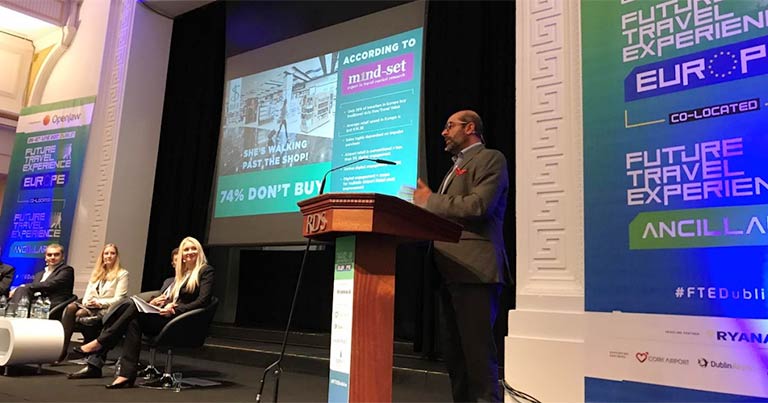 Budapest Airport, in collaboration with Heinemann Duty Free and Wizz Air, has launched a new travel retail concept in a unique trial.
First announced last June at the co-located Future Travel Experience Europe and Ancillary events in Dublin, the initiative, which uses FTE's BARTA (Brand, Airline, Retailer, Technology, Airport) framework, goes beyond the existing airport-retailer-brand relationship, bringing an airline into the mix for the first time. It is anticipated that the collaboration will deliver sizeable increased revenues and footfall for all involved.
During a three-month trial period starting on 1 March 2018, any departing Wizz Air passenger spending over €50 or €75 in Budapest Airport's Heinemann Duty Free store will receive a €4.50 or €7.50 voucher, respectively. Customers may redeem these vouchers on board in the WIZZ Café, where they can choose any product from the airline's wide selection of drinks, sandwiches, snacks, or alcoholic beverages. The trial is particularly significant because it marks the first time that an airline, airport and retailer have collaborated in this manner.
"Airlines are the first engagement for every passenger travelling through an airport, from ticket purchase to check-in, and have 100% digital connectivity with the travellers," explained Kam Jandu, Chief Commercial Officer, Budapest Airport. "Bringing an airline into a travel retail relationship and working with its highly efficient connectivity with consumers can only serve to improve sales growth across the board."
Tapping into digital channels
The offers will be promoted via the digital channels of all parties, including wizzair.com and the Wizz Air app. Crucially, this is the first time that Budapest Airport's largest airline has participated in such a shopping promotion which offers an outreach to up to 1.75 million travellers booking Wizz Air seats this summer.
"Budapest is a forward-thinking airport and expectations are high that this initiative will create new income streams for the airline, the retailer, the brands, as well as the airport. Working together through BARTA principles opens up the opportunity to drive growth by presenting travellers with retail offers at every stage of the journey from sofa to shop to seat," Jandu continued.
Ildikó Jankovich, Managing Director of Heinemann Duty Free at Budapest Airport, also highlighted the customer experience and revenue generation benefits that the initiative could deliver. "The promotion fits in perfectly with our philosophy to accompany our customers along their journey through individually tailored offers and services at all touchpoints," she said. "We are very proud to be celebrating this pioneering cooperation together with our longstanding partner Budapest Airport and Wizz Air and we anticipate excellent results from this."
George Michalopoulos, Chief Commercial Officer at Wizz Air, added: "Wizz Air constantly strives to improve its services and product portfolio to best meet the needs of its savvy customers. As Budapest Airport's largest airline serving 66 destinations, we are excited to launch another innovative initiative which will create further value for customers who choose Wizz Air."
Meanwhile, Daniel Coleman, Founder of Future Travel Experience, applauded the fact that the three parties are using the BARTA model as part of the trial. "Budapest Airport, Heinemann and Wizz Air have been working a very long time on devising this revolutionary digital retail promotion strategy, and Future Travel Experience is proud that the partners chose to use FTE's BARTA framework to bring it to market," he said. "We look forward to the chance to present initial results from this 2018 trial at the Future Travel Experience Europe and Ancillary conference and exhibition in Dublin, 6-8 June 2018."