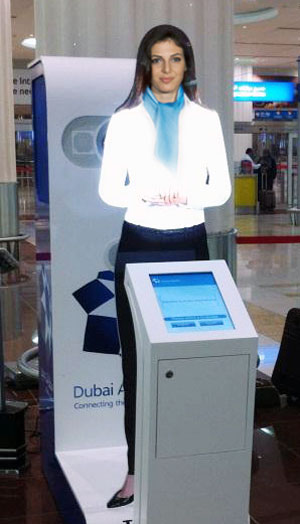 Dubai International Airport has installed a first-of-its-kind interactive virtual assistant.
As well as delivering pre-programmed information, the assistant features interactive touch screen integration, which enables passengers to search in both English and Arabic for individualised answers to frequently asked questions.
Located in the departure area of Terminal 3, the high definition-projected assistant provides audio and video, and invites passengers to interact with her, giving them round-the-clock access to travel and security information.
The Tensator Virtual Assistant was specifically designed to suit Dubai International's operational needs and passenger experience and is the fourth Tensator assistant installed at the airport.
"Being the first airport to deploy the interactive Tensator Virtual Assistant is part of our heritage of 'firsts' and our continued dedication to enhancing the customer experience, improving operational efficiencies and reducing wait and queue times at every touch point," commented Majed Al Joker, Vice President Terminal Operations at Dubai Airports.
Abdel Aziz Rahal, General Manager, Tensator FZE, added: "Reactions by passengers have been tremendously positive. She calls attention to critical way-finding information and makes passengers stop, look, listen and now interact and engage with her."