Following on from the feature we published last week on the challenges of biometrics – with input from British Airways, Lufthansa, Bengaluru International Airport, Metropolitan Washington Airports Authority and Delta Air Lines – this week we are exploring the supplier perspective. FTE spoke to Collins Aerospace, IDEMIA, Materna, EASIER, ICM, Vision-Box and U.S. CBP, who shared insights into the challenges of biometric rollouts, common misconceptions, what advice they can give to airlines and airports, and what's next for this evolving technology.
In the past 12 months it has become more apparent than ever that biometrics technology is transforming the airport experience for passengers. Evidence of the rapid deployment of biometrics is clear from announcements made in the past months, which saw Collins Aerospace launching its SelfPass biometric solution with trials by JetBlue at JFK, as well as trials at Bristol and Dublin airports; Vision-Box working with a number of airports and airlines on implementations, including Bangalore International Airport Limited and trials with Lufthansa Group at LAX; as well as IDEMIA who provided a complete passenger processing biometric system at Changi Airport Terminal 4.
While the implementation of biometrics is gathering pace, there have been a number of misconceptions, thanks in part to speculation from mainstream media. One of the issues is that biometrics has been considered as a Big Brother-esque surveillance tool forced upon travellers. As Colleen Manaher, Executive Director at U.S. Customs and Border Protection (U.S. CBP), points out: "This is not a surveillance programme – it simply automates identity verification which is now a manual practice for both the airlines and CBP."
Tim Kotlar, General Manager Sales at ICM, adds that there are some modern solutions in the making that will "put the passenger in charge of their own data". So, it is essential for airports and airlines to take the time to educate passengers on the benefits of biometrics and address these misconceptions to build the much-needed trust between all parties.
Challenges – integration, security, legacy infrastructure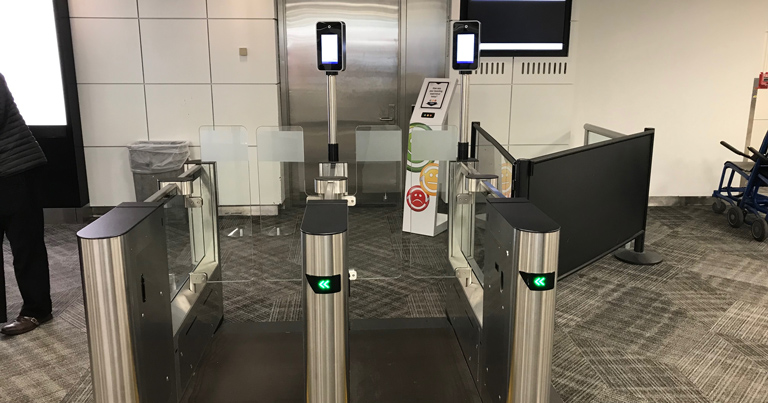 Tony Chapman, Senior Director Product Management and Strategy, Collins Aerospace, highlighted two main areas which can prove a challenge – integration and security. "To fully maximise the benefits of this technology, it should be available to all passengers, travelling on all airlines, to all destinations. But to offer such a solution requires an enormous amount of experience of integrating to multiple airline systems and government databases. What's the point in offering biometric identification at bag drop and the departure gate if passengers still have to present their passports and wait in a line at security, for example?" he explains.
Moreover, security in aviation remains critical as threats continue to evolve. Chapman added: "Not only must any solution ensure with complete accuracy that each passenger is who they claim to be, but compliance with global data protection legislation must be built into its design from the start. The implications for airport, airline and passenger are far too important to get this wrong."
Legacy infrastructure is another challenge which is once again getting in the way of the implementation of rapidly growing and evolving technologies, such as biometrics. Miguel Leitmann, CEO, Vision-Box, explains: "The key technical challenge is to harmonise the introduction of new technology into a legacy environment with no impact to the operation. Over time the further goal is to remove those components of legacy technology that are costly to maintain and support."
Hervé Muller, President, North America, EASIER, adds: "Pure biometric players do not have the expertise to handle the varying requirements of airlines. Suppliers with experience in common use technology are needed to bridge this gap between biometrics and the multitude of airline Departure Control Systems (DCS)."
This need for collaboration has since seen the formation of partnerships between different vendors. Such is the case with EASIER and IDEMIA, who have partnered to deliver biometrics with a universal airlines and common use interface. Another instance is the recent announcement of Amadeus' acquisition of ICM Airport Technics. The two companies merged with the sole purpose to provide end-to-end hardware and software solutions that overcome these challenges. This year also saw the acquisition of Gemalto by Thales, which is expected to tackle data and network cyber security and airport security, while strengthening Thales' position as one of the global leaders in digital identity and security.
Establishing trust between stakeholders is another prominent area and CBP's Manaher highlights the need to "ensure transparency across all stakeholders, so everyone understands how the process works and how effective the technology is". She adds: "We need to ensure we follow the best practices across the spectrum in privacy and data security."
Data security and privacy must come first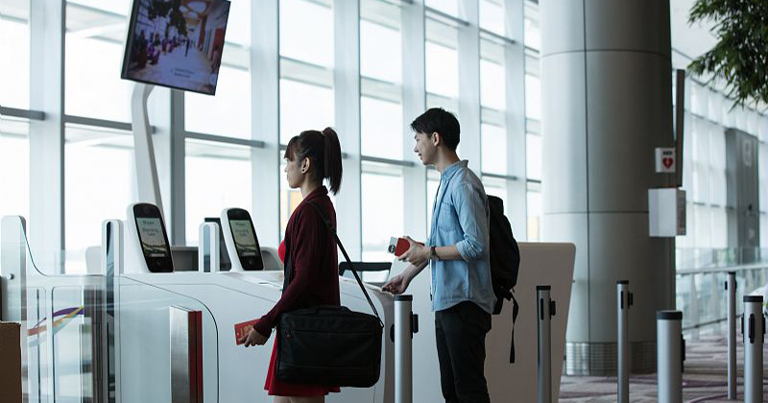 Echoing this sentiment, ICM's Kotlar advises airports and airlines to "choose a solution that puts data security and privacy first". Michael Overkaemping, Product Manager Access & Biometrics, Materna IPS, also suggests that it is essential for airlines and airports to involve all parties from the very beginning of the biometric implementation.
IDEMIA's Business Development Director – Passenger Facilitation John Dean, also highlighted that it is essential for airports and airlines to verify that biometric vendors have the proper encryption technology to safeguard customers' personally identifiable information (PII). "It is also important to ensure that the vendor has both a strong industry background, as well as positive references and proven project performance."
Indeed, biometrics technology can bring about a number of benefits – improved passenger experience, shorter queues, reduced operating expenditure ­– but to make the most of the technology, airlines and airports must have a clear idea of the particular operation they want to improve. The danger with biometrics, Chapman points out, is that airports and airlines rush into deploying a solution without first establishing what they want to do and what results they want to achieve. "Knowing what the outcome you want to achieve will allow you to work with a supplier to deliver a solution that works best for your operation and where success can be easily quantified," he suggests. Applying automation to a legacy process, on the other side, might not yield the operational benefits and outcomes desired.
Next phase?
One of the issues that Chapman highlights is that single-point biometric solutions are being deployed without enough thought for the future. So, naturally we asked suppliers what the future holds in the space. CBP's view is that we will see further expansion into other aspects of the travel continuum, such as bag drop, international boarding and improved arrival process. Thinking even further ahead, IDEMIA envisions a future where your hands, face and eyes will be your ID, your boarding pass, your concert ticket, your method of payment. "All you need to prove that you're you, is you," says Dean.
He continued: "The next phase of technology is also developing a unified approach with federal agencies, airports and airlines to implement biometric passenger facilitation solutions collaboratively. Once we are able to create a unified cooperative approach among these groups, the suppliers' ROI and the passengers' positive experience will increase dramatically."
Artificial intelligence (AI) will also be instrumental in driving the development of biometrics. Materna's Overkaemping explains: "In the near future AI will impact the matching technologies and tear down the still existing limits for gallery sizes which are used for matching."
Looking ahead, Chapman comments: "There are a variety of exciting use cases for biometrics going forward but one thing is for sure; the current "single-token journey" will evolve into a fully connected, end-to-end journey of the future."
Biometrics Summit at FTE Global 2019 
We will continue the discussion at the upcoming Biometrics Summit at FTE Global (4-6 September 2019, Las Vegas), where this evolving technology is high on the agenda. We will hear case studies and lessons learned from first-movers that have been through implementations. Among the high-level speakers confirmed to speak in the Summit are Jason Hausner, Director – Passenger Facilitation Corporate Security, Delta Air Lines; Satyaki Raghunath, Chief Strategy & Development Officer, Bengaluru International Airport; Dr. Bjoern Becker, Senior Director Product Management Ground & Digital Services, Lufthansa Group; Raoul Cooper, Airport Transformation Design Manager, British Airways & Director at Biometrics Institute; Sherry Stein, Head of Technology Strategy, SITA; Samuel Ingalls, Assistant Director of Aviation, Information Systems, McCarran International Airport; Kris Ranganath, VP, Technology and Solutions Development, NEC; Jason Lim, Identity Management Capability Manager, Transportation Security Administration (TSA); and Mike Hardin, Director of Policy, Entry/Exit Transformation, U.S. Customs and Border Protection Agency.
Additionally, FTE Global 2019 will feature a U.S. CBP workshop, at which experts from CBP and guest speakers from the likes of Greater Orlando Aviation Authority and Metropolitan Washington Airports Authority will lead in-depth technical sessions in an interactive environment on the best approaches to rolling out a biometrics programme. This will all be complemented by an incredible exhibition where you can experience the latest biometric solutions from NEC, Collins Aerospace, IDEMIA, Materna, EASIER, ICM, Gemalto, Gunnebo, SITA, and more, as you consider which vendors to partner with. Find out more and register to attend here.