Biometrics was, for a long time, a thing of science fiction, depicting the futuristic world of technology – think Star Trek, 2001: A Space Odyssey, and Minority Report. Fast-forward to today, and the implementation of the technology in air travel, from iris scans to facial recognition, has gone from sci-fi to reality, transforming travel as we know it.
During the past couple of years, many have successfully proved the potential of this widely discussed technology, from British Airways' biometric rollout at Heathrow, Orlando, Los Angeles and John F. Kennedy international airports to Kempegowda International Airport's Digi Yatra Programme, and Delta Air Lines' first biometric terminal in the United States at Atlanta Hartsfield-Jackson International Airport, to name just a few.
Ahead of the FTE Biometrics Summit, which will take place at FTE Global 2019 in Las Vegas, 4-6 September, FTE spoke to British Airways, Lufthansa, Kempegowda International Airport, Bengaluru (KIAB), Metropolitan Washington Airports Authority (MWAA), Delta Air Lines, SITA and NEC, who delved deeper into the challenges around the mass rollout of biometrics and shared what's next for the technology.
Shaping the seamless journey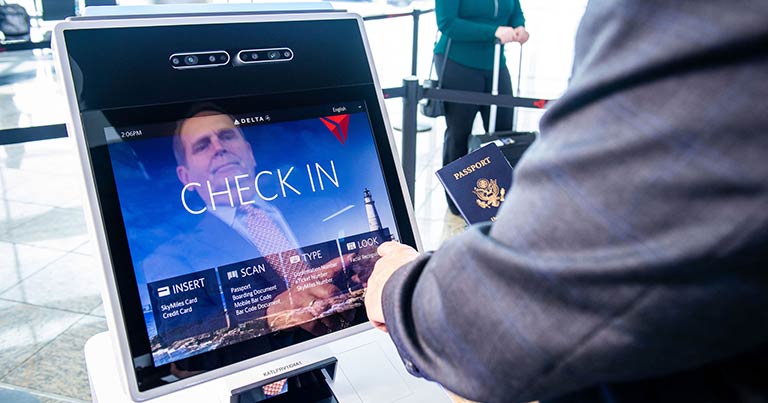 Biometric technology is expected to play a key role in shaping the seamless passenger experience of the future. The technology has been a major focus for airports and airlines in recent years. For instance, Delta Air Lines' Jason Hausner, Director – Passenger Facilitation Corporate Security, says the technology is an important part of Delta's multi-year journey to improve the customer experience and create a hassle-free journey. Hausner also highlights the benefits the technology could have from a human resource perspective, adding: "It's important to remember that our employees are our greatest competitive advantage. By reducing manual transactions, employees can spend more time interacting with customers and delivering the exceptional service for which they are known. Biometric technology is foundational to furthering those efforts."
British Airways, which is investing £6.5 billion in the customer experience, has also been testing the potential of biometric boarding since 2017. Raoul Cooper, Airport Transformation Design Manager at British Airways & Director at Biometrics Institute, says: "The U.S. CBP Biometric Entry/Exit Programme was a great opportunity to improve the boarding experience for both customers and our people. Our approach was to stay light on our feet, form a small and effective team, and work openly and collaboratively with governments, vendors and airports. We were not looking for perfect straight away, but we were looking for insight whilst fulfilling our promise on safety and security."
This approach enabled the airline to swiftly implement the technology and start boarding passengers without the need to present a boarding pass or passport within 50 days. In Orlando Airport, the airline is seeing tangible results, boarding almost 240 passengers in 10 minutes, and it has become the first carrier to set up permanent facial recognition gates at the airport.
Elsewhere, the Innovation Lab at Kempegowda International Airport, Bengaluru, has been spearheading the development of various digital platforms and technology initiatives. What started off as a passenger experience design thinking session for Terminal 2 three years ago has evolved into the Digi Yatra Programme.
Satyaki Raghunath, Chief Strategy & Development Officer, Kempegowda International Airport, explains: "It was during this workshop that the phrase "My face is my boarding pass" was coined. This has become the by-line for the Digi Yatra Programme now."
He continued: "Our vision was to make the passenger journey a "walk in the park", or in other words, totally frictionless and verification/authentication using facial biometrics offers this capability. The major advantage of this system is the freedom it gives passengers to move from 'kerbside to boarding gate' without the passenger needing to show either ticket, boarding pass and/or Identity Card at multiple airport checkpoints. The verification/authentication also significantly enhances security at the airport."
However, as Cooper highlights, it's not just about the technology. "It needs to be built on the foundation of identity and responsible use," he says.
Establishing trust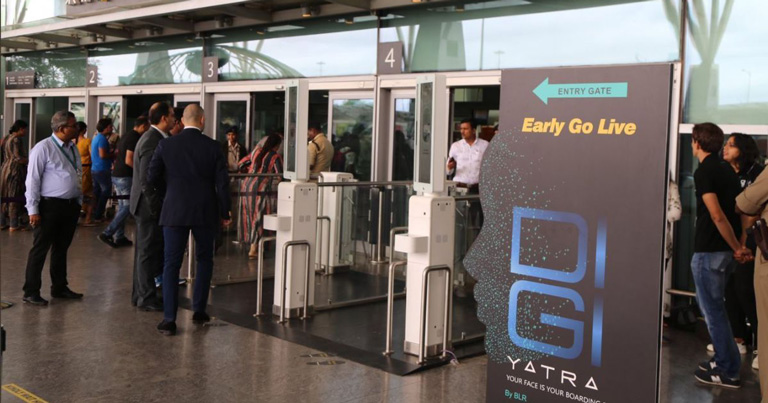 Goutam Kundu, CIO at Metropolitan Washington Airports Authority (MWAA), also confirms the sentiment that the "technology independently can't do it all". He explains: "It requires all stakeholders – regulatory agencies, airlines, airports and others – to work in concert to land on a solution with mutual end-to-end benefits.
"Yet, each of these players have different systems and different levels of maturity. So, the real driving force behind the seamless experience is a trust framework that all stakeholders agree upon: the guiding principles on biometric handshake, token verification and so on. This framework is even more important than biometrics, which is the enabler that uses the framework."
Indeed, establishing trust between stakeholders is seen as a key area to help drive the business case forward and some parties are already successfully achieving this goal. For instance, Lufthansa has worked closely with U.S. Customs and Border Protection (CBP) to launch biometric boarding at Los Angeles, Miami, Orlando and John F. Kennedy international airports. Dr. Bjoern Becker, Senior Director Product Management Ground & Digital Services at Lufthansa Group, says: "We need a partnership and a joint approach going forward, not only transparency."
He continues: "A good example is our working relationship with the CBP in the biometric boarding process implementation, as we jointly created a win-win-win situation here for all stakeholders: guests, regulatory and airline."
NEC Corporation, sponsor of the FTE Biometrics Summit at FTE Global 2019 in Las Vegas, also spoke of the strong relationships it has established with CBP and U.S. Department of Homeland Security (DHS), plus other regulatory bodies such as the European Union and its General Data Protection Regulation (GDPR).
Apart from working with other stakeholders, tech partner SITA has also conducted research to gauge global passenger sentiment about technology adoption and use in their journey. The 2018 SITA Passenger IT Insights outlined how, overwhelmingly, passengers would be willing to share biometrics to enable their journey. Sherry Stein, Head of Technology Strategy at SITA, told FTE that in total 53% would "absolutely" use their biometric in their journey while a further 35% would "consider" doing so. Effectively creating and communicating the benefits to passengers is key to adoption, Stein says.
Addressing privacy concerns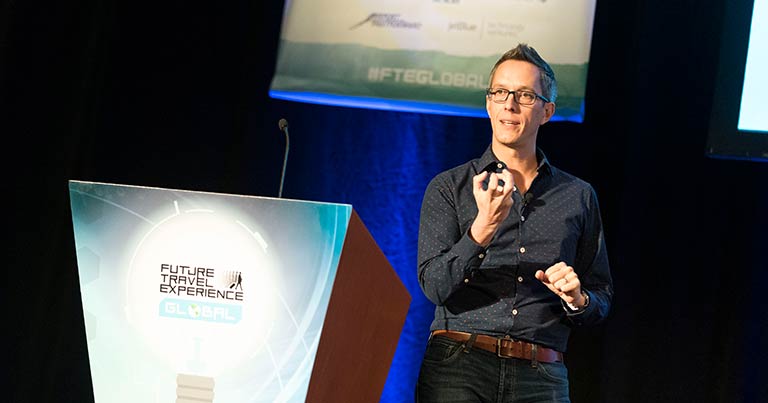 However, as the use of biometrics is becoming more widespread and the technology is advancing quickly, there have been rising concerns around privacy and data security from a civil rights point of view. For instance, San Francisco became the first US city to ban facial recognition technology as part of an anti-surveillance ordinance, though the ban doesn't affect federal agencies, such as San Francisco International Airport.
As facial recognition is still an emerging technology, the fundamental problem is lack of legislation. Even Microsoft, as one of the biggest technology companies in the world, has called for national privacy legislation for the United States, raising critical questions about human rights and freedoms.
BA's Cooper explains: "Facial recognition is used in a wide variety of applications ranging from boarding an aircraft through to crime prevention and security applications. Within an airport environment, there is already clear regulation around the need to prove identity in order to fly and this is where use of biometrics can be clearly seen as a neat fit and very applicable with consent from customers." He emphasises that photos taken using facial recognition technology are never stored on British Airways' systems, nor that of its technology partners, and that the airline is committed to closely monitoring the technology to ensure it's in the safest and most secure place. When asked about data privacy, BA, Lufthansa, Bengaluru Airport and Delta Air Lines all highlighted that they have very strict data security and protection rules.
However, perhaps new laws are needed to ensure that passengers are given the right to consent to the use of facial recognition and any collection of biometric information. According to Raghunath: "We need clarity of purpose and some mandatory standards with the appropriate mechanism and ability for the data subject (passenger) to opt out of the process whenever he/she decides to."
Lufthansa's Becker is also in agreement and explains: "We need to make sure that nobody is filmed and identified without consent and also that there is always an alternative method for every touchpoint for guests who don't want to use the biometric identification. That is one of the big challenges to bringing the biometric process to the infrastructure at the airport touchpoints." He also highlighted that airports and airlines do not gather new data about where the passenger is at the airport; they already have this information at the touchpoints based on boarding pass and ID scans. The only thing that has changed is the identification element from boarding pass/ID to biometrics to make travel smoother for passengers.
In order to ensure security, Bangalore International Airport Limited, operating company of KIAB, has implemented a 'Privacy by Design' philosophy, which means that the data is collected and only used for the specific purpose it is captured for. Additionally, only the specific entities who carry out a relevant function in the journey of the passenger through the terminal building are involved in the authentication process. Beyond the terminal entry, check-in, self-bag-drop and security areas, the passenger will be verified by the e-gates. It only verifies the ID of a passenger at the checkpoint and there is no monitoring of the passenger at any other location. The data is expected to be deleted, once the passenger has completed their flight per the Digi Yatra Policy Standards, which is to be finalised by the Government of India.
Kundu from MWAA points out that there is existing legislation already in place, so the industry needs to educate itself on what is already out there, how to comply with it, and how it can be enforced. "From there, we can address any gaps as things evolve and emerge by adding to and refining what is already in place. We may find that regulations created for first-gen biometrics will no longer be sophisticated enough, so there will always be the need for the right mix of regulations that address privacy concerns and emerging technologies," he says.
Addressing the accuracy of the technology, Kundu says that biometrics will continue to evolve, however it's necessary to factor in emerging technologies such as artificial intelligence (AI), augmented reality, deep learning and mixed reality, to drive the discussion forward.
Kris Ranganath, VP, Technology and Solutions Development, NEC Corporation of America, adds: "Banning facial recognition is not the answer. The capabilities of facial recognition, AI and machine learning are outpacing current policy, which is why we are seeing the privacy issues simmering around the country right now. Legislation at the federal or state level is more appropriate to us than city bans based solely on fear."
Infrastructure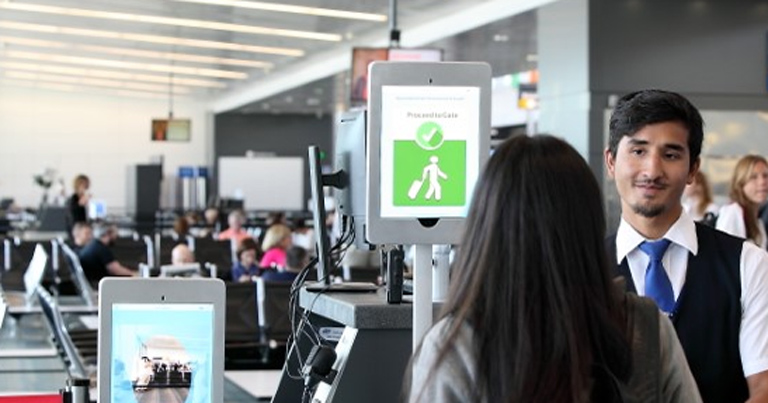 Biometrics is an incredibly attractive asset for airports, considering that passenger numbers are on the rise year-on-year. In order to support biometric enabled queue-less travel, Raghunath revealed that Bangalore International Airport Limited, working with Vision-Box, will in the coming months adopt registration kiosks and e-gates with cameras to capture and authenticate passengers using single token facial biometrics, and will also integrate the systems into existing baggage drop-off areas and the self-bag-drop system.
According to SITA, having solutions that work with existing infrastructure without the need for adjustments is the ideal. The IT provider has created the SITA Smart Path biometric ID management solution, which was designed to be modular and is easily integrated into existing airport infrastructure and airline systems, including standard common-use systems, check-in kiosks, bag drop units, self-service gates for secure access, boarding and automated border control.
Stein tells FTE: "In general, today's solutions for biometric-enabled self-service are based upon passport-validation, which typically assumes international travel. In many markets, including the USA, international travel accounts for less than 30% of travellers. Building dedicated biometric-enabled international terminals with exit immigration border management facilities may add value in some airports but may not make commercial sense in all cases. A holistic solution that also provides support for domestic, non-passport, or Schengen travel is needed for these airports."
Another instance is MWAA's veriScan traveller verification system, piloted and deployed to meet CBP's biometric exit compliance at Dulles International and Reagan National airports, which does not require any physical infrastructure or modifications. Importantly, Kundu points out that veriScan can leverage existing technological infrastructure. He explains: "The system can leverage existing power, Wi-Fi and cellular data, and with the power of cloud capabilities, the system can be scaled to any airport and deployed for seamless passenger operations in a matter of a few days. Imagine the enormous time and manpower resources it would take to install new infrastructure of any kind, at all gates across a sizeable airport."
He adds: "We expect the face of biometrics to change and shift fast, so airports and airlines can't afford to be retrofitting outdated equipment and infrastructure just to stay current."
What's next?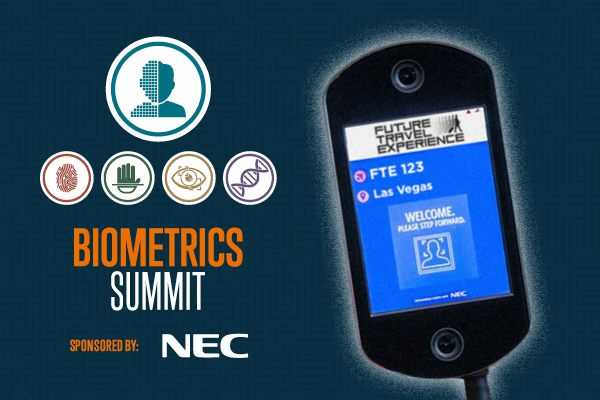 As the air travel journey evolves into a connected travel experience, Cooper recognises a great potential for biometrics. "By making what is a digital identity approach ubiquitous, it is possible to give customers practical use in everyday life – this then becomes expected in air travel and thus provides a seamless solution that offers security and speed," he says.
Biometric solutions are being adopted worldwide and we'll begin to see even more collaboration between government and air transport industry stakeholders to model the success achieved through the collaboration with CBP on the US biometric exit programme. Stein says: "The benefits are clear and the use of biometrics technology to provide secure, seamless travel will continue to grow."
In the meantime, here at FTE we will continue to provide a platform for discussion, open to all stakeholders, to share experiences and learn from one another to further develop technologies such as biometrics, for the benefit of all stakeholders. This year's FTE Global (4-6 September, Las Vegas) will feature a dedicated Biometrics Summit sponsored by NEC, where we will hear case studies and lessons learned from first-movers that have been through implementations. Among the high-level speakers confirmed to speak in the Summit are Jason Hausner, Director – Passenger Facilitation Corporate Security, Delta Air Lines; Satyaki Raghunath, Chief Strategy & Development Officer, Bengaluru International Airport; Dr. Bjoern Becker, Senior Director Product Management Ground & Digital Services, Lufthansa Group; Raoul Cooper, Airport Transformation Design Manager, British Airways & Director at Biometrics Institute; Sherry Stein, Head of Technology Strategy, SITA; Samuel Ingalls, Assistant Director of Aviation, Information Systems, McCarran International Airport; Kris Ranganath, VP, Technology and Solutions Development, NEC; and Jason Lim, Identity Management Capability Manager, Transportation Security Administration (TSA).
In addition, the Summit will be supported by briefings, workshops and tours led by U.S. CBP, TSA and McCarran International Airport, and an incredible exhibition where you can experience the latest biometric solutions first hand as you consider which vendors to partner with. Find out more and register to attend here.
Want to know more? Read 'Overcoming obstacles to achieve a mass rollout of biometrics in the air transport industry – Part 2', in which we are exploring the supplier perspective.