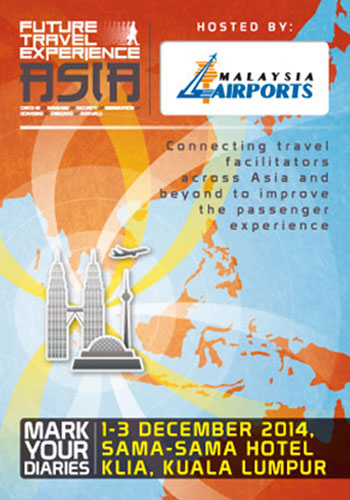 We are delighted to announce that FTE Asia 2014 – the fourth FTE Asia event and the 15th FTE event globally – will return to Kuala Lumpur, the place where our Asia journey began back in 2010.
FTE Asia 2014 will be the first of our regional events to have two conference streams running simultaneously covering the latest passenger-focused efforts both 'On the Ground' and 'Up in the Air'.
We will return to Kuala Lumpur to coincide with 'Visit Malaysia Year 2014' and to help commemorate the opening of Malaysia's Next Generation Hub – klia2 – which is set to open on 2 May 2014. When operational, klia2 will welcome up to 45 million passengers a year in what will be the world's largest purpose-built terminal dedicated to low-cost carriers.
Hosted by Malaysia Airports, the goal of FTE Asia 2014 is to stage another exciting conference, exhibition and social programme developed for travel industry stakeholders across the Asia-Pacific region and beyond. The event will help airlines, airports, handlers, cruise operators, government agencies, rail authorities, destination partners and industry providers make the best possible decisions regarding the evolution of passenger and baggage processing methods, terminal facilities, onboard experiences and other offerings relating to improving the overall passenger experience.
We aim to provide real inspiration on innovative new approaches in this field, and uniquely create dialogue between all stakeholders through this dynamic forum.