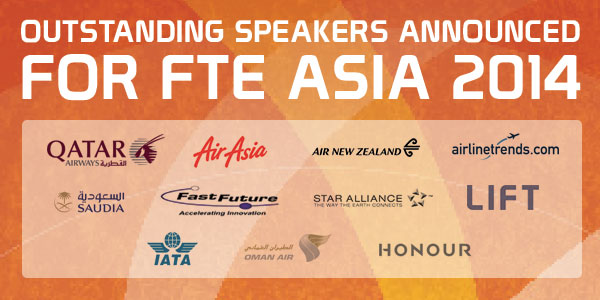 The agenda for FTE Asia 2014 has been launched this week and we are delighted to announce that a number of leading industry figures from Asia and beyond are confirmed to share their passenger-focused plans and visions. Hosted by Malaysia Airports at the Sama-Sama KLIA, Kuala Lumpur from 1-3 December, FTE Asia 2014 will be the first regional FTE show to include a dedicated 'Up in the Air' conference stream focusing on onboard passenger experience enhancement.
Addressing topics ranging from redefining the end-to-end passenger experience to next-generation in-flight entertainment and connectivity, speakers already confirmed to present at FTE Asia 2014 include:
Rossen Dimitrov, Vice President of Customer Experience, Qatar Airways
Steven Dickson, Group Head, Ground and Inflight Operations, AirAsia
Carrie Hurihanganui, GM of Customer Experience, Air New Zealand
Raymond Kollau, Founder, airlinetrends.com
Justin Erbacci, Vice President Customer Experience and Technology, Star Alliance
Daniel Baron, Founder, LIFT Strategic Design
Hazem M. Sonbol, GM eCommerce, Saudia
Sourav Sinha, Chief Officer – Information Technology, Oman Air
Rohit Talwar, CEO, Fast Future Research
Mike Crump, Partner, Honour Branding
As well as the 'Up in the Air' conference, FTE Asia 2014 will also include the 'On the Ground' conference stream, IATA and airlinetrends.com workshops, an extensive exhibition of the latest products and services designed to improve the passenger experience, and an exciting social programme, including a spectacular Gala Evening hosted by Malaysia Airports at the Cyberview Resort & Spa, Cyberjaya.
Registration for FTE Asia 2014 is now open, and we encourage you to book now to take advantage of the early bird discount, which ends on 24th October. We have also secured a limited number of discounted rooms for delegates at the Sama-Sama Hotel KLIA, which are available on a first come, first served basis.
» More information on FTE Asia 2014