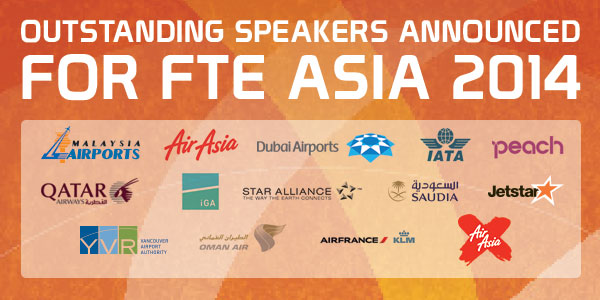 The agenda for FTE Asia 2014 has been launched this week and we are delighted to announce that a number of leading industry figures from Asia and beyond will be sharing their latest passenger-focused plans and visions in the 'On the Ground' conference. Hosted by Malaysia Airports at the Sama-Sama Hotel KLIA, Kuala Lumpur from 1-3 December, FTE Asia 2014 will focus on the theme: 'Transforming tomorrow's customer journey in Asia'. Among the speakers already confirmed to speak in the 'On the Ground' conference are:
Datuk Badlisham bin Ghazali, Managing Director, Malaysia Airports Holdings Berhad
Azran Osman Rani, CEO, AirAsia X
Mazhar Butt, Head of Development – Passenger Experience Strategy & Development, Dubai Airports
Steven Dickson, Group Head, Ground & Inflight Operations, AirAsia
Vinoop Goel, Regional Head – Airport, Passenger, Cargo & Security – Asia Pacific, IATA
Justin Erbacci, VP Customer Experience & Technology, Star Alliance
Richard Meredith, Chief Development Officer, Istanbul New Airport Project
Rossen Dimitrov, Vice President of Customer Experience, Qatar Airways
Hazem M. Sonbol, GM eCommerce, Saudia
Jose Oller, VP Airports & Operations Control, Peach Aviation
Renaud Irminger, Director, SITA Lab
Nigel Fanning, Head of Commercial & Operations Improvement, Jetstar Airways
Hildegaard Assies, Co-founder, airporttrends.com
Sourav Sinha, Chief Officer – Information Technology, Oman Air
Cees de Vos, Director Innovation Outstations & Partnerships, Air France-KLM
Paul Mewett, Director – Simplified Passenger Travel, Vancouver Airport Authority
Heament Kurian, Managing Director – Asia Pacific, ARINC
David Kershaw, Director, Kershaw & Associates Ltd
In addition to the 'On the Ground' conference, FTE Asia 2014 will also include a dedicated 'Up in the Air' conference stream; IATA, airporttrends.com and airlinetrends.com workshops; an extensive exhibition of the latest products and services designed to improve the passenger experience; and an exciting social programme, including guided tours of the new klia2.
Registration for FTE Asia 2014 is now open, and we encourage you to book now to take advantage of the early bird discount, which ends on 24th October. We have also secured a limited number of discounted rooms for delegates at the Sama-Sama Hotel KLIA, which are available on a first come, first served basis.
» More information on FTE Asia 2014