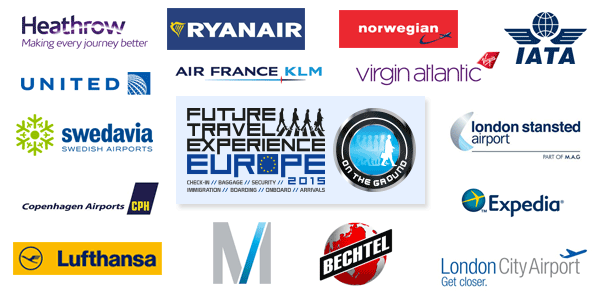 We are excited to today launch the 'On the Ground' conference agenda for FTE Europe 2015, which will take place at the Park Plaza Riverbank London from 2-4 February 2015. Delivered in partnership with Heathrow Airport, Virgin Atlantic, Gatwick Airport, Ryanair, London Stansted Airport and London City Airport, FTE Europe 2015 promises to be our biggest and best event for the European travel sector to date.
Keynotes from Heathrow Airport, Lufthansa, Virgin Atlantic, Ryanair and more
The theme of FTE Europe 2015 is 'Differentiation through passenger empowerment and personalisation', and multiple, big-name keynote speakers will outline their passenger experience plans and visions over the course of the three days. Among the confirmed keynote speakers are: John Holland-Kaye, CEO, Heathrow Airport; Reuben Arnold, Brand and Customer Engagement Director, Virgin Atlantic; Sadiq Gillani, Chief Strategy Officer, Lufthansa; Andrew Harrison, Managing Director, London Stansted Airport; John Hurley, CTO and Head of Ryanair Labs, Ryanair; and Declan Collier, CEO, London City Airport.
Among the other industry-leading organisations already confirmed to share their passenger-focused strategies are: Norwegian Air Shuttle, United Airlines, IATA, Swedavia, Expedia, Munich Airport, Air France-KLM, Bechtel and Copenhagen Airports.
Among the many highlights in the 'On the Ground' conference will be:
IATA Passenger Experience Workshop
The FTE Europe 'Understanding What Passengers Want' Forum
Airport Futures Symposium – new technologies, consumer demands and competitor considerations
Do we really need to build new facilities? Using new technology to optimise processes and improve the passenger experience without increasing terminal footprint
The FTE end-to-end mobile and wearable technology symposium
Guided tours of Heathrow T2, London Stansted Airport and London City Airport
FTE Europe 2015 delegates will also be able to take part in guided tours of the new Terminal 2 at London Heathrow Airport, as well as guided tours of London Stansted and London City airports to see their passenger-focused innovations in action first-hand.
The event will also include a dedicated 'Up in the Air' conference stream focusing on enhancing the in-flight experience, an extensive exhibition of the latest solutions and services from the leading suppliers in the "passenger experience" field, as well as an exciting social programme, including a Welcome Reception on the exhibition floor, and a 'Best of British' Gala Evening at Altitude 360 @ Altitude London, London's premier sky venue which offers jetliner views of the city.
» View the full FTE Europe 2015 'On the Ground' conference agenda
» Register to attend FTE Europe 2015 – early bird discount expires on 19 December