FTE Europe 2015, which will take place at the Park Plaza Riverbank London from 2-4 February, will feature an extensive exhibition of the very latest solutions and services that have been developed to help airports and airlines improve the passenger experience. In the first instalment of our exhibition preview, we highlight what delegates can expect from Boon Edam, Access IS, Kaba, MI.Airline, NEC, Damarel Systems and British Aviation Group.
» View the full FTE Europe 2015 exhibition floor plan
Boon Edam (Stand 9)
Visitors to Boon Edam's stand can learn more about the self-boarding lanes that were recently installed at Xiamen International Airport in the Chinese coastal city of Xiamen.
Xiamen International Airport is one of the busiest airports in China and a front-runner in the adoption of innovative and self-service technologies in the terminal.
In late 2014, Boon Edam installed their Airport Swinglane, the first self-boarding lanes in China that were not installed as part of a pilot programme. At FTE Europe you will be able to experience the technology installed in China for yourself.
In addition, Boon Edam will showcase how the Airport Swinglane can be integrated with facial recognition technology to create a biometric self-service security and boarding solution.
For more information, visit: www.boonedam.com
Access IS (Stand 10)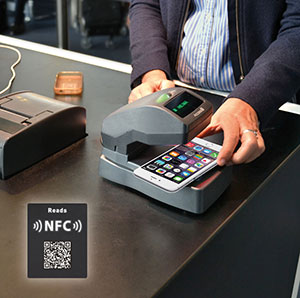 At FTE Europe 2015, Access IS will be highlighting several new products, including the BGR135C – a compact 2D barcoded boarding pass (BCBP) and NFC boarding gate reader with receipt printing port. The robust BGR for 2D BCBPs is equipped with contactless functionality for NFC phones, tags and cards. The BGR135C reads barcodes face-up for ease-of-use and its near-zero latency allows optimal passenger throughput.
Also on show will be the OCR640e full-page ePassport and 2D BCBP reader, which quickly and reliably reads passports capturing ultraviolet and infrared images, as well as the full passport page in colour. Simultaneously, it decodes the machine readable zone (MRZ) and processes RFID data including the holder's image, from the chip. Also debuting at FTE Europe are Access' new desktop ATR110 NFC and 2D barcode reader and OEM LSR118 NFC and 2D barcode reader.
For more information, visit: www.access-is.com
Kaba (Stand 14)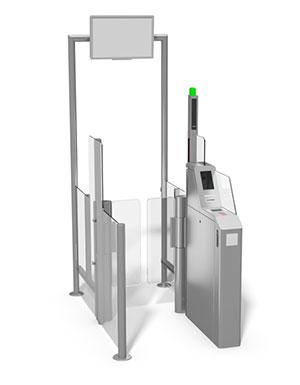 Kaba will be showcasing Argus HSB-M03, a state-of-the-art solution for automated boarding pass control and automated self-boarding. The gate is equipped with an integrated face recognition system, a barcode scanner for validity check of the boarding pass and a device for issue of a receipt. It is connected to a registration kiosk, demonstrating the complete process of check-in and self-boarding. Via kiosk registration and biometric validation at the gate the passenger may board conveniently while the identity is perfectly verified.
Kaba has longstanding experience in access control solutions for airports. In close contact with responsible parties in airport business a number of products have been developed and adjusted to the actual security needs at airports. Today, one-way corridors, boarding pass control gates and self-boarding gates by Kaba ensure secure, safe and convenient passenger handling.
For more information, visit: www.kaba.com.
MI.Airline (Stand 36)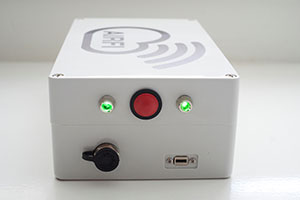 Visitors to the MI.Airline stand will be able take a close look at AirFi, an interactive in-flight entertainment (IFE) that is powered by portable, Wi-Fi AirFi Boxes. AirFi revolutionises how IFE can be deployed on aircraft both young and old. AirFi needs no certification, as it is not connected to the aircraft, and no app download to personal devices. The AirFi Box supplies 15 hours of uninterrupted, interactive entertainment for your passengers.
AirFi is a "portable IFE platform", using local WiFi to offer entertainment and ancillary sales opportunities via passenger devices. Passengers can enjoy the ability to play multiplayer games, read the most recent issues of newspapers or magazines, chat with other passengers, download destination info – and most importantly, order duty free and/or 'Buy On Board' from their own WiFi-connected device.
For more information, visit: www.airfibox.com
NEC (Stand 1)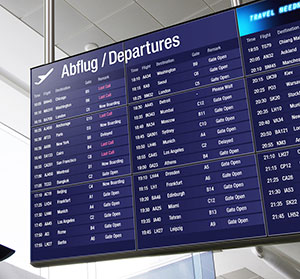 NEC will be displaying its digital display innovations for airports, including solutions for check-in, wayfinding, departure/arrival boards and retail signage. NEC has a proven track record of supplying the busiest airports in the world with displays that perform consistently in the most demanding environments.
Designed for long-term operation, the NEC displays and projectors incorporate innovative designs, high-quality panels and components, and go through demanding quality assurance levels. NEC operates as a trusted technology partner offering total peace of mind with innovative display solutions ideally suited for: flight information displays; airport operational control centres; specialist outdoor displays and digital wayfinding; indoor and outdoor retail digital signage; common use terminals and back office displays; and remote monitoring and sales services.
For more information, visit: www.airport-nec.com
Damarel Systems (Stand 20)

Visitors to the exhibition can talk to Damarel Systems about the latest in passenger and ground handling software, including B-DCS, its back-up DCS solution. With increased dependence on fewer Departure Control Systems, Disaster Recovery is a very hot topic right now for airports and airlines, as well as the ground handlers who support them.
Damarel will also advise you on a host of other issues and systems. Vanguard (security system) is incredible value for smaller airports and Embark (e-gate compatible boarding with mobile version) now supports self-service operations. The popular low-cost L-DCS will also be on show. New integration modules to the Timatic AutoCheck service from IATA and the Navitaire New Skies reservation system give users of L-DCS more convenience and efficiency than ever before.
For more information, visit: www.damarel.com
British Aviation Group (Stand 43)

The British Aviation Group (BAG) is the leading representative body for UK companies involved in the airport and aviation development sector. Its primary aim is to help its members win work in the airports and aviation sector, both in the UK and internationally, by helping them to showcase their experience and expertise.
Today, its membership covers the full spectrum of manufacturers and service providers in the airports and aviation sector. BAG currently represents over 160 companies of all sizes, whose products and services are required in the development of modern, efficient, world-class airports. Its Members operate in over 150 countries worldwide and have enjoyed notable business success, winning contracts across almost all of the world's largest airports. In addition to helping its members access new opportunities, BAG also seeks to help clients find UK companies that meet their requirements.
To find out more, visit: www.britishaviationgroup.co.uk
Also showcasing their latest solutions in the FTE Europe 2015 exhibition will be: BT Global Services, ICTS Europe, Inurface Media, Portr Limited, SITA and STG Aerospace.