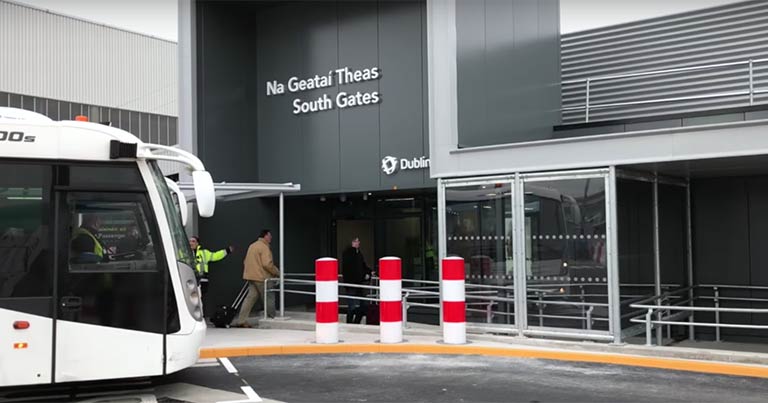 Dublin Airport has opened a new €22 million boarding gate area. The new South Gates, which will be used mainly by Aer Lingus for flights to the UK and continental Europe, has five boarding gates serving nine aircraft parking stands.
A shuttle bus service from an existing lounge at Gate 335 will operate every two minutes on a continuous loop bringing passengers to and from the new boarding gate facility.
"The huge growth that we have had in passenger numbers in recent years created significant demand for extra boarding gate space and aircraft parking stands and this new facility meets those requirements in a modern flexible way," said Dublin Airport Managing Director Vincent Harrison. "We have worked closely with our airline customers to deliver a quality new facility in a rapid timeframe."
The South Gates boarding area is part of a €100 million-plus investment programme at Dublin Airport this year. Other major investments include an extension to the "100" boarding gate area, an upgrade to the "200" gate area, and the refurbishment of Terminal 1's Departures and Arrivals areas.
Work on the new boarding gate area, which is located south of Terminal 2, started earlier this year. The 2,200 sqm facility was built offsite in 80 pieces and then transported to Dublin Airport for final assembly.
The gates have been designed to be used to accommodate departing flights in the busy early morning period and arriving flights in the evening. The new facility can also be segregated so that departing and arriving passengers can be processed at the same time.
The new building can accommodate almost 1,000 passengers and includes a café, toilets, baby changing facilities and a workstation area with plugs and charging points.