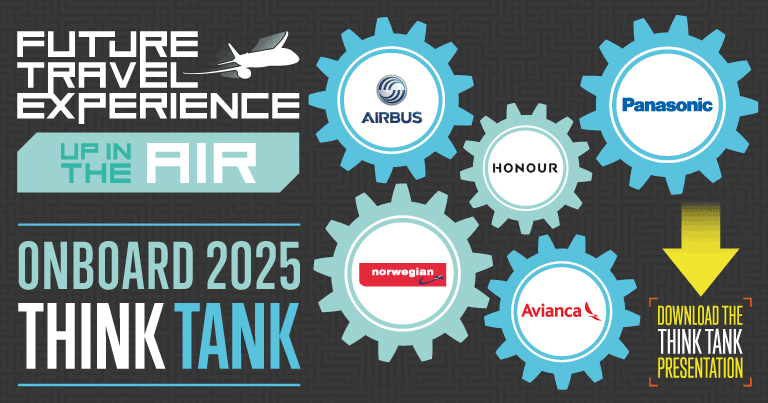 The first of its kind Onboard 2025 Think Tank brought together senior figures from Airbus, Norwegian Air Shuttle, Panasonic Avionics Corporation, Avianca and Honour Branding to collaboratively define the narrow-body experience of 2025, and to identify the key challenges and opportunities facing the various industry stakeholders charged with defining tomorrow's passenger experience. You can access the full 50-page Think Tank presentation for free, and use it to drive improvements across your own business as you plan your future cabin strategies. The FTE Onboard 2025 Think Tank was created in 2015 and launched exclusively at FTE Global 2015.
Download the Onboard 2025 Think Tank
The Onboard 2025 Think Tank includes sections dedicated to:
Cabin design & passenger comfort
In-flight entertainment & connectivity
Crew & passenger empowerment
Cabin classes & differentiation strategies
The Onboard 2025 Think Tank vision was co-created by:
Ingo Gäthje, Head of Cabin Design Office, Airbus
Bjørn Erik Barman-Jenssen, Senior Vice President, Ground Operations, In-flight Services & Cargo, Norwegian Air Shuttle
Neil James, Executive Director of Corporate Sales & Product Management, Panasonic Avionics Corporation
Rodrigo Llaguno, Vice President – Customer Experience, Avianca
Mike Crump, Product & Innovation Director, Honour Branding
Participants' job titles and organisations are correct as of September 2015.
Download the Onboard 2025 Think Tank