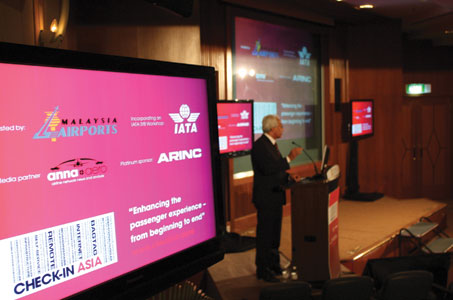 Created on the back of the highly successful Check-In events which have been held in North America in each of the last five years, Check-In Asia – which was delivered in partnership with Malaysia Airports – attracted influential aviation executives from across Asia Pacific and further afield to participate in the interactive conference programme.
Addressing delegates in his keynote presentation, Tan Sri Bashir Ahmad, managing director, Malaysia Airports, explained: "Today, everything in this industry is different and technology has made aviation improve and evolve to what it is now. The passenger has always benefited from all of these changes that have taken place over the last 20 years or so and that will continue to be the case as we move forward."
The Malaysian capital was the ideal location for the first ever Check-In Asia as Kuala Lumpur International Airport has proved to be one of Asia's most modern and innovative airports. In fact, it recently became the first airport worldwide to be awarded Platinum status by IATA in recognition of its successful implementation of various Simplifying the Business (StB) initiatives.
Following Ahmad's address, Malaysia Airlines' managing director and CEO, Dato' Tengku Azmil Zahruddin Raja Abdul Aziz, explained: "In order to deliver expectations we need to ensure that we're giving the passenger a seamless experience at every touch-point. We're committed to providing a five-star service and every year we need to improve what we're doing."
Embracing new technology, he explained, will be at the heart of this and while discussions have taken place with Malaysia Airports to further improve the check-in process, Radio Frequency Identification (RFID) provides an example of an emerging technology that is being monitored "with keen interest".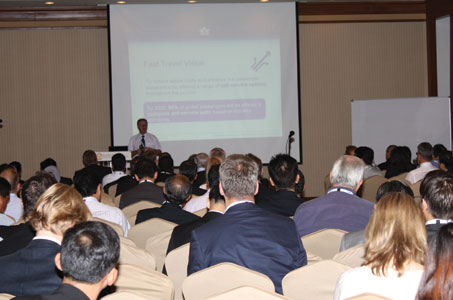 Ahead of the conference, IATA also hosted an interactive StB workshop in which the successes and future vision for the self-service programme were addressed by a variety of expert speakers, including the likes of Matthias Koch, R&D ground services, Air France, and Terry Wall, national manager passenger operations branch, Australian Customs and Border Protection Service.
Paul Behan, head of passenger experience at IATA, chaired the workshop and addressing delegates, he outlined the vision for IATA's Fast Travel programme: "By 2020, 80% of global passengers will be offered a complete self-service suite based on industry standards."
He added that 32 airlines are currently utilising bags ready to go (self tagging and fast bag drop), 16 have implemented self service document check, while 22 airlines are making use of self-boarding. Flight re-booking and bag recovery (lost bag registration) have also achieved 15 and 22 implementations respectively.
Constant Innovation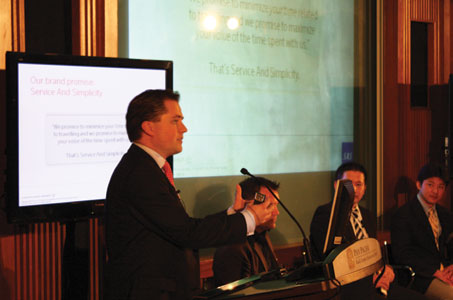 As attention remained on enhancing the passenger experience through every stage of the travel continuum, Philip Wagnert, director product strategy and development, SAS – Scandinavian Airlines, took to the podium to provide delegates with an insight into the airline's "60 years of innovation".
"Information, interaction and innovation" were highlighted as key facets of the airline's strategy. Epitomising this approach, mobile phone technology is one area in which SAS has placed a heavy emphasis and passengers are already presented with a wide variety of self-service options. For example, SAS passengers can receive their boarding pass via SMS, push messages provide important flight information, while "we're working with airports in Norway and Sweden to develop a self-service bag drop facility". Near Field Communication (NFC) technology, self-service baggage payment and personal permanent bag tags are also areas that are being explored.
Wagnert added: "It should be up to the passenger to choose how they wish to travel and we're trying to offer self service in every step of the way. Self-service really is win-win. Passengers love to be in control of their travel and for the airline, it decreases the manual process and allows us to reallocate our resources."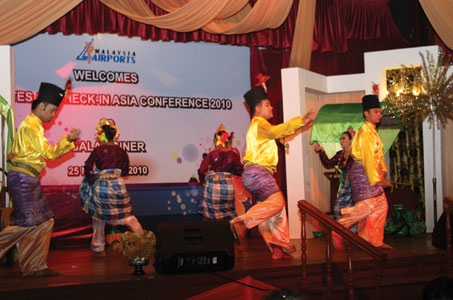 Following further presentations from the likes of David Holm, transport portfolio leader, Woodhead – who provided the conference with an architectural perspective – Russ Fortson, customer service and product development, airports worldwide, Cathay Pacific Airways, and Takeshi Tokunaga, senior manager, passenger services planning, All Nippon Airways, the first day of the conference culminated with a lavish Gala Dinner, which was hosted by Malaysia Airports at the stunning Seri Melayu Restaurant where guests were treated to traditional Malaysian cuisine and entertainment.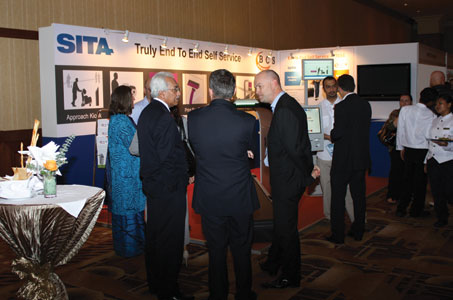 In addition to the comprehensive conference, social and networking programme, a number of major companies also took the opportunity to showcase their latest products and innovations in the exhibition hall. Among the exhibitors were SITA/BCS, IER, Iris Corporation Berhad, PrehKeyTech, 3M, Desko/KABA and Lufthansa Systems.
Future Travel Experience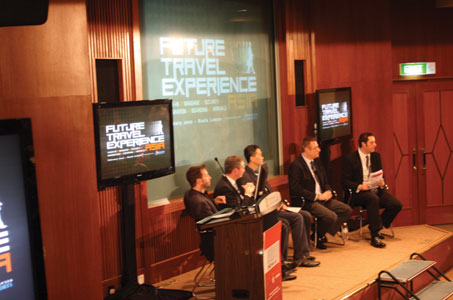 The strength of the first ever Check-In Asia was encapsulated by the calibre of the speakers in the final two sessions, which included, among others, Cees de Vos, director airports services, SkyTeam Alliance, Todd Grace, strategy manager – airports, Air New Zealand and Thomas Jeske, senior manager, IT infrastructure, Lufthansa Airlines.
Delegates were particularly intrigued by Grace's presentation in which he outlined Air New Zealand's numerous self-service initiatives before stating: "The more relevant question now is not whether self-service can become the primary method of passenger and baggage processing, but whether or not it should be"; an ideal point of discussion to sign off from the Check-In era and welcome in the brand new Future Travel Experience.
Here are the views from some of the delegates who attended Check-In Asia:
Pascal Thomas, International Sales Director, Desko:
"It's the first time that I've been to a show in Asia that has brought all of the key travel industry stakeholders together. I've been very impressed with both the quality of people here and the quality of presentations in the conference. We had many visitors to our stand to see our new PENTA device, which helps reducing number of peripherals in CUSS / at check in / security check points and gates and also reduce huge INAD fees borne by the airlines and now have many strong leads to follow up".
Russ Fortson, Manager, Customer Service and Product Development, Airports Worldwide, Cathay Pacific Airways:
"This is a fantastic forum to have in Asia because we really do have a story to tell and Check-In Asia underscores the importance and value that we bring to the table as a region."
Abhilash Chacko, Head of ICS Commercial, Abu Dhabi Airports Company:
"The environment is great as we're all very focused on the subject area. Bringing everyone together allows us to address specific issues and understand how different airports and airlines are thinking and how we can go about solving problems that we face."

Damian Hickey, Regional Vice President, South Asia & India Sales & Relationship Management, SITA:
"Based on the interaction we've had I think it's very clear that there's a lot that we can share and a lot that we can learn. There's a lot of innovation happening in the Asian market that the rest of the world can learn from us and it's great to have a forum so that we can share that."
Takeshi Tokunaga, Senior Manager, Passenger Service Planning, All Nippon Airways:
"Check-In Asia is a very good opportunity for us to get information from various partners and it has proved to be extremely interesting and useful for us to be here."
Hee Kwang Lee, CIO & Director Technology, Changi Airport Group:
"Having an event in Asia helps to keep all of the airports and airlines abreast of what others are doing and there has been a lot of talk about collaboration throughout the week, which I think is very important."
Thomas Jeske, Senior Manager, Operational Management, Station Systems, Deutsche Lufthansa AG:
"I think it's critical to include the Asian market by holding this kind of event in the region. I have to say that the presentations we have seen here have been very sharp and they're some of the highest quality that I have seen."
David Kershaw, Director, ARINC Global Product Management:
"There's a lot going on in this region and it's great to get a view from Asia. For us to be able to hear directly from the Asian carriers and airports and to get a taste of the Asian flavour has been very useful."
Rasool Poostforoushan, Deputy Director General of Airports Facilitation & Equipment, Iran Airports Company:
"In Iran we don't yet have any self-service options in our airports but Check-In Asia has given us a good vision for future developments. It's also provided us with a good opportunity to network and talk to other airports from around Asia."
Todd Grace, Strategy Manager – Airports, Strategic Development, Air New Zealand:
"It's a huge benefit to have a Check-In event in Asia because the challenges here are different to those in North America and elsewhere. For instance, when you speak to airlines here, they predominantly fly internationally where as in the US it's largely domestic so they need to deal with things like border control and security at a different level, which is exactly what this event has addressed."
V. Loganathan, Regional Head, Customer Experience, AirAsia:
"In terms of self-service, people in this part of the world traditionally want to see real people behind the counter but this week we've been able to hear airlines, airport authorities and other authorities on the benefits of self service and how they plan to move forward and this has given me a better insight."
Azua Kamarudin, Senior Manager, Continuous Improvement Management, Malaysia Airports:
"Attending Check-in Asia has been beneficial in terms of benchmarking so we can compare how we manage our airports and how we can further improve the end-to-end passenger process."
Connie Yee, Director of Marketing, Iris:
"We attended Check-In Asia because we had two new products and we've received a lot of enquiries and got some strong new leads which we'll now be following up. The quality has been very high. Personally, I've also gained a lot of knowledge from the presentations and I've gained a lot of understanding on how the industry works and the trends for the future."
Lars Rosenberger, Business Manager, Airports & Airlines, Kaba:
"For us, Asia is a new market. We're well known in Europe and the US but we're new to Asia and we're extremely happy with the contacts we have now made at Check-In Asia."